# #
Da un po' di tempo ormai si parlava di un nuovo adattamento de L'Ombra dello Scorpione, il monumentale romanzo post-apocalittico scritto da Stephen King. A circa due anni fa risale la prima conferma di Josh Boone, che ne sarà il regista, di essere ancora al lavoro sull'adattamento di The Stand dopo tante idee andate alla deriva.
# #
Pochi mesi fa invece la conferma ufficiale che The Stand era in lavorazione per CBS All Access, con la produzione di dieci episodi (ne avevamo parlato qui). Oggi invece, abbiamo le prime indiscrezioni su quello che potrebbe essere il cast della serie.
Ne L'Ombra dello Scorpione vediamo un mondo nel quale l'umanità è stata quasi totalmente sterminata da un letale virus sfuggito da un laboratorio. I pochi sopravvissuti si dividono in due schieramenti, quello del Bene e quello del Male. A guidare i primi è Madre Abigail, veggente ultracentenaria ed emissaria di Dio. A capo dei secondi c'è un personaggio ampiamente conosciuto nelle opere di Stephen King: Randall Flagg. Non tutto però è in bianco e nero come sembra…
# #
Per il cast di The Stand sono stati fatti grandi nomi.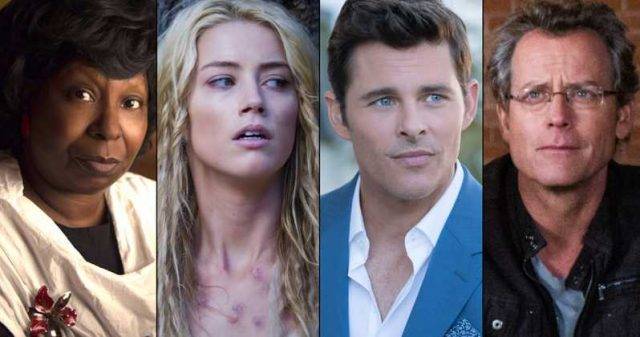 A interpretare Stu Redman, protagonista del romanzo, e prima persona apparentemente immune al virus, dovrebbe essere James Marsden, che in ambito seriale abbiamo recentemente visto nei panni di Teddy in Westworld. Il ruolo di Nadine Cross, donna destinata a diventare la consorte di Flagg, andrebbe ad Amber Heard, la principessa Mera di Aquaman.
Greg Kinnear, altro grande nome che lo scorso anno abbiamo visto in House of Cards, dovrebbe vestire i panni del professor Glen Bateman, che affiancherà Stu nel viaggio per raggiungere Madre Abigail. E proprio a quest'ultima avrebbe il volto più stupefacente di quelli menzionati fino a ora. La sua interprete infatti dovrebbe essere addirittura Whoopi Goldberg.
Altri nomi sono quelli di Odessa Young e Henry Zaga, a cui spetterebbero rispettivamente i ruoli di Fran Goldsmith e Nick Andros. Ancora non sembrano esserci notizie riguardo a chi potrebbe interpretare Flagg in The Stand, ma con un cast di tale potenziale portata possiamo solo aspettarci un altro nome eccezionale.