Doppie nozze per il cast di Game of Thrones (e speriamo non siano rosse)! Dopo l'annuncio del matrimonio tra Kit Harington e Rose Leslie, è il turno di Sophie Turner. L'attrice, che nella Serie Tv targata HBO interpreta Sansa Stark, si sposerà con Joe Jonas! La coppia è nata circa un anno fa e la notizia del fidanzamento ufficiale è arrivata da poche ore.
Sophie Turner e Joe Jonas hanno iniziato a frequentarsi lo scorso novembre. Non sono mai stati una coppia con la necessità di "farsi vedere". Pittosto, hanno sempre preferito mantenersi distanti dai grandi riflessori del mondo del gossip. Durante un'intervista, lo scorso luglio, l'attrice ha infatti dichiarato:
Sono in una relazione, ma è molto privata. Credo che il segreto per ricordarselo sia quello di pensare che sia una relazione come un'altra: se sei a Hollywood o in Africa, fa lo stesso.
Nonostante la loro riservatezza, i due hanno però deciso di condividere la notizia del loro fidanzamento ufficiale con i fan attraverso i social. Entrambi hanno pubblicato una foto romantica in cui si vede l'anello al dito di Sophie. Le parole con cui Joe ha voluto commentare la foto sono "She said yes" (Ha detto sì).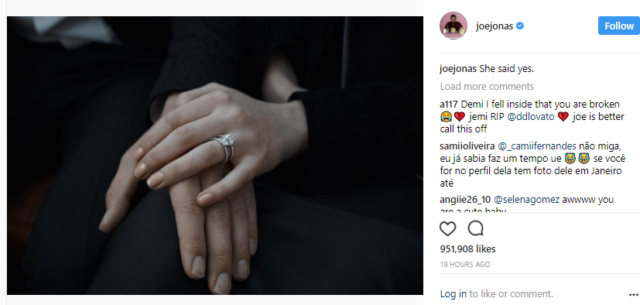 Oltre ai commenti dei fan che si sono complimentati con la coppia, anche i fratelli Jonas e i membri del cast di Game of Thrones hanno espresso le loro felicitazioni. Sembra quindi che a Westeros verranno celebrati due matrimoni! Sophie Turner ha 21 anni, mentre Joe Jonas ne ha 28. Le nozze verranno organizzate per il prossimo anno. Dobbiamo aspettarci un'ulteriore pausa dalle riprese dell'ottava stagione di Game of Thrones? Ci penseremo più avanti! Per il momento celebriamo la nuova coppia, augurandole il meglio per questo matrimonio!