Incredibile quello che sta succedendo in queste ventiquattro ore. Proprio ieri in questo articolo vi avevamo dato l'ufficialità: Kit Harington e Rose Leslie sarebbero convolati a nozze presto. Nulla ancora di stabilito, nessuna data, nessuna location. Solo una semplice intervista di Kit per Vogue, tempo fa:
Le tre settimane in Islanda, mentre giravamo la seconda stagione, furono le mie preferite. Perché il posto è bellissimo, perché le luci del Nord sono magiche e perché è stato lì che mi sono innamorato.Se sei già attratto da qualcuno e questa persona interpreta il tuo interesse amoroso nello show, diventa davvero facile innamorarsi.
Il giovane attore di Game of Thrones ha conosciuto la sua amata sul set, e gli sono servite poche scene per innamorarsene (sia Jon che Kit, per chi ha seguito la Serie Tv). I due non hanno mai accennato nulla sui social network, sono sempre stati molto discreti. In pieno stile british. Ma oggi è arrivata, quella che sembra essere la cosa più vicina all'ufficialità che potevamo aspettarci. Un trafiletto, nella sezione matrimoni del The Times, leggiamo bene nell'immagine qui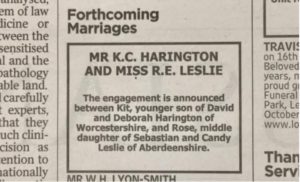 Kit Harington, primo del suo nome e legittimo erede del Trono di Spade, sposerà la giovane Rose Leslie. Non è la prima volta che l'annuncio del matrimonio di due star appare sulle pagine del The Times, infatti prima era accaduto con Benedict Cumberbatch e l'attuale moglie. 
I due attori, questa estate sono andati a convivere nella casa di lui. Kit come sempre dolce e premuroso ha cercato in tutti i modi di fare sentire a suo agio Rose, facendole considerare la casa come il loro nido d'amore. Siamo contenti di questa notizia e attendiamo con ansia l'ufficialità, sperando in un lieto fine (almeno nella realtà) per i due attori.
Kit Harington, noi fan ti abbiamo sognato ed aspettato, ma siamo ugualmente felici del tuo happy ending.