Ogni volta che ci si immerge in una nuova serie tv la nostra attenzione si rivolge sempre verso un personaggio rispetto a un altro: il beniamino, il preferito, quello in cui ci identifichiamo di più. Mi sto forse sbagliando?
Che si tratti di un protagonista con peculiarità caratteriali simili alle nostre o che semplicemente ci si riesca ad empatizzare più che con altri, ciò che è certo è che una certa somiglianza percepita o reale intercorre tra noi e il personaggio prescelto e questo ce lo rende inconsciamente più vicino a noi.
Sensazioni o realistiche convinzioni, di oggettività ce n'è ben poca. Come potremmo dunque capire quale personaggio delle serie tv sia realmente più simile a noi e all'idea che abbiamo di noi stessi? Esiste un test.
E si, lo so a cosa state pensando: usciranno sempre i soliti nomi sentiti e risentiti di quelle quattro serie mainstream che neanche ho visto. E invece no.
Come lo so? Un attimo che ve lo spiego: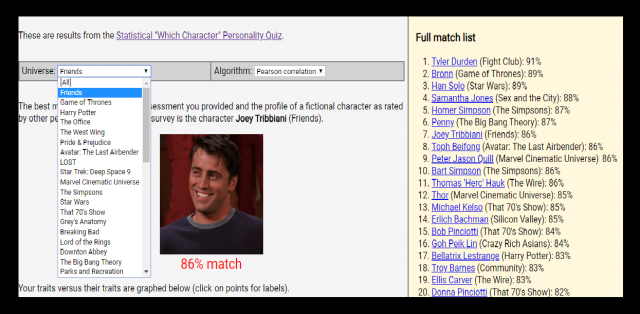 In una delle tantissime notti insonni della mia vita sono incappata in questo test che è stato creato coinvolgendo un gran numero di volontari i quali sono stati inviatati a valutare la personalità percepita di una varietà di personaggi appartenenti a mondi totalmente diversi (attualmente 510). Da Westworld a Friends, passando per Game of Thrones, Lost, The Office e molte altre serie tv. Non solo show televisivi ma anche film come Harry Potter o Lord of the Rings, insomma ce n'è per tutti i gusti!
Il test può essere svolto in 3 diverse modalità: la prima, quella più soft composta da sole 14 domande, la seconda, quella consigliata dal sito da 28, ed infine l'ultima, la più completa, composta da ben 121 domande.
Di fronte a due aggettivi opposti, l'utente dovrà segnare muovendo il cursore verso un lato piuttosto che un altro, la percentuale che più si conforma alla propria personalità. Competitivo o cooperativo? Timido o spavaldo? E in quale percentuale un aggettivo domina sull'altro?
Dopo aver risposto al numero di domande prescelto sarà poi possibile selezionare quale universo si desidera prendere in considerazione: se quindi scoprire il personaggio delle serie tv a cui si è più somiglianti prendendo in considerazione solo uno show oppure tutti.
Per togliersi ogni dubbio, il sito suggerisce una lista completa con tutti e 510 i personaggi televisivi presi in considerazione dal test e relativa percentuale di affinità con il risultato ottenuto.
Insomma, ora non resta proprio che mettersi alla prova!