Sta per arrivare in Italia la serie a fumetti di Rick and Morty, il celebre cartone animato creato da Dan Harmon e prodotto da Adult Swim. Grazie a Panini Comics da Aprile potrete viaggiare in nuove allucinanti avventure insieme a Rick e a suo nipote Morty, per la cifra di 9,90 €.
Il primo volume brossurato raccoglierà, di volta in volta, 5 albi dell' edizione americana per un totale di 128 pagine a colori, disponibile ogni mese in edicola.
La serie a fumetti delle avventure di Rick and Morty è scritta da Zac Gorman e illustrata da CJ Canno e negli Stati Uniti ha debuttato il primo aprile 2015, per un totale attuale di 35 albi.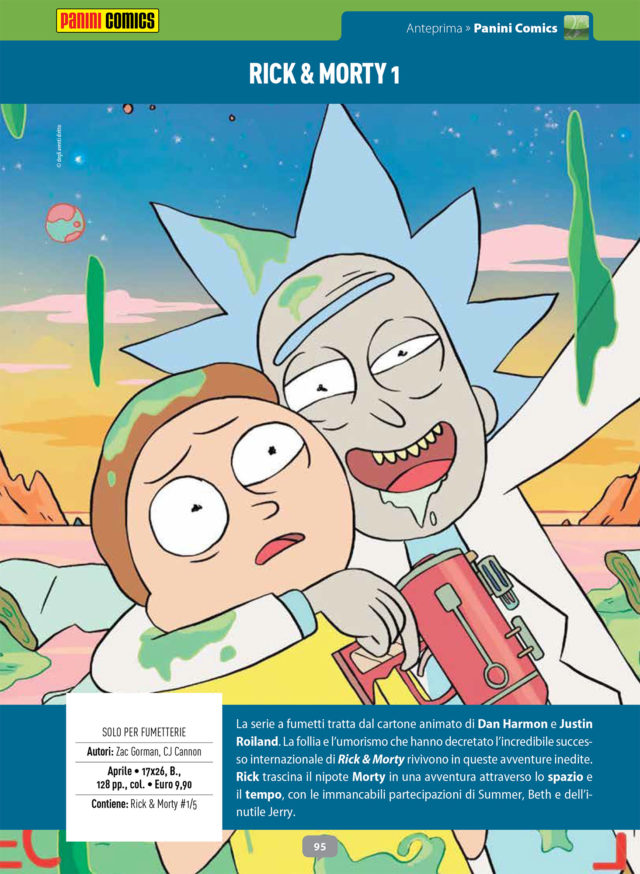 Un ottima notizia per i fan dello show, che dovranno aspettare il 2019 per rivedere in quali assurdi mondi finiranno questa volta Rick e Morty. Come lo stesso creatore Harmon ha dichiarato:
Abbiamo finito di scrivere la terza stagione nel novembre del 2016, e sono passati 11 mesi dalla messa in onda dell'ultima puntata. So bene quanto tempo ci voglia per scriverla, per non parlare delle animazioni. Sarebbe davvero una sorpresa vedere la serie agli inizi del 2019.
Nella Serie a fumetti potremo anche ritrovare Summer, Beth e Jerry, questi ultimi reduci da un brutto divorzio che sembra essersi risolto nel finale della terza stagione. Quel che è certo è l'incredibile ascesa di questo show che non ha eguali al momento, basti pensare alla Salsa Szechuan Mania di alcuni mesi fa, scatenata dal primo episodio della terza stagione, o della porno-parodia che lo ha ufficiosamente consacrato come fenomeno di massa.
Non ci resta che aspettare fino ad Aprile per poter acquistare il primo fumetto e magari, intanto, rivederci tutte e tre le stagioni di Rick and Morty, disponibili su Netflix.