Non è la prima volta che Paul Bettany se ne è lamentato, e dato il suo lavoro in WandaVision potrebbe non essere nemmeno l'ultima.
Dopo l'epilogo avuto in Avengers: Infinity War, Paul Bettany è tornato a vestire i panni di Visione nell'Universo Marvel per le riprese della nuova serie in arrivo su Disney+.
Panni non troppo leggeri, anzi, dato che l'attore si è più volte lamentato del suo costume nel corso degli anni. E dopo averlo dovuto indossare di nuovo per lavorare alla serie tFv, le lamentele verso l'odiatissimo vestito sono tornate.
Odiato perché, a detta sua, è così asfissiante che potrebbe farlo "morire per un colpo di calore" durante le riprese di WandaVision
Sul serio, se potessi scegliere, preferirei stare nudo piuttosto che indossare il costume di Visione. È veramente scomodo.
Una lamentela che non è nuova nel suo ambito: molti attori dei cinecomic si sono lamentati della scomodità dei loro costumi e questi sono stati pian piano riadattati e modernizzati.
Non è il caso di Visione per Paul Bettany, dato che come sappiamo da uno scorcio dei trailer, WandaVision riporterà in uso dei costumi addirittura più vecchi rispetto a quelli che abbiamo visto indossati dai due nei film.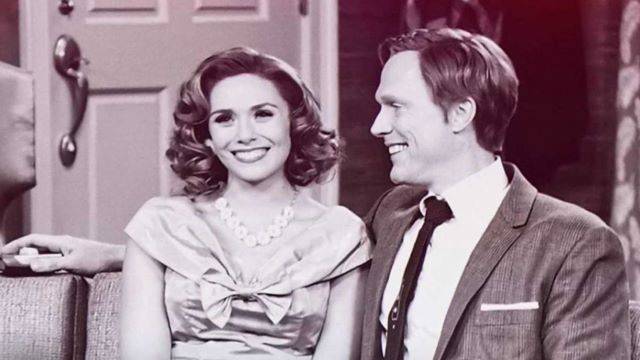 Da notizie ufficiali, la prima delle serie tv che andranno a far parte del MCU, sbarcherà online su Disney+ dal 15 gennaio 2021.
Paul Bettany ed Elizabeth Olsen saranno i protagonisti dello show, sul quale sono già partite svariate speculazioni riguardo la trama e il suo sviluppo.
Diretta da Matt Shakman e scritta da Jac Schaeffer, la serie punterà a unire diversi elementi delle sitcom rese famose tra gli anni '50 e '80, ma sarà ambientata dopo gli eventi di Avengers: Endgame. L'unica cosa sicura che ci è data sapere è che gli eventi della serie avranno conseguenze dirette con Doctor Strange in the Multiverse of Madness, prossimo prodotto sul grande schermo del MCU.
Da ciò che il mondo ha ritagliato dai trailer possiamo pensare a una bolla esclusa dal tempo creata dai poteri di Wanda in cui la donna crea una realtà per continuare la convivenza con Visione. Una storia che ricorda molto "House of M", storia dei fumetti con Wanda come protagonista che pare essere stata usata come base per creare la serie tv.
Ultimi due mesi di attesa quindi, con i fan Marvel pronti a scoprire il nuovo prodotto a loro dedicato.