Netflix punta sempre più a creare un catalogo internazionale, con contenuti non solo di produzione americana o inglese. Lo ha fatto con Marseille (Francia), Dark (Germania) e Suburra, prima serie tv originale Netflix di produzione italiana. A marzo arriva dalla Francia un altro originale Netflix: Osmosis.
Anche i sentimenti diventano protagonisti delle nuove tecnologie e della scienza. In Osmosis, ambientata nella Parigi del futuro, un'app per incontri trova le anime gemelle scandagliando i dati del loro cervello.
Alcuni dei protagonisti danno fiducia a quest'app, altri rimangono scettici. Decodificare l'amore vero, però, ha un prezzo: cosa succede quando lasci che un algoritmo decida chi amerai per sempre? E quando permetti alla tecnologia di aver accesso agli angoli più nascosti della tua mente?
Netflix ha rilasciato il primo trailer di Osmosis, che ci permette di farci un'idea su questa nuova serie tv. Eccolo:
Osmosis avrà 8 episodi e sarà rilasciata il 29 marzo 2019 su Netflix. È prodotta da Aude Albano e Claude Chelli, entrambi produttori di Versailles. Showrunner di questa serie tv è Audrey Fouché, che ha lavorato a The Revenants e Borgia.
Nel cast troviamo nomi del panorama francese, a partire da Hugo Becker (Gossip Girl). Troviamo anche Agathe Bonitzer (La religiosa) e Lionel Lingelser (Big House).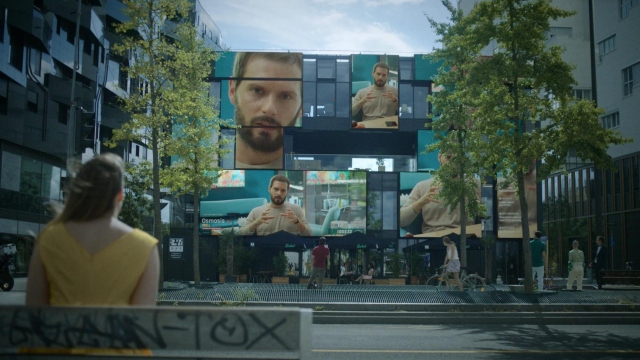 Il tema dell'amore legato alla scienza e alla tecnologia ci ricorda Black Mirror, e specificatamente Hang the DJ. In quest'episodio, infatti, le persone cercano l'anima gemella utilizzando il sistema Coach, il quale gestisce tutte le relazioni amorose stabilendo anche per quanto tempo devono durare.
Spesso serie tv, libri e film raccontano le influenze delle tecnologie sulle relazioni umane. Storie di questo genere ci permettono infatti di riflettere sull'evoluzione e i cambiamenti dei sentimenti e dei rapporti interpersonali, inserendoli in una chiave tecnologica e sci-fi in cui il progresso si incontra e scontra con l'umanità.
Siamo curiosi di scoprire come Osmosis svilupperà questo tema.