Il weekend di passaggio tra novembre e dicembre. Sembrava ieri che sorseggiavamo limonata guardando la terza stagione di Stranger Things appena uscita e adesso, invece, dobbiamo solo decidere di che colore addobbare l'albero quest'anno. Netflix per quest weekend ci sorprende con molti ritorni come Agents of S.H.I.E.L.D. ma non solo, anche Vikings con la seconda parte della quinta stagione. Mentre noi con la mente già pensiamo a Vikings 6…
Ma basta chiacchiere, passiamo ai fatti:
Venerdì 29 novembre
Vikings – seconda parte della quinta stagione
Atlantics – film originale
Il debutto alla regia della regista franco-senegalese Mati Diop: Atlantics che offre uno sguardo ammaliante sulla "ghost love story". Il film è stato presentato in anteprima al Festival di Cannes 2019, dove ha ricevuto il Grand Prix. L'anteprima del film a Cannes ha fatto guadagnare a Diop uno spazio nei libri di storia: è diventata la prima donna di origine africana a proiettare un film nella sezione Competition del festival.
Netflix ha acquisito "Atlantics" al festival, rappresentando la continua spinta del gigante dello streaming verso contenuti internazionali. Il film è stato selezionato dal Senegal come candidato all'Oscar per miglior lungometraggio internazionale. Con "Atlantics", Diop ha creato una fantastica miscela di romanticismo, commenti socio-politici dando vita a quella che è, soprattutto, una tragica storia d'amore. Il film capovolge il racconto tipicamente maschile di africani che intraprendono il viaggio attraverso l'Atlantico alla ricerca di una vita migliore, raccontando una storia che si concentra sulle sul punto di vista femminile.
Dov'è il mio corpo
Sugar Rush: Natale
Domenica 1 dicembre
Agents of S.H.I.E.L.D. – sesta stagione
The 100 – quinta stagione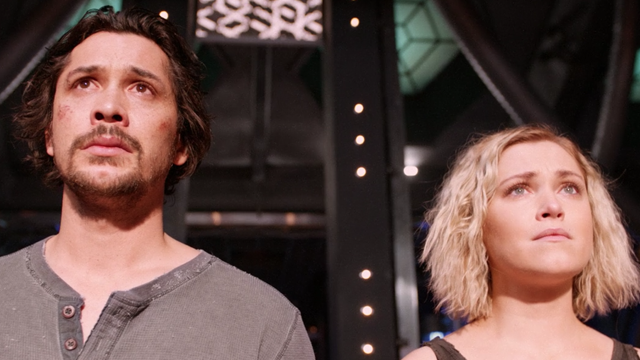 Se la serie tv è giunta quasi alla settima stagione The 100 5 riprende dal salto temporale anticipato nella stagione precedente. Sono passati sei anni dall'esplosione chiamata Praimfaya e scoprirete cosa succederà ai nostri protagonisti. Clarke Griffin e Bellamy Blake interpretati da Eliza Taylor e Bob Morley torneranno per questa stagione come anche Paige Turco (Abby Griffin), Marie Avgeropoulos (Octavia Blake), Lindsey Morgan (Raven Reyes), Henry Ian Cusick (Marcus Kane), Richard Harmon (John Murphy) e Christopher Larkin (Monty Green).