David Benioff e D.B. Weiss stanno preparando una nuova serie sci-fi su Netflix: Three-Body Problem. La coppia di scrittori e produttori, conosciuta soprattutto per il loro lavoro sulle otto stagioni di Game Of Thrones, è quindi pronta ad affrontare una nuova sfida.
Three-Body Poblem è il primo romanzo di una trilogia scritta da Liu Cixin e tradotta da Ken Liu, il cui titolo originale era Remembrance of Earth's Past; anche se in molti sono soliti riferirsi ad essa con il titolo del primo libro, che ricorda indistintamente la serie di Martin: A Song of Ice and Fire.
L'opera, molto popolare in Cina, una volta tradotto in inglese ha vinto il Premio Hugo come Miglior Romanzo. Racconta di una versione alternativa della Terra, invasa da una civiltà aliena di un sistema solare vicino: da questo il nome Three-Body Problem.
Variety ha riportato che Benioff, Weiss e Alexander Woo (produttore di True Blood) adatteranno tutti e tre i romanzi in una serie sci-fi per Netflix, unendo i compiti di scrittura e showrunning.
Cixin e Liu saranno consulenti alla produzione, in un ruolo simile a quello che Martin aveva per Game Of Thrones. Inoltre, Rian Johnson, che ha lavorato brevemente con Benioff e Weiss nella loro trilogia (poi interrotta) di Star Wars, sarà il produttore esecutivo, insieme a Brad Pitt e Rosamund Pike. Di seguito i commenti di Benioff e Weiss sulla serie in arrivo:
La trilogia di Liu Xicin è la più ambiziosa opera scientifica che abbiamo mai letto, in grado di portare i lettori in un viaggio dagli anni '60 alla fine dei tempi; dalla vita sul nostro minuscolo punto azzurro ai confini più remoti dell'universo. Non vediamo l'ora di passare i nostri prossimi anni a dare vita a questo progetto per il pubblico di tutto il mondo.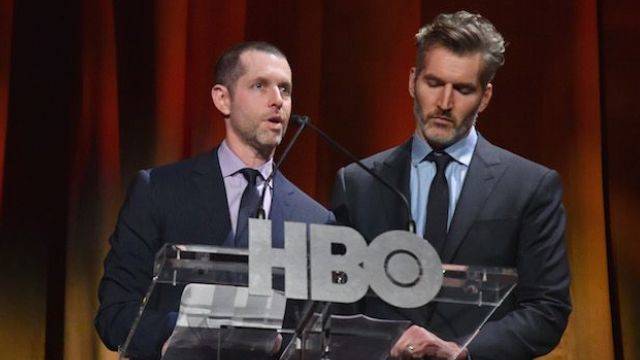 Dopo aver firmato un contratto esclusivo con Netflix, questo sarà il primo progetto dei produttori, ma nessuna delle parti ha fatto trapelare il numero di stagioni. Si più supporre che dati i tre romanzi di ispirazione, le stagioni della serie saranno almeno tre, con una forte possibilità di aumentare data la vasta profondità e densità degli argomenti trattati. I fan di Game Of Thrones, inoltre, saranno ben felici di sapere che tutto il materiale da adattare è già stato completato.
Un punto ancora a favore del progetto, dato l'ottimo successo dei due produttori nell'adattamento dei libri di Martin e le altrettante notevoli difficoltà nell'ideazione delle stagioni distaccate da essi. Problema che non si potrà ripresentare con Three-Body Problem, visto che i libri hanno un finale ben definito ed una direzione ben delineata.