Bonnie e Christy torneranno con le loro storie per una nuova stagione. La comedy Mom ha infatti ottenuto il rinnovo per la sesta stagione da parte della CBS.
Il presidente della sezione Intrattenimento della CBS, Kelly Kahl, ha dichiarato a proposito del rinnovo di Mom:
"Mom è stato un pilastro nel nostro panorama delle comedy nel corso degli ultimi anni. Questa Serie Tv è audace e tratta questioni sociali con divertimento e con grazia. Un gran numero di spettatori la segue con affetto.

Grazie al talento delle protagoniste Anna Faris e Allison Janney che guidano il cast, e grazie al team di produzione di Chuck Lorre, Eddie Gorodetsky, Nick Bakay e Gemma Baker, questa Serie Tv continua sempre a migliorare."
Mom racconta la storia di una donna e di sua figlia: entrambe stanno cercando di superare la loro dipendenza dall'alcol e dall'abuso di sostanze. Allison Janney, che interpreta Bonnie, ha vinto due Emmy come attrice non protagonista per il ruolo interpretato. Mom, inoltre, ha ricevuto molti riscontri positivi per come racconta le tematiche legate alla dipendenza di sostanze.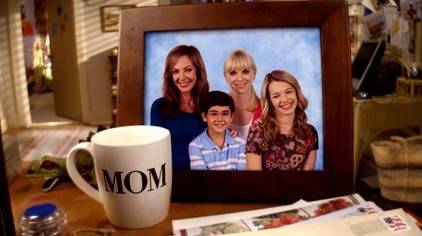 La quinta stagione, che va in onda sulla CBS da novembre 2017, ha ottenuto una media di 11 milioni di spettatori ad episodio. Si qualifica così come la terza comedy più vista del canale del palinsesto 2017-2018, dopo The Big Bang Theory e Young Sheldon.
Protagoniste sono Anna Faris (Christy) e Allison Janney. Nel cast troviamo anche Jaime Pressly (Jill), Mimi Kennedy (Marjoire), Beth Hall (Wendy) e William Fichtner (Adam).
La Serie Tv è stata creata da Chuck Lorre (creatore di numerose comedy di successo tra cui Due uomini e mezzo e la stessa The Big Bang Theory), Eddie Gorodetsky (Mike&Molly) e Gemma Baker (Due uomini e mezzo).
In Italia Mom va in onda su Joi, canale a pagamento di Mediaset Premium. La quinta stagione è ora in corso.