Knightfall 2, serie tv storica sui Cavalieri templari, sta per tornare sulla History. Nei nuovi episodi vedremo una new entry nel cast: si tratta di Mark Hamill, famoso per aver interpretato Luke Skywalker nella saga di Guerre Stellari.
Nei nuovi episodi di Knightfall Mark Hamill interpreterà Talus, Cavaliere Templare che addestra nuove reclute. Dopo averci anticipato Talus con un teaser, ora un trailer ci introduce a questo nuovo personaggio:
La seconda stagione, di 8 episodi, sarà ancora più brutale della prima. Mentre Landy du Lauzon (Tom Cullen) cercherà redenzione, il re Filippo IV di Francia (Ed Stoppard) si rivolterà contro i Templari. La caduta dell'Ordine è vicina.
Il primo trailer di Knightfall 2 ci permette di dare un'occhiata a ciò che succederà: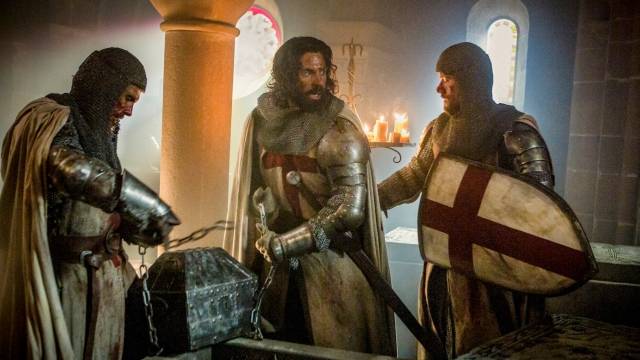 La History ha rilasciato anche la sinossi della stagione:
"Knightfall entra nella politica medievale e nella guerra dei Cavalieri Templari, l'ordine militare più potente, ricco e misterioso del Medioevo. La serie si addentra nel mondo clandestino di questa leggendaria fratellanza di monaci guerrieri per scoprire chi erano, come vivevano e per cosa morivano.

Con la storica e spietata caduta dell'Ordine Templare all'orizzonte, la seconda stagione si concentra su temi come il potere, la redenzione, la vendetta, il tradimento, la famiglia e, infine, una guerra epica tra Chiesa e stato.

Hamill si unisce al cast nei panni di Talus, un veterano dei Templari templari temprato dalla battaglia, con il compito di preparare la prossima generazione di uomini a indossare orgogliosamente la croce rossa sul petto e diventare "I boia di Dio"."
Nel cast troviamo anche Pádraic Delaney (The Wind That Shakes the Barley) come Gawain, Simon Merrells (Spartacus) come Tancrede. Vediamo anche Julian Ovenden (Downton Abbey) nei panni di William DeNogaret e Jim Carter (Downton Abbey) in quelli di Papa Bonifacio VIII. Infine Genevieve Gaunt (The Royals) interpreta la principessa Isabella.
Knightfall 2 arriverà sulla History il 25 marzo 2019.