In Game of Thrones abbiamo visto che Jon Snow ci sa fare con le donne. Proprio sul set della Serie, Kit Harington (Jon Snow) ha trovato l'amore: Rose Leslie (Ygritte). In questi giorni abbiamo ricevuto la notizia del grande evento: i due attori si sposano (l'annuncio è stato ufficializzato sul The Times!).
In che modo il romantico attore ha chiesto la mano dell'amata? Dentro una caverna? Su una barca? Jon Snow potrà anche non sapere nulla, ma Kit Harington sa proprio come conquistare Rose. Anche se si è fatto prendere dall'emozione…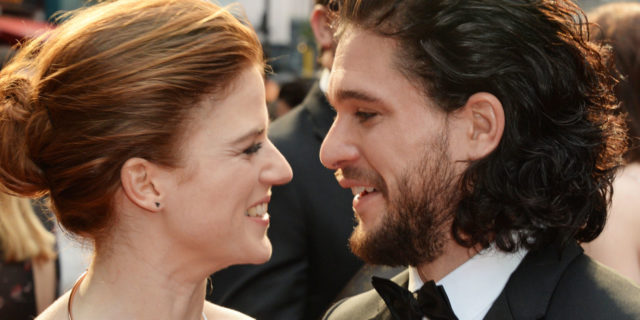 L'attore aveva infatti elaborato un piano per creare una proposta molto romantica. Alla fine, colto all'improvviso dall'emozione, è stato costretto a improvvisare. Ecco le sue parole, rilasciate in una recente intervista:
Avevo alcuni piani in mente su come fare, che includevano lucine intorno agli alberi e altre cose romantiche, ma eravamo in campagna, sotto un bellissimo cielo stellato, c'era il fuoco, c'era il vino rosso… Così non ho resistito: ho fatto tutto in fretta!
Le nozze dei due attori inglesi verranno celebrate nel 2018, dopo cinque anni di amore, nato nel 2012 durante le riprese della seconda stagione di Game of Thrones. Kit Harington ha già annunciato che al grande giorno parteciperà tutto il cast della Serie Tv. Questo invito implicherà una pausa alle riprese dell'ottava e ultima stagione di Game of Thrones. La produzione della Serie ha ovviamente accettato quindi dovrà fermare le riprese, considerando l'importante legame di amicizia che lega il cast.
Kit Harington ha voluto precisare un dettaglio importante per il suo matrimonio: la cerimonia e i festeggiamente non avranno elementi ispirati a Game of Thrones. Chissà come mai… I matrimoni della Serie vanno sempre a buon fine! Lo confermano Joffrey, Cat, Robb… o forse no?