"Tu non sai niente Jon Snow", sarà questa la promessa di matrimonio che Rose Leslie dedicherà al suo amato Kit Harington in giorno delle loro nozze? I giovani attori di Game of Thrones, rispettivamente il Re del Nord Jon (non più) Snow e la bruta Ygritte convoleranno a nozze molto presto. Kit è ancora una volta venuto meno al giuramento dei Guardiani della Notte, ma noi ti perdoniamo solo perché sei tu!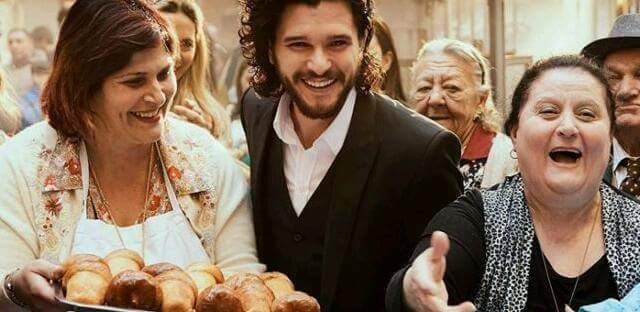 Era il 2012 quando Kit e Rose si sono conosciuti durante le riprese della seconda stagione di Game of Thrones. Durante un'intervista rilasciata a Vogue Italia Harington aveva confessato come aveva capito di essersi innamorato della sua Leslie:
Le tre settimane in Islanda, mentre giravamo la seconda stagione, furono le mie preferite. Perché il posto è bellissimo, perché le luci del Nord sono magiche e perché è stato lì che mi sono innamorato.Se sei già attratto da qualcuno e questa persona interpreta il tuo interesse amoroso nello show, diventa davvero facile innamorarsi.
Dunque il passo da amanti sul set ad amanti nella vita privata è stato breve. La coppia dopo cinque anni di relazione, avrebbe confidato ad amici e parenti l'intenzione di fare questo grande passo. L'ufficialità non è ancora arrivata come riporta il Sun:
Non hanno ancora fissato una data ma hanno confidato a familiari e amici intimi che intendono sposarsi
I due attori, questa estate sono andati a convivere nella casa di lui. Kit come sempre dolce e premuroso ha cercato in tutti i modi di fare sentire a suo agio Rose, facendole considerare la casa come il loro nido d'amore. Siamo contenti di questa notizia e attendiamo con ansia l'ufficialità, sperando in un lieto fine (almeno nella realtà) per i due attori.
E' il caso di dirlo, Cupido ha scoccato la sua freccia…. (if you know what I mean)