Sono quasi trascorsi dieci anni dall'ultimo episodio di Hannah Montana, l'iconica sitcom targata Disney Channel. Lo show, che ha segnato generazioni di adolescenti cresciuti con le divertenti avventure della cantante, ha continuato la sua corsa per ben quattro stagioni prima di concludersi definitivamente con il film Hannah Montana: The Movie.
Nonostante sia trascorso parecchio tempo, a volte la nostalgia ha la meglio e non possiamo fare a meno di pensare ai bei momenti che le star Disney ci hanno regalato in passato. Soprattutto se, all'improvviso, proprio quelle star ritornano con una reunion. Miley Cyrus, protagonista della sitcom per ragazzi, pochi giorni fa si è infatti ritrovata insieme all'amica d'infanzia Emily Osment. Le due hanno condiviso lo stesso set per anni e la loro amicizia, nata grazie all'iconico personaggio televisivo, perdura tutt'oggi.
Durante il suo talk show Bright Minded: Live with Miley, la Cyrus ha così ospitato "virtualmente" Emily per discutere del passato e raccontare in che modo trascorre le sue giornate durante la quarantena. La reunion tra le due attrici ha reso nostalgici i fan della vecchia serie tv che hanno apprezzato l'inaspettato incontro, rinominato già l'evento del decennio.
Esso rappresenta infatti il loro primo incontro ufficiale dopo la fine di Hannah Montana.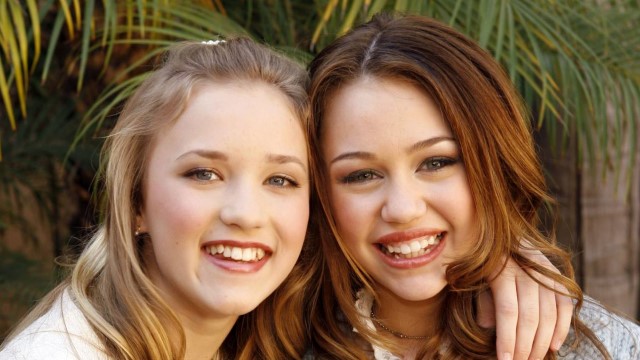 Indubbiamente entrambe hanno sempre ammesso di essere in ottimi rapporti e di sentirsi privatamente, lontane dai riflettori. Nel corso della live, andata in onda sul profilo Instagram della cantante Miley Cyrus e già presente sul suo canale Youtube, la Osment ha quindi ricordato la sua esperienza in Hannah Montana nei panni di Lilly Truscott. Supportandosi e complimentandosi a vicenda, le due ragazze hanno riaperto un capitolo del passato che, ancora oggi, ricordano con affetto.
La Cyrus ha successivamente mostrato al pubblico delle immagini che ritraevano lei e la sua ospite sul vecchio set, rivelando piccoli aneddoti relativi alla serie tv come le lunghe attese per girare le scene o i costumi indossati. Le due amiche hanno poi parlato dei propri amici a quattro zampe, sottolineando l'importanza della cura degli animali e invitando gli spettatori interessati ed economicamente disponibili ad adottare dei cani.
Credo che il modo migliore per attirare l'attenzione sul migliore amico dell'uomo sia quello di riportare il duo di migliore amiche che, da sempre, incoraggia le persone a fare la cosa giusta.
Il talk show Bright Minded: Live with Miley Cyrus va in onda dal lunedì al venerdì sul profilo Instagram della cantante che, in ogni episodio, invita dei nuovi ospiti. Ecco qui di seguito il video reunion con l'amica d'infanzia Emily Osment.