Quante volte abbiamo immaginato di incontrare gli attori delle nostre Serie Tv preferite? Di parlare con loro, di scattare un ricordo insieme e di avere un loro autografo appeso in camera? Milioni di volte! Qualche volta può capitare, seppur raramente, di incontrarli per strada o per le vie di un supermercato (o alla presentazione di un loro film, come è stato per Nikolaj Coster-Waldau a Cagliari). Il più delle volte, tuttavia, abbiamo la possibilità di conoscerli partecipando ad alcuni eventi appositi. Senza pensare a eventi che possono sembrarci irraggiungibili come il San Diego Comic-Con, basta considerare la nostra penisola e ci vengono in mente, ad esempio, il Giffoni Film Festival, il Romics e… il GoodbyeCon!
I cast di Pretty Little Liars, Teen Wolf e The Vampire Diaries sarà ospite di una convention che avrà luogo in Italia: il GoodbyeCon! Ecco di cosa si tratta.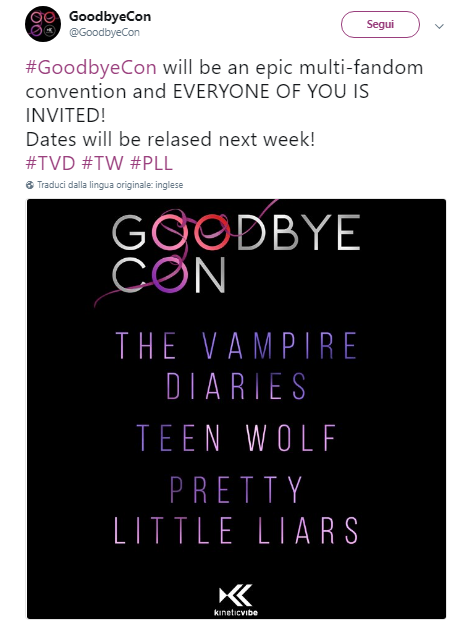 Quest'anno siamo stati costretti a dire addio ad alcune delle Serie Tv che abbiamo seguito per anni. Amate soprattutto dagli adolescenti, Pretty Little Liars, Teen Wolf e The Vampire Diaries si sono concluse. Tra gioie, lacrime, risate e (permettetemi di dire) un bel po' di trash ci siamo lasciati queste Serie alle spalle. Non temete: non sarà un addio, piuttosto un arrivederci! Per Teen Wolf ad esmepio, è già stato proposto un reboot (ne abbiamo parlato qui!). Inoltre, grazie al GoodbyeCon avremo la possibilità di salutare queste Serie Tv in buona compagnia!
Il GoodbyeCon è una convention che avrà luogo a Milano nel 2018. Gli attori protagonisti di Pretty Little Liars, Teen Wolf e The Vampire Diaries arriveranno in territorio milanese per incontrare e salutare tutti i fan! Il prossimo anno potrebbero quindi realizzarsi i vostri desideri che riguardano l'incontro con i vostri personaggi preferiti! Un'occasione da non perdere!
L'evento è organizzato da Kinetic Vibe che ha già rilasciato qualche informazione. Al GoodbyeCon sarà possibile partecipare a sessioni conferenza con domanda&risposta con i fan (Panel), si potranno effettuare sessioni fotografiche (Photo OP), sessioni autografi e incontri privati con alcuni fan (Meet&Greet). I costi dei pass e degli eventuali extra sono ancora da decidere.