Oggi noi di Hall of Series siamo stati invitati da Sky alla Premiere Internazionale di Gomorra 4, durante la quale abbiamo avuto la possibilità di vedere in anteprima i primi due episodi. La serie andrà in onda ogni venerdì alle 21:15 su Sky Atlantic a partire dal 29 marzo. Dopo la visione dei due episodi – che vi garantisco, rappresentano un cambio di rotta sotto tutti i punti di vista e in particolar modo sul piano registico – la troupe e parte del cast si sono fermati per alcune domande.
Si parte con un video con cui Roberto Saviano ha voluto salutare tutti. L'ideatore del libro che uscì quasi dodici anni fa dichiara:
Gomorra 4 ha una svolta, la svolta dell'economia, della finanzia, della politica. Le donne continuano ad avere un ruolo: Patrizia e Azzurra crescono: militarmente e strategicamente. Gli uomini sono dei bambini dispersi. Emerge un racconto che non ha paura di affrontare il collasso del paese perché Gomorra è in grado di raccontare il nostro tempo.
Poi la parola passa agli sceneggiatori, Leonardo Fasoli e Maddalena Ravagli:
Gli equilibri cambiano anche nel mondo della criminalità. Patrizia cerca in tutti i modi di governare come un uomo e se la deve vedere con la famiglia dei Levante, che racconta un nuovo lato della Camorra: ancora più patriarcale ed estremamente conservatrice. Altro tema che abbiamo sviluppato è quello delle convivenze. Il mondo criminale non è un mondo a parte perché produce potere che si va ad infiltrare nella società sana. Per cui alla fine un aspetto interessante del mondo criminale è il fatto che può esistere perché trova "complicità" nella società normale.
Questa quarta stagione di Gomorra, dal punto di vista registico è molto variegata. I primi quattro episodi sono stati diretti da Francesca Comencini; il quinto e il sesto da Marco D'Amore; il settimo e l'ottavo da Enrico Rosati; il nono e il decimo da Ciro Visco; l'undicesimo e il dodicesimo da Claudio Cupellini. Ed è proprio lui a prendere la parola:
Abbiamo avvertito come uno spaesamento. Ci sorprendiamo ogni volta, perché dobbiamo adattarci con una realtà che non conosciamo. In questa quarta stagione cambiano le strategie, nuovamente come in ogni nuova stagione. non esisterebbe un Gennaro Savastano uguale a se stesso, crescendo cambia anche il suo modo di agire. Anche l'arrivo di nuovi personaggi si sposa perfettamente a questo modo di tramare e combattere. Questa stagione è più forte e più vera ma mantiene sempre la sua identità.
Il microfono passa a Marco D'Amore, il nostro amato Ciro, in veste solo di regista per Gomorra 4: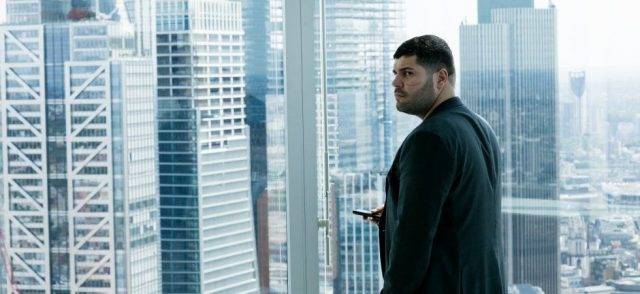 Gomorra alleva talenti. Spero di aver lasciato anche io la mia eredità non solo nella recitazione della serie ma anche con questo nuovo compito che ho avuto l'onore di affrontare.
Poi Enrico Rosati:
Gomorra è una grande macchina. In questa stagione i protagonisti vivono mondi diversi. I nuovi posti per i nostri personaggi si sono trasformati in una gabbia piuttosto che i vecchi in cui erano a loro agio.
E Ciro Visco:
Il territorio dove abbiamo lavorato è la nostra ricchezza. Vedere questi personaggi reagire in un nuovo contesto è stata la cosa più curiosa e importante. Abbiamo girato in ambienti veri e sensibili. Siamo entrati dentro case che non erano nostre avendo la sensibilità di ascoltare chi era intorno a noi.
Adesso la palla è in mano al cast e il primo a parlare è Salvatore Esposito, protagonista di un siparietto simpatico con Marco D'Amore che continua a disturbarlo:
Il laitmotiv sarà proprio questo dualismo di Genny. Il fatto che lui combatta contro tutti i demoni che si porta dietro dalla prima stagione. Dopo il sacrificio di Ciro e il passaggio di testimone a Patrizia vuole cambiare vita perché vuole proteggere la famiglia. La definizione precisa di Genny l'avrete solo alla fine della stagione.
Poi è il turno di Cristiana D'Anna che interpreta Patrizia: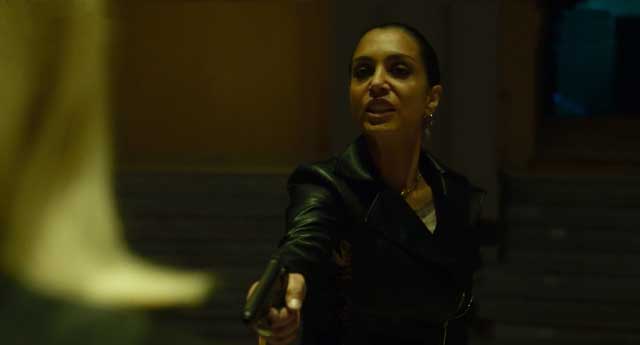 Patrizia si ritrova a ricoprire una posizione di potere enorme. Non c'è assimilazione all'uomo lei gestirà il potere alla maniera femminile che poi avrete modo di vedere nei prossimi episodi. Il vero potere è quello che ha Genny.
Ma dietro un grande uomo c'è sempre una grande donna stiamo parlando di Ivana Lotito che interpreta Azzurra:
La quarta stagione di Gomora mi ha fatto capire (come attrice e personaggio) quanto il motivo che mi rendeva insicura nelle stagioni precedenti, cioè non avere un'identità, sia diventato un motivo di forza. Azzurra vuole stare accanto a Genny, è molto determinata. La sua forza è conferire forza. Lei crede nei talenti di Genny e spera anche che lui possa trovare altri modo per attuarli. Lei è sempre stata al passo con Genny non ha mai subito la sua potenza.
Il microfono passa ad Arturo Muselli che racconta Gomorra 4 con i suoi occhi (o il suo occhio):
L'ultima puntata della terza stagione, fa da monito a tutto quello che diventerà Sangue Blu.
Menomale che al suo fianco c'è Valerio Misano interpretato da Loris De Luna:
Valerio si toglie le vesti da bravo ragazzo: cambia look e modo di parlare. In questa stagione è il braccio quello che agisce a differenza di Enzo che è diventato più pensieroso.
Anche noi di Hall of Series abbiamo chiesto fatto una domanda indirizzata a Salvatore Esposito e Arturo Muselli: "Dopo il finale della terza stagione, quanto di Ciro si è trasferito sia in Genny che in Enzo? Dobbiamo aspettarci atteggiamenti di Ciro nel nuovo Genny e nel nuovo Enzo?"
Salvatore: "Qualcuno potrebbe pensare che chi ne sarebbe uscito sconfitto fosse Genny, ma in realtà chi ha subito di più il colpo è stato Enzo. Genny dopo quello che gli ha detto Ciro si è rimboccato le maniche. L'essenza di Ciro provocherà qualcosa all'interno di Genny ma lo vedrete nei prossimi episodi." Arturo: "Per Enzo, Ciro è stato il maestro e su quella barca, quella sera, c'è stato l'ultimo insegnamento di Ciro. Vedrete come questo avvenimento porterà Enzo verso il suo cammino per l'inferno."
Insomma, stanno per tornare: appuntamento su Sky Atlantic il 29 marzo alle 21:15 per Gomorra 4!