A quanto pare, il cast e i produttori di Game of Thrones non sono gli unici a sapere come finirà la serie. Qualcuno non è proprio riuscito a contenersi e ha già rivelato il tanto atteso finale dell'ottava e ultima stagione di Game of Thrones. A spoilerare tutto è stata Sophie Turner, che interpreta Sansa Stark. Lei stessa lo ha ammesso in un'intervista:
Non sono per niente brava a mantenere i segreti. Penso che nessuno mi dica più niente ormai perché sanno che non so tenere la bocca chiusa. Ho già raccontato il finale di Game of Thrones ad alcune persone.
Già. Mentre noi siamo qui a fare il countdown ogni giorno aspettando con ansia di poter guardare l'ultima stagione, c'è qualcuno là fuori che sa già tutto. Siamo come tanti Jon Snow in questo momento. Persone privilegiate conoscono già il gran finale. Mentre noi comuni mortali dobbiamo aspettare il 14 aprile per guardare l'inizio della fine di Game of Thrones.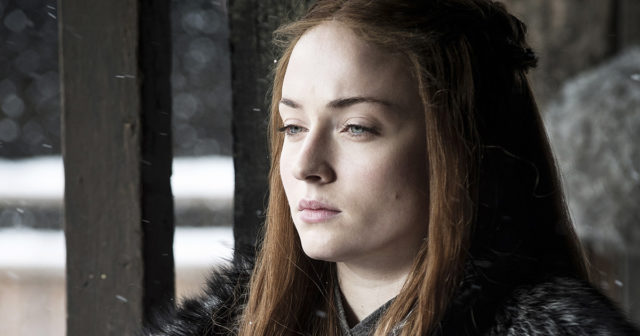 Non è però una cosa del tutto negativa. Bisogna ammettere che sentire come si concluderà la serie senza vederla non è affatto soddisfacente. E chissà, magari il finale è terribile e queste persone che sanno, stanno già provando l'amara delusione. Almeno noi abbiamo un po' di tempo in più per prepararci a ogni possibilità.
Sophie Turner non ha parlato delle reazioni che hanno avuto queste persone una volta confidato il grande segreto. Quando le hanno chiesto se fosse ubriaca nel momento della rivelazione, lei ha risposto: «No, ero sobria. Ho detto "Ehi se vuoi saperlo, io te lo dico". Ma sono persone che conosco, non gente a caso. E so che loro manterranno il segreto».
L'attrice non ha fatto nomi. Possiamo immaginare che siano parenti, o amici di vecchia data, o forse il suo fidanzato e futuro sposo Joe Jonas. Non sappiamo neanche questo con sicurezza, ma speriamo per Sophie che queste persone sappiano mantenere un segreto meglio di lei.