Alla premiere della settima stagione di Game of Thrones manca ancora tanto, troppo tempo. Un'eternità… Giugno è ancora lontano e la HBO non ha nemmeno diffuso la data ufficiale della messa in onda. Per quanto ancora dovremmo soffrire!
Le riprese non sono ancora finite e ogni giorno spuntano come funghi anticipazioni (vere o fake) sul web che ci gettano nel panico aumentando il nostro stato d'ansia.
E come se non bastasse, stavolta è arrivata una grossa anticipazione da una delle attrici della serie. L'attrice che ha svelato una grossa anticipazione su GoT è proprio la stessa persona che ha dichiarato, qualche tempo fa, di odiare a morte gli spoiler e di provare un grande fastidio per tutti quelli che vogliono rovinare le sorprese.
Se siete deboli di cuore vi invito a non continuare la lettura!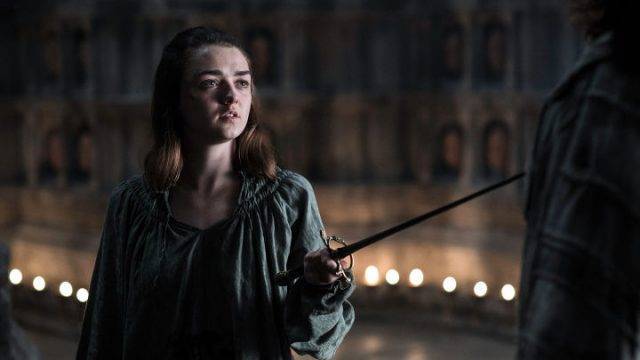 La chiacchierona Maisie Williams questa volta si è lasciata sfuggire un grosso spoiler riguardo la prossima stagione. Parlando del suo ruolo nella serie ad una intervista per TimeOut, la giovane Arya Stark di Game of Thrones ha rivelato che la settima season si concluderà con un grosso cliffhanger!
"Le cose si stanno agitando adesso. Siamo arrivati al climax, e stiamo rotolando verso la fine. È emozionante. Alla fine della scorsa stagione, mi sembrava che tutto fosse pronto per il gran finale: tutti i personaggi sono arrivati ad uno snodo nelle loro vite. Ora stiamo per schiantarci tutti verso il modo in cui la serie finirà, qualsiasi esso sia" ha continuato Maisie.
Siamo quindi giunti al giorno del giudizio? Al gran finale? L'inverno è finalmente arrivato? Quale sarà questo grande cliffhanger che farà crescere in noi uno stato d'ansia maggiore di quello attuale?
Può esistere un finale che ci possa tenere in sospeso e procurarci danni cerebrali peggiori di quelli riscontrati dopo la morte di Jon Snow nella quinta stagione?
Quale evento concluderà la settima stagione di Game of Thrones lasciandoci col fiato sospeso?
Troppe domande senza risposta.. Non ci resta che aspettare..