L'ultima stagione di Game of Thrones sta per arrivare: la HBO la manderà in onda ad aprile 2019. Tutti i fan sono in attesa, curiosi di conoscere come termineranno le vicende ambientate a Westeros.
Tra speculazioni e piccole anticipazioni da creatori e attori, le certezze sull'ottava stagione sono però poche: la HBO ci tiene alla segretezza. Con l'avvicinarsi della messa in onda, però, dal network iniziano ad emergere primi sguardi ai nuovi episodi.
Tra questi un nuovo video rilasciato dalla HBO, nel quale vediamo le serie tv del suo 2019. Game of Thrones spicca per la presenza di una scena inedita, dell'ottava stagione: Jon (Kit Harington) e Daenerys (Emilia Clarke) tornano a Grande Inverno (Winterfell) e Sansa (Sophie Turner) li accoglie nella dimora degli Stark.
"Grande Inverno è vostra, Vostra Maestà".
Nonostante le gentili parole, è tutto da vedere: come si porrà Sansa nei confronti di questa nuova alleanza? La Madre dei Draghi, di contro, sembra contenta di avere Grande Inverno dalla sua parte, mentre Brienne (Gwendoline Christie) appare un po' scettica.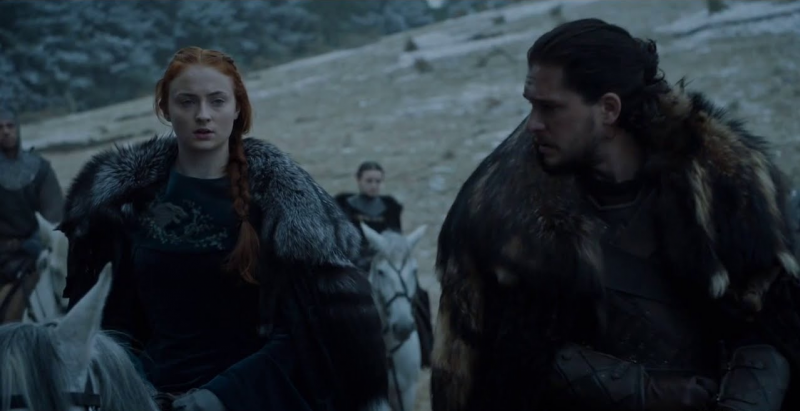 Nel video, inoltre, vediamo il Re della Notte cavalcare Viserion. Nell'ultima stagione, infatti, durante uno scontro tra i draghi di Daenerys e gli Estranei, Viserion è stato abbattuto e poi riportato alla vita dal Re della Notte.
Nonostante i dettagli sull'ultima stagione siano scarsi, qualcosa già sappiamo. Gli episodi saranno più lunghi in termini di minutaggio rispetto a quelli delle stagioni precedenti. Ci saranno molti momenti commuoventi e una battaglia epica più grande di quelle già realizzate; a tal proposito Peter Dinklage (Tyrion Lannister) ha commentato:
"Farà sembrare la Battaglia dei Bastardi come un parco giochi".
Nel video non abbiamo solo un piccolo assaggio di Game of Thrones, ma anche di nuove e vecchie serie tv e contenuti che arriveranno sulla HBO nel 2019. Vediamo infatti True Detective, Veep, Barry, Watchmen, Big Little Lies e altre ancora.