Quando si ha a che fare con il fantasy capita di trovarsi di fronte a termini inventati di cui non sappiamo bene la pronuncia, e di conseguenza la sbagliamo. È quel che è successo anche con Game of Thrones: c'è una parola che nessuno – nemmeno gli attori – pronuncia correttamente.
Si tratta di Khaleesi, uno dei titoli di Daenerys Targaryen (Emilia Clarke).
A rivelare l'errore è David J. Peterson, esperto di linguistica che ha creato linguaggi per film e serie tv, tra cui Doctor Strange, Penny Dreadful e The Shannara Chronicles. Per Game of Thrones si è occupato del valyriano e della lingua Dothraki, alla quale appartiene, appunto, la parola Khaleesi.
Nel suo lavoro Peterson ha usato il materiale dei romanzi di George R. R. Martin per costruire i diversi linguaggi usati nella serie tv. Da subito aveva però capito che le persone avrebbero pronunciato alcune parole in modo sbagliato, in particolar modo "Khaleesi".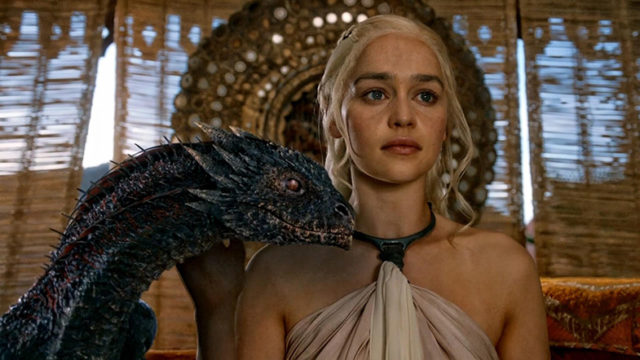 In un'intervista con il podcast The Allusionist, Peterson ha affermato:
Non si dovrebbe affatto pronunciare ka-lì-si se ci riferiamo allo spelling. Quindi ho dovuto decidere se riscriverlo completamente perché sapevo che le persone lo avrebbero pronunciato così, o se restare fedele allo spelling e pronunciarlo diversamente. Ho scelto la seconda opzione e penso che sia stata la decisione sbagliata. Avrei dovuto cambiare lo spelling: cambiare khaleesi in khalisi avrebbe risolto tutti i miei problemi.
Quindi come dovremmo dirlo? La pronuncia corretta è più simile a kha-le-isi.
Peterson aggiunge, inoltre:
Nella parola c'è un 'ee' e una 'i' e non possono essere pronunciate allo stesso modo, se vuoi restare fedele a ciò che George R. R. Martin ha scritto. Se sono scritte diversamente, vuol dire che vanno pronunciate diversamente. Ma non c'è stato modo di vincere questa battaglia contro i produttori.
Dunque, per ben otto stagioni abbiamo pronunciato in modo errato questa parola. Probabilmente, però, ora è troppo tardi per cambiare le abitudini degli spettatori.
Game of Thrones tornerà con la sua ultima stagione, l'ottava, il 14 aprile 2019.