Quando entri nel set di Game of Thrones e sei solo una bambina, crescere non è semplice. Per Maisie Williams, amatissima interprete di Arya, il set è stato una scuola di vita. Stando a contatto con attori più grandi e preparati di lei ha imparato molto, ha conosciuto sua sorella nella finzione nonché sorella per scelta Sophie Turner e ha partecipato alla serie tv più amata degli ultimi anni.
Il set di Game of Thrones è stato anche teatro di numerose iniziazioni sessuali. Per Maisie come per Sophie, un set è il posto più strano in cui confrontarsi con il proprio corpo e la sessualità, e l'esperienza le ha fatte crescere in fretta (e bene).
Ma Game of Thrones può anche scatenare insicurezze su di sé, soprattutto se, come nel caso di Maisie, sei costretta a interpretare per otto stagioni una ragazza mascolina e per niente attraente come Arya. Maisie Williams ha dichiarato che sul set della serie ha provato vergogna per come il suo corpo veniva rappresentato.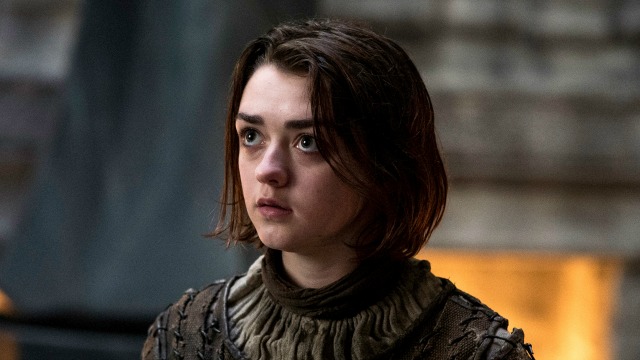 Intorno alla seconda o alla terza stagione il mio corpo ha iniziato a maturare e io iniziavo a diventare una donna, ma Arya doveva ancora tentare di mascherarsi da ragazzo. Dovevo avere i capelli molto corti, mi coprivano di terra e fango, mi truccavano il naso in modo da farlo sembrare più largo e rendermi più mascolina. Mi mettevano anche una specie di cintura sul petto, per appiattire la crescita che era ormai iniziata. La vita sul set era orribile per sei mesi all'anno, e mi sono anche un po' vergognata per qualche tempo.
L'attrice ha anche ammesso di aver sofferto molto in passato per commenti negativi di fan di Game of Thrones sul suo aspetto. Ma ora che Arya Stark è solo un ricordo, chissà che Maisie non si faccia conoscere in ruoli per i quali non serva ricoprirsi di fango!