# #
È trascorso ormai un anno dalla messa in onda dell'ultima puntata di Game of Thrones, ma le polemiche e i dibattiti sul finale della serie non si sono ancora placati del tutto. I fan, subito dopo il rilascio degli ultimi episodi, avevano aspramente criticato le scelte degli sceneggiatori, al punto che alcuni di loro si erano spinti fino a lanciare una petizione online per riscrivere totalmente il finale. Una petizione che peraltro ha raccolto quasi due milioni di firme.
# #
Quello di Game of Thrones è indubbiamente uno dei finali più discussi degli ultimi anni. Sarà per questo che Kit Harington non l'ha ancora visto?
L'attore che interpreta Jon Snow ha preso molto male la fine dell'avventura nella serie televisiva che lo ha visto crescere. Dopo quasi un decennio ad interpretare il bastardo di Grande Inverno, Kit Harington si è sentito improvvisamente spoglio e privato del ruolo con cui aveva finito per identificarsi. Quella di Game of Thrones era per lui una seconda famiglia e la fine delle riprese lo ha trascinato in un tale stato di malinconia e angoscia da costringerlo ad andare in riabilitazione.
Alla cerimonia degli Emmy 2019, Kit Harington lo aveva confessato una prima volta: non ho ancora visto il finale. Beato lui, dicevano in molti.
Ma ancora più di recente, in una Q&A session, l'attore è tornato a parlare di Jon Snow e del finale di stagione:
# #
Quando le persone mi dicono "Avrei voluto vederti sul trono insieme a Dany", io non sono d'accordo, perché il posto di Jon è sempre stato nel Nord. Lui non è mai stato felice al Sud. È come Ned Stark. Jon appartiene al Nord della Barriera.
La scelta di Benioff e Weiss di riportare Jon nel suo luogo naturale è dunque condivisa da Harington, che confessa di non aver ancora visto il finale.
"Potrei andare avanti a parlare per ore di Jon", ha scherzato l'attore. Ma neanche troppo, perché Kit Harington ha lasciato sul set di Game of Thrones non solo la sua interpretazione più celebre, ma un pezzo della sua stessa vita.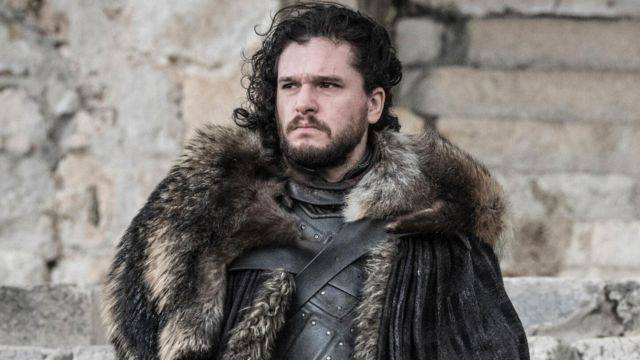 La carriera dell'attore però va avanti e The Eternals è il suo prossimo film in uscita. Nella pellicola della Marvel, Harington interpreterà il Cavaliere Nero, ma su trailer e data di uscita ci sono ancora notizie confuse.
The Eternals è finito, è stato girato. Solo Dio sa cosa è successo… o cosa sta succedendo, io non ne ho idea. Non so cosa stia succedendo in questo momento.
Il film sarebbe dovuto uscire a novembre nelle sale, ma la data è stata posticipata a febbraio 2021. Il primo capitolo della Fase 4 della Marvel, Black Widow, era atteso in questi giorni, ma la pandemia ha stravolto i progetti della casa di produzione e ha fatto slittare le date di uscita.
Dovremmo perciò attendere il 2021 per vedere Kit Harington nei panni del Cavaliere Nero. Per il momento, l'unico nero con cui vogliamo ricordarlo è quello delle cappe dei Guardiani della notte.