Game of Thrones si è ormai concluso ma tra i fan rimangono degli interrogativi. Alcuni riguardano la fine di Daenerys (Emilia Clarke): dove l'ha portata Drogon?
Alcuni pensano che l'abbia portata a Valyria, l'antica casa della Casata Targaryen. Altri pensano che il drago stia volando verso Volantis, per far resuscitare Daenerys da una Sacerdotessa Rossa.
E se invece l'avesse mangiata?
Secondo la dottoressa Carolyn Rando, antropologa forense della UCL Institute of Archaeology di Londra, la fine di Daenerys in Game of Thrones potrebbe essere nella pancia di Drogon.
La scienziata ha detto a The Huffington Post:
"Potrebbe averla mangiarla? Sì, è probabile. Non possiamo escludere questa opzione".
Secondo Rando, un animale che mangia il suo padrone è qualcosa che "probabilmente accade molto più spesso di quanto pensiamo".
"Se guardi ai casi studiati, si tratta di situazioni particolari. Ad esempio una persona che vive sola, e non ha molte conoscenze, muore per cause naturali, e gli animali domestici non possono uscire di casa. Non c'è molto cibo. Situazioni di questo genere.

C'è stato un caso in cui l'animale ha consumato l'intero corpo del padrone, che non è una cosa comune. In certi casi, gli animali possono iniziare a leccare il cadavere, per assicurarsi che sia tutto ok, e c'è poi tutto quel sangue, e alla fine mangiano".
Queste azioni sono derivanti dallo stress e dal desiderio di avere le attenzioni del padrone, piuttosto che da un vero tentativo di consumare un pasto. Gli animali leccano il cadavere, lo toccano con la zampa: azioni che ci ricordano il comportamento di Drogon, che cerca insistentemente di svegliare Daenerys.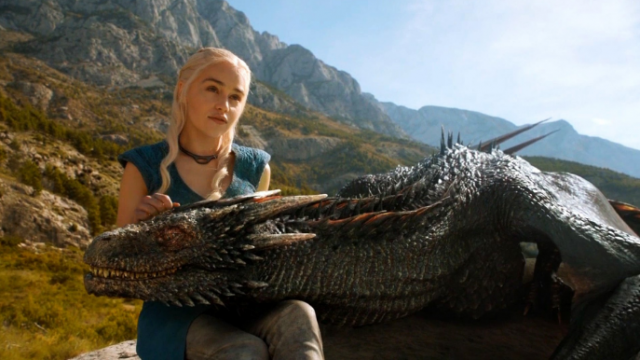 Tuttavia, da fan della serie, Rando ha una visione più ottimista:
"Sembra che i draghi nella serie tv comprendano almeno un po' il comportamento umano. Quindi vedevano Daenerys come un loro genitore.

Alla nascita, lei è stata la prima cosa che hanno visto. Se guardiamo agli studi sugli animali negli zoo, in cui cercano di insegnare agli animali a tornare allo stato di natura, vengono usati pupazzi e strumenti che assomigliano all'animale della loro specie, cosicché non abbiano un imprinting con gli esseri umani.

Quindi nel caso di Drogon e Daenerys potrebbe essere una questione di un forte imprinting. 'Questo è il mio genitore, e devo proteggerlo'".
Rando conclude affermando che, se Drogon fosse stato davvero affamato, c'era qualcun altro che poteva mangiare.
"Se avesse voluto mangiare qualcuno, avrebbe mangiato Jon. Lui è proprio lì".