Mancano quaranta giorni al rilascio dell'attesissima ottava e ultima stagione di Game of Thrones, e le teorie si rincorrono sul web. Dalle più strampalate alle più fondate, una è assolutamente folle ma indubbiamente interessante. L'ultima in ordine di apparizione è una teoria pubblicata dal sito Floor8 che, sulla base dell'ultimo trailer rilasciato da HBO, formula un'inquietante ma affascinante teoria.
In un frame del video si vede Arya Stark, coperta di sangue, che fugge da qualcuno che la insegue dietro di lei. La qualità volutamente bassa dell'immagine, focalizzata su Arya, non consente di capire chi la stia inseguendo. Ma sulla base del fatto, ormai assodato, che la grande battaglia finale di Game of Thrones avrà luogo dalle parti di Grande Inverno, e vista la capacità degli Estranei di resuscitare i morti, Floor8 formula questa teoria.
Arya Stark, secondo questa speculazione, starebbe scappando nientemeno che dal padre, Ned Stark, resuscitato dai White Walkers.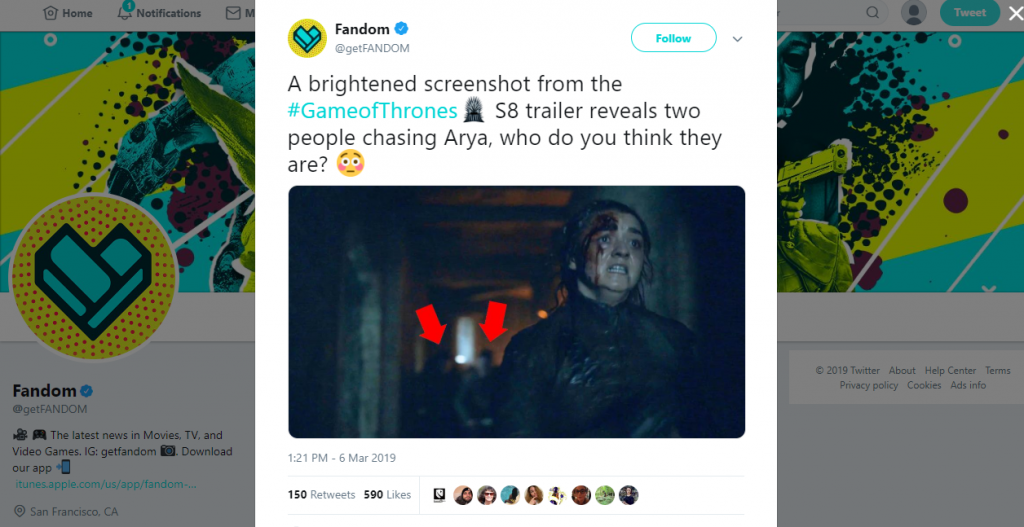 Sarebbe un colpaccio per Game of Thrones, a cui i fan dei libri più irriducibili non hanno mai perdonato la mancanza di Lady Stoneheart, Catelyn Stark, resuscitata dalla Fratellanza. Secondo questa strampalata ma affascinante teoria, gli Estranei farebbero ben di più che resuscitare il capofamiglia Stark: riporterebbero in vita altri Stark morti, fra cui Robb e la stessa Catelyn.
In effetti, conoscendo il sangue freddo di Arya, poche cose saprebbero spaventarla al punto da vederla così fuori di sé. Potrebbe però farlo la vista della sua famiglia, orrendamente trucidata, tornata in vita e assetata del suo sangue.
D'altra parte, se uno degli uomini che vediamo nel frame fosse Ned, o anche Robb, dovrebbe mancare ad entrambi la testa. Ma abbiamo già visto che non ci sono limiti a quello che gli Estranei possono fare, e questo aggiungerebbe un tocco estremamente splatter all'ottava stagione di Game of Thrones.
Mentre le teorie, anche le più assurde come questa, continuano a ossessionarci, mettiamoci comodi e continuiamo il countdown fino al 14 aprile!