Si prospetta un episodio di Game of Thrones pieno di tensione quello che andrà in onda il 29 Aprile alle 3.00. Sarà proprio questo terzo appuntamento dell'ottava e ultima stagione ad aprire le danze alla battaglia finale per il futuro di Westeros.
Sono state pubblicate 6 foto tratte dal prossimo episodio, che mostrano i nostri amati personaggi nel momento in cui la battaglia bussa alle loro porte.
Comincia la battaglia con gli eserciti di non morti
Nella prima immagine troviamo Sir Brienne e Sir Jaime, fianco a fianco, in prima linea per affrontare l'esercito dei non morti. I loro sguardi lasciano trasparire che il nemico da affrontare non è uno qualunque bensì la morte in persona.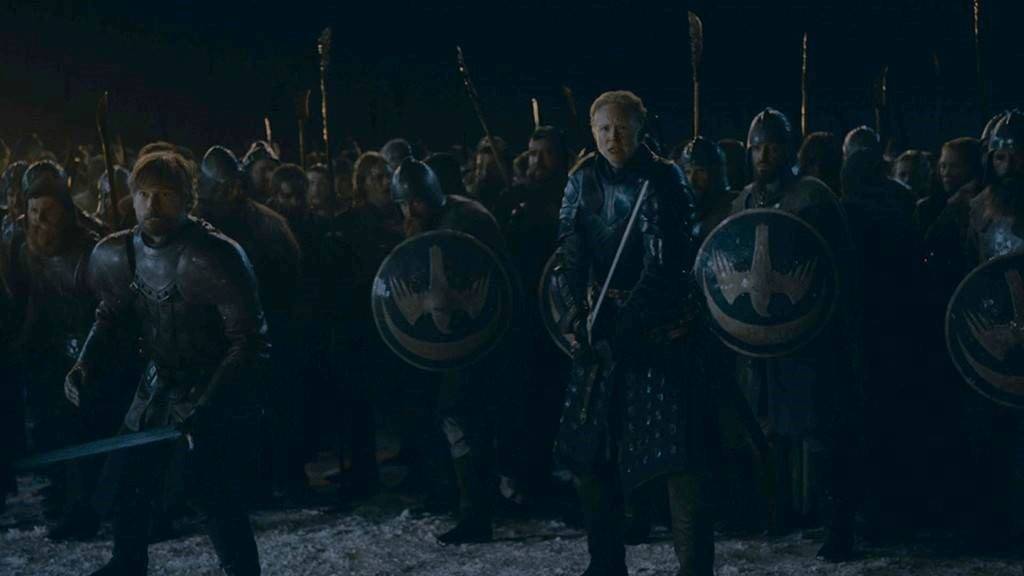 Brienne e Jaime non sono gli unici ad essere sconvolti dalla battaglia. In un'altra foto il viso di Jon Snow è chiaramente sconvolto poiché circondato dalle fiamme. Ciò fa presagire che la battaglia arriverà dentro le mura e che sarà un enorme massacro.
Jon/Aegon potrebbe combattere a cavallo di un drago
La foto successiva mostra Jon e Daenerys, su un'altura distante, osservare in lontananza l'orda di non morti combattere a Grande Inverno. In questa immagine Jon Snow indossa una pelliccia che invece non indossa nell'immagine precedente. Potrebbe essere questo dettaglio ad indicare che Jon ha combattuto a cavallo di un drago al fianco di Daenerys. In realtà, tuttavia, il momento immortalato potrebbe semplicemente essere antecedente al combattimento in cui Jon sarà coinvolto.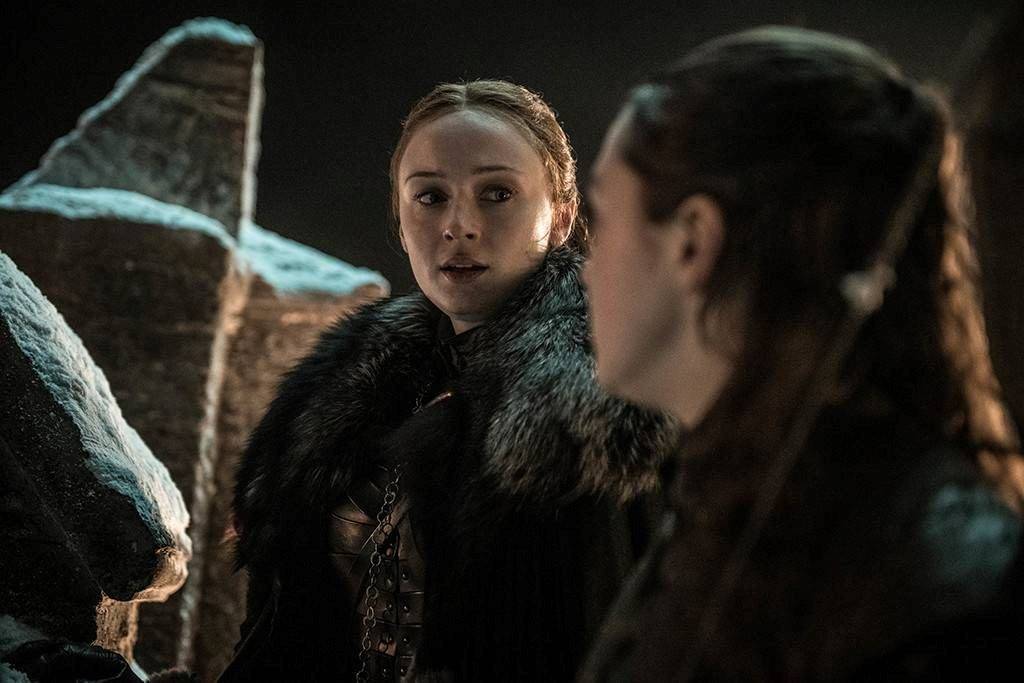 Vediamo Arya e Sansa sulle mura di Grande Inverno scambiarsi le ultime parole prima del terribile conflitto con il mondo dell'aldilà. La sorellina potrebbe aver costretto Lady Sansa a nascondersi nelle cripte portando così frustrazione nella maggiore delle Stark.
Le cripte sono poi così sicure?
Infine nelle ultime due foto, troviamo Tyrion e Varys nella cripta insieme a una Lady Sansa apparentemente arrabbiata. Potrebbero quindi confermare il pensiero diffuso secondo cui proprio le cripte siano il posto meno sicuro di Grande Inverno. Questo perché la possibilità che il Night King riporti in vita i defunti di Westeros non è da escludere.
Queste immagini ci danno solo un'idea di quello che accadrà nel prossimo episodio di Game of Thrones. Per avere la certezza bisognerà aspettare la messa in onda della puntata che in questo caso avrà una durata speciale di 82 minuti.
Qui una galleria fotografica con tutte e 6 le immagini tratte dall'episodio