# #
L'attesa è ancora lunga per la nuova stagione di Game of Thrones e dovremo aspettare l'estate per poterlo rivedere sui nostri schermi. In attesa della premiere, prevista per il 16 luglio, Nikolaj Coster-Waldau, alias Jaime Lannister, rilascia per i fan qualche succosa dichiarazione sul rapporto che il suo personaggio ha con la sorella Cersei (Lena Headey) e Brienne di Tarth (Gwendoline Christie) nella settima stagione.
# #
[ ATTENZIONE DA QUI IN POI POSSIBILI SPOILER ]
Come ricorderete bene nel corso della quinta stagione di Game of Thrones, veniamo a conoscenza di una profezia fatta a Cersei, quando era una ragazzina, dalla strega Maggy la Rana. Oltre che predirle l'avvento di una regina più giovane che la spodesterà dal suo ruolo di consorte del Re e che le porterà via tutto ciò che ha di più caro, la strega le dirà che "D'oro saranno le loro corone e d'oro i loro sudari [riferendosi ai figli]. E quando sarai annegata nelle tue stesse lacrime, il valonquar (fratello minore) chiuderà le mani attorno alla tua gola bianca e stringerà finché non sopraggiungerà la morte" .
# #
Dato che la profezia si è compiuta per due terzi, è da molto che tra i fan si è diffusa la teoria per la quale l'ultima parte si avvererà e sarà proprio Jaime il fratello che la ucciderà, per salvare l'amica (o amata?) Brienne e forse i Sette Regni stessi (per approfondire vedi qui)
L'attore Nikolaj Coster-Waldau commenta così alla rivista The Daily Beast le teorie dei fan sul rapporto che potrebbe svilupparsi nella settima stagione di Game of Thrones tra Jaime e Brienne:
È una teoria grandiosa. La relazione tra Jaime e Brienne è stata costruita sul disprezzo, ma si è trasformata in rispetto e amore – anche se quest'ultima parola non la userebbero mai. Penso che provino dei sentimenti molto forti l'uno per l'altra. Non ho idea se sapranno reagire alla cosa, io credo di no. C'è sempre stata solo Cersei in tutta la vita di Jaime.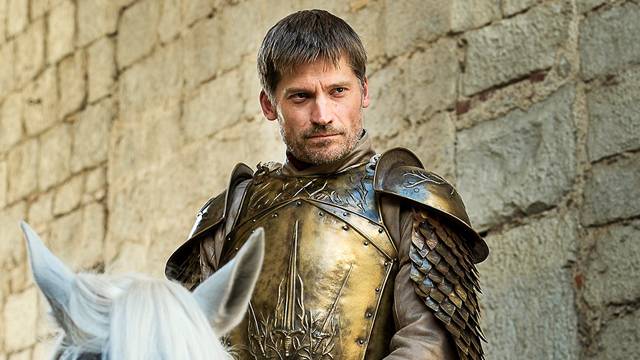 Ha proseguito riflettendo sulla grande dichiarazione d'amore fatta dal suo personaggio a Cersei nella scorsa stagione:
È questo che mi piace di Jaime. Ha perso il suo braccio e non ha più la presenza di una volta, ma ha ancora la sua mente. Non è come sua sorella o suo fratello, ma lui è stato sul campo di battaglia tutta la sua vita, conosce la debolezza delle persone e sa cosa significa amare incondizionatamente. Lui ama sua sorella incondizionatamente.
Infine come ultima chicca ha rivelato che nel corso della settima stagione di Games of Thrones Cersei avrà un nuovo pretendente. Che si tratti di Euron Greyjoy pronto ad unire la flotta degli Uomini di Ferro all'esercito Lannister per conquistare i Sette Regni? Dovremo aspettare luglio per scoprirlo.