Ebbene sì, è il momento di mettere insieme tutti i tasselli che compongono ciò che potrà essere la quarta stagione di Fear The Walking Dead. Come ormai da tradizione, lo spin off di The Walking Dead, dovrebbe tornare sui nostri teleschermi agli inizi dell'estate 2018; anche se ancora non abbiamo nessuna conferma, dunque basandoci solo sulle passate stagioni, la Serie potrà essere composta da sedici puntate, divise in due parti.
In vista della nuova stagione, Fear The Walking Dead ha aggiunto al proprio cast alcuni volti noti al pubblico del piccolo schermo, come per esempio: Maggie Grace dalla Serie Tv Lost, Kevin Zegers di Notorious, Garrett Dillahunt dalla nuova Serie The Gifted e Jenna Elfman di Dharma e Greg.
Ma un nome più di tutti risalta all'occhio per gli appassionati della Serie Tv sugli zombie più seguita negli ultimi otto anni. Parliamo ovviamente di Lennie James, interprete di Morgan Jones, personaggio proveniente da The Walking Dead.
Sarà proprio lui, come svelato durante una puntata di Talking Dead, che porterà insieme le due Serie Televisive, permettendo così il tanto atteso crossover.
Le teorie al momento sono diverse: alcuni hanno azzardato che la quarta stagione di Fear The Walking Dead avrà un tale salto temporale da portarla alla pari della Serie madre; altri, invece, hanno ipotizzato che vedremo l'evoluzione di Morgan nel periodo in cui non era insieme a Rick e al suo gruppo. Una cosa è certa: sarà sicuramente interessante.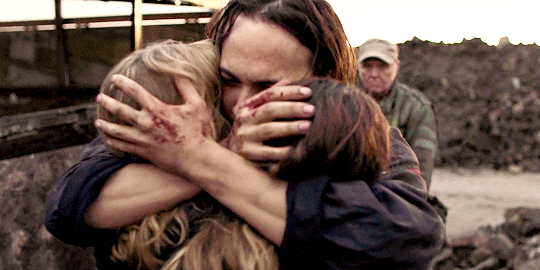 Un'altra nota riguardo la Serie è stato il cambio di showrunner: Dave Erickson che ha avuto le redini per ben tre anni, lascia il posto a Andrew Chambliss e Ian Goldberg, i quali hanno lavorato nella Serie di Once Upon A Time.
Inoltre, le riprese iniziate a novembre e successivamente interrotte per Natale, sono ricominciate proprio in questi giorni – grazie a foto e video pubblicati dagli attori.
Tutto ciò porta anche alla conferma di alcuni di essi che rivedremo nella nuova stagione, come: Alycia Debnam-Carey, interprete di Alicia Clark, Colman Domingo nel ruolo di Victor Strand, Kim Dickens come Madison Clark e per ultimo Frank Dillane, nel ruolo di Nick Clarke.
Non ci resta dunque che aspettare, guardando nell'attesa proprio la Serie da cui tutto ha avuto inizio.
Leggi anche: Plot twist: Fear The Walking Dead ha virato alla grande