Il franchise della bambola dai capelli rossi, Chucky, sta tornando sul piccolo schermo grazie all'emittente televisiva Syfy. Malgrado la bambola abbia terrorizzato per ben 30 anni gli spettatori, sembrerebbe che non si voglia fermare più. Nel 2004 il debutto del film, Seed of Chucky, ha lasciato l'amaro in bocca ai fan della bambola, riprendendosi però dopo quasi dieci anni con il film successivo intitolato Curse of Chucky.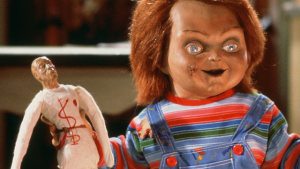 Ciò che si sono chiesti i molti appassionati di Chucky è se nella serie televisiva che debutterà su Syfy, la bambola manterrà il suo linguaggio scurrile, una delle caratteristiche per cui è conosciuto il personaggio.
Nick Antosca, creatore di Channel Zero, il quale produrrà la serie tv, ha rassicurato i fan con un post sul suo account Twitter nel corso di questi ultimi giorni. Il cambio di emittente non influenzerà le caratteristiche dello storico personaggio.
D'altro canto, la Syfy l'ha permesso in altre serie televisive, perché non dovrebbe allora per Chucky?
Sì, Chucky può dire "c*zzo" su Syfy.
(Yes, Chucky can say "fuck" on Syfy.)

— Nick 🥑 Antosca (@NickAntosca) January 30, 2019
Con Channel Zero ormai in chiusura, la serie televisiva sulla piccola bambola sarà un ottimo sostituto per il genere horror ottimo sulla Syfy: emittente abituata ad avere questo genere nel proprio catalogo.
Don Mancini, creatore del celebre personaggio, ha ammesso che la decisione di spostare il franchise sul piccolo schermo era un qualcosa che voleva fare da tempo. Questa è certamente una nuova opportunità per lo sceneggiatore di esplorare ancora di più questo universo. Possibilità che forse non avrebbe potuto avere se avesse continuato con la produzione di film.
Attualmente non si hanno ulteriori informazioni, né su quando inizierà la produzione e né su una possibile data di debutto: l'unica conferma è che Brad Dourif vestirà nuovamente i panni del protagonista.
Cosa ne pensate?