Entro la fine di questo 2020 Chilling Adventures of Sabrina si concluderà con la distribuzione della quarta parte…o forse no?
Dopo la conferma di Netflix che Chilling Adventures of Sabrina si fermerà con la quarta parte, i fan più sfegatati si sono messi al lavoro cercando di fare qualcosa. Ma si sa che contro un colosso come Netflix non è facile combattere.
La petizione indetta su Charge.org ha già raggiunto quasi 90.000 firme ed il numero è destinato ad aumentare.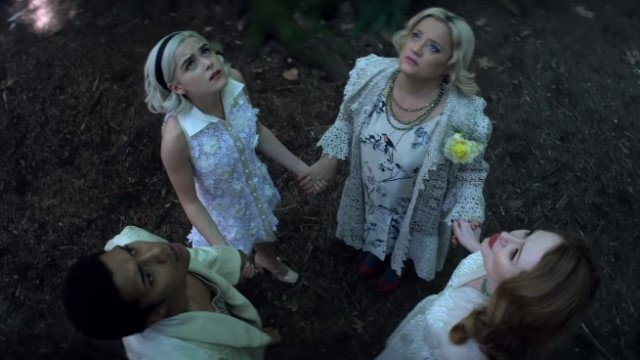 "Lo show è estremamente amato dai fan e speriamo che questa petizione possa riportarlo in vita."
Si legge nella descrizione della petizione stessa.
L'intenzione dei fan è quella di far sentire la propria voce contro il colosso dello streaming, proprio come è capitato con Sense8 e Lucifer.
In entrambi questi casi il clamore creato dalla fanbase ha indotto Netflix a porre rimedio e confermare un episodio speciale (come nel caso di Sense8) oppure un'intera stagione (come invece è successo a Lucifer).
L'autore Roberto Aguirre-Sacasa aveva immaginato Chilling Adventures of Sabrina rimanere a lungo nel catalogo di Netflix, a questo punto sarà costretto a rivedere lo script.
"Sono cresciuto leggendo i fumetti di Archie Comics, li leggo anche ora. Quindi l'idea di conoscere realmente questi personaggi nel corso del tempo è intrigante. Ci sono molte storie da raccontare, generi horror e di stregoneria diversi che non abbiamo ancora esplorato e su cui ci piacerebbe lavorare."
Nonostante le sue iniziali intenzioni, l'autore Roberto Aguirre-Sacasa sarà costretto a riscrivere la sceneggiatura mettendo i puntini sulle i e concludere tutte le storyline dei personaggi.
Nel caso in cui la petizione non abbia nessun impatto sul sito streaming, sarà compito dell'autore dare una giusta conclusione allo show.
In questa lotta di potere per Chilling Adventures of Sabrina, chi la spunterà?
I fan riusciranno ad ottenere un'altra stagione, oppure dovranno accontentarsi della conclusione che Aguirre-Sacasa sarà in grado di immaginare con solo una stagione a disposizione?