Quanto sono belle le novità? Certo, su questo siamo tutti d'accordo. Scoprire nuove serie tv è senz'altro piacevole, la loro visione potrebbe essere godibile e magari finiremo con l'attendere disperatamente l'uscita di una nuova stagione. Ma non sempre abbiamo voglia di andare incontro all'ignoto e all'incertezza, spesso invece preferiamo rifugiarci in quelle serie tv cult che ci fanno sentire più "al sicuro", di cui abbiamo la certezza che potranno scatenare in noi una vecchia nostalgia mentre altre volte scegliamo quelle serie tv cult Netflix proprio per metterci al pari di tutti i nostri conoscenti che da tempo non fanno altro che consigliarci di guardarle. E finiamo poi col sentirci costretti ad ammettere che avevano ragione o a fingere di considerarle davvero così lodevoli solo per non essere delle voci fuori dal coro.
Oltre queste considerazioni, è innegabile che le serie tv cult Netflix sono davvero un bene prezioso e inestimabile e oggi vogliamo elencarvene 5 che da tempo sopravvivono ai rinnovi del catalogo della piattaforma streaming con nostra grande sorpresa e che dunque non avete più scuse per evitare.
Ecco le 5 Serie Tv cult Netflix che ancora sono disponibili sul catalogo dopo numerosi rinnovi e cancellazioni:
1) Sons of Anarchy
Sons of Anarchy è più di una Serie Tv: è una religione e per fortuna Netflix ci regala ancora la possibilità di poterla guardare. Ormai nel lontano 2008 la serie creata da Kurt Sutter per FX è diventata uno dei maggiori successi internazionali del piccolo schermo proprio per la profondità delle tematiche trattate e per l'universo appassionante dei SAMCRO in sella alle loro motociclette. Sons of Anarchy ha costruito un vero e proprio immaginario con un'attrattiva che sopravvive ancora oggi, specie per l'iconicità della sua simbologia, personaggi e costumi.
Il protagonista indiscusso della storia è Jax Teller, interpretato magistralmente da Charlie Hunnam. Durante il corso delle stagioni, assistiamo alla trasformazione di un uomo divorato dalla voce della sua coscienza che costantemente lo porta a mettere in discussione ogni sua scelta o azione, che siano guidate dalla proprie determinazioni o dettate dal ruolo di comando acquisito e dal potere, che comporta per lui ingenti responsabilità.
Sons of Anarchy è un racconto denso di significati perché affronta con estrema crudezza e realismo le sfaccettature dell'animo umano, fra criminalità, amore, famiglia, vendetta, fratellanza. I SAMCRO sono più di un club, sono una Famiglia che anche se senza legami di sangue, è unita da un indissolubile legame.
Grazie a Netflix che ha continuato a rinnovare la serie nel suo catalogo, abbiamo la possibilità di vivere al fianco dei protagonisti di Sons of Anarchy che ci insegnano tanto, ci emozionano e finiscono per guidarci in un vero e proprio percorso di vita.
2) Breaking Bad
Il fatto che una serie come Breaking Bad possa essere annoverata in questa classifica di Serie Tv cult Netflix è una vera fortuna e su questo non si discute. Creata da Vince Gilligan, viene ancora considerata come uno dei più brillanti capolavori che siano mai stati realizzati per il piccolo schermo. Nonostante siano trascorsi circa dieci anni dall'ultima messa in onda, continua a riscuotere consensi in tutto il mondo ed la sua visione è intesa come il punto di partenza fondamentale di chi voglia comprendere come sia possibile appassionarsi a un prodotto seriale.
Walter White, protagonista della storia, è un uomo ordinario. Ha una cattedra al liceo come professore di chimica e un secondo lavoro in un autolavaggio che gli consentono di ottenere uno stipendio modesto.
La sua esistenza è sempre trascorsa in maniera abbastanza banale, nonostante le sue brillanti capacità, ma a cambiare completamente il corso della sua vita è un'inaspettata diagnosi di cancro terminale. É proprio questo momento di estrema rottura degli equilibri a spingerlo a intraprendere una svolta per diventare l'uomo che ha sempre meritato di essere.
La sua scelta, opinabile senza dubbio, è quella di sfruttare le sue conoscenze chimico-scientifiche per la realizzazione di una metanfetamina di altissima qualità con l'aiuto di Jesse Pinkman, scoprendosi particolarmente avvezzo al crimine, al rifiuto di ogni etica e soprattutto, al piacere di poter essere semplicemente il capo di se stesso, senza che nessuno ormai possa contrastare il famigerato Heisenberg. Breaking Bad è la storia di una evoluzione, una storia talmente umana da rendersi a tratti insopportabile perché densa di scomode verità e amare confessioni.
3) Friends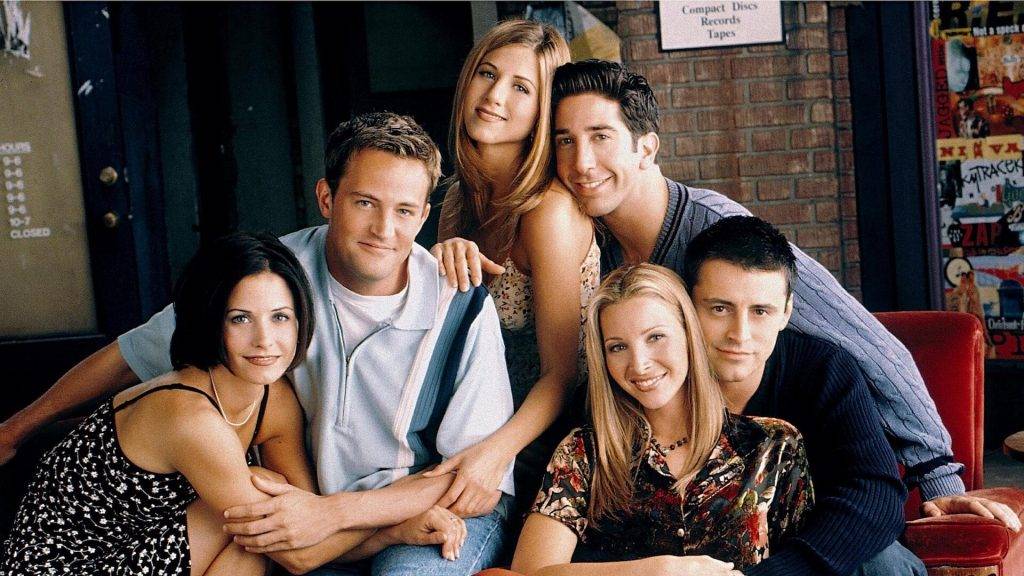 Friends, creata da David Crane e Marta Kauffman e andata in onda dal 1994 al 2004 è una delle nostre certezze fra le Serie Tv cult Netflix che la piattaforma decide di tenersi stretta. É una delle sit-com che, senza ombra di dubbio, è invecchiata meglio e ancora oggi riesce ad intrattenerci con la sua leggerezza e allegria. Proprio per questo, dovremmo cogliere l'occasione per farne un rewatch o per farci travolgere, per la prima volta, dalle esilaranti avventure dei sei amici di Manhattan.
Si tratta di un gruppo di giovani ragazzi e ragazze che, nel corso delle dieci stagioni della serie, costruiscono un profondo e invidiabile rapporto di amicizia che va oltre le loro abissali differenze caratteriali e dei loro interesse divergenti. Tutti single, alla ricerca del proprio posto nel mondo, Rachel, Monica, Joey, Chandler, Phoebe e Ross cresceranno fino a diventare adulti, affrontando sempre nuove sfide e vivendo cruciali esperienze, sempre però connotate da un pizzico di ironia e divertimento.
Li vediamo prendere ognuno la propria strada, innamorarsi, soffrire e fronteggiare le proprie responsabilità e non possiamo che sentirci partecipi di quello che accade fra le mura del Central Perk, il luogo di ritrovo preferito dei protagonisti, dei loro racconti e delle loro bizzarre personalità che ad ogni occasione spiccano proprio con le loro peculiarità.
4) Dawson's Creek
Fra le Serie Tv cult Netflix, abbiamo anche uno dei teen drama più celebri di sempre.
Stiamo parlando di Dawson's Creek, creata da Kevin Williamson e andata in onda dal 1998 al 2003. Parliamo di una storia che ha fatto sognare e al tempo stesso ha insegnato a non rinunciare mai ai propri desideri.
Ambientata nell'immaginaria cittadina di Capeside in Massachusetts, Dawson's Creek segue le vicissitudini animate da gioie, dolori, sentimenti, scoperte e delusioni gruppo di adolescenti di provincia. Al centro della storia c'è Dawson (James Van Der Beek), aspirante regista, sognatore e romantico oltre che grande ammiratore di Steven Spielberg e segretamente innamorato della sua migliore amica d'infanzia, la dolce Joey (Katie Holmes). A dare un po' di pepe alle situazioni ci pensano Pacey (Joshua Jackson) e Jen (Michelle Williams), una ragazza sveglia e pronta a cambiare vita dopo il suo trasferimento in città.
Questa serie viene, infatti, considerata una delle pietre miliari dei racconti teen che sarebbero seguiti tra cui The O.C. e Gossip Girl proprio perché è riuscita nel suo intento di raccontare questi anni intensi e complicati della vita, con uno sguardo sì leggero ma al tempo stesso maturo, mai banale e neanche superficiale.
5) 24
Netflix ne ha proprio per tutti i gusti e per questo ha riservato fra le sue serie tv cult anche 24, una serie televisiva di genere thriller e azione, prodotta dal 2001 al 2010 per la rete televisiva Fox.
La serie ha come protagonista Jack Bauer, interpretato da Kiefer Sutherland, un agente dell'unità anti-terrorismo di Los Angeles. Una delle scelte iconiche della serie, divenuta celebre e spesso fonte di citazione, è quella di narrare gli eventi attraverso l'uso della tecnica dello split screen al fine di mostrare le azioni di più personaggi allo stesso tempo con un orologio digitale posto al centro che segnala ossessivamente lo scorrere del tempo.
Bauer è un agente dai metodi concreti e incisivi e che spesso si trova a operare al di sopra delle regole ma facendo emergere il suo spirito di sacrificio e mettendo prima di tutto, anche della sua stessa incolumità, il bene della Nazione americana. In ogni stagione, di fatto, il protagonista dovrà sventare una diversa minaccia (un attentato, un ordigno nucleare, un'epidemia o un'operazione militare straniera) che attanaglia il Paese, riportando ordine e giustizia. E tutto, ovviamente, nel corso di sole 24 ore.