3) Colonna Sonora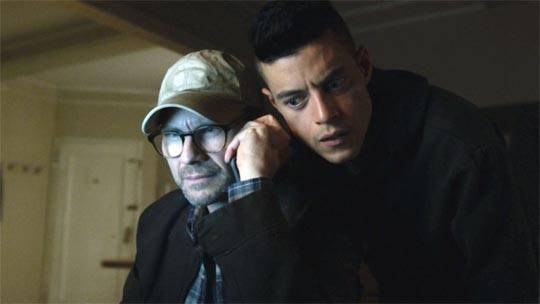 Componente essenziale di Mr. Robot è la colonna sonora, meritatamente premiata con un Emmy nel 2016, composta dal musicista Mac Quayle, che ha già curato American Crime Story e Scream Queens. Di grande impatto, le composizioni di Mac Quayle fanno da cornice alle parti più importanti della serie di Sam Esmaili.
Si pensi alla scena della 1×10 in cui Elliot, appena sveglio e resosi conto di essere stato per tre giorni dentro il Suv di Tyrell, entra nella sede della ECorp con in sottofondo una versione "elettronica" del Waltz no. 2 di Dmitri Shostakovich, che ha fortissimi rimandi alle musiche composte Walter (ora Wendy) Carlos per Arancia Meccanica di Stanley Kubrick.
Oltre alla colonna sonora di Mac Quayle, molto importanti sono le canzoni non originale inserite nella serie: da Where is my mind? dei Pixies (mai canzone più appropriata per un personaggio come Elliot) a The Hall of Mirrors dei Kraftwerk, passando per Take me home di Phil Collins, tutto fa da cornice ad una serie che, ironia della sorte, non ha visivamente una sigla d'apertura ma semplicemente un piccolo stacco musicale con il quale finisce il prologo di ogni puntata, stacco musicale che ricorda anch'esso le musiche di Carlos per il capolavoro di Kubrick.
Qui la colonna sonora completa della prima stagione, disponibile su Spotify:
prima parte: https://play.spotify.com/album/012oKUlmu9qA84z4kYrOAj
seconda parte: https://play.spotify.com/album/447cV2Aglz0fLzrZMVCMGw