7) I can't think, 1×07
In questa scena vediamo, anzi scrutiamo, un momento di vita comune fra Bill e sua moglie Nancy, in cui emergono tutte le difficoltà della quotidianità. La canzone, di Bronwyn W. Higgins, con Eric Susoeff e Tony DePaolis, parla proprio della difficoltà di mettere ordine negli eventi della vita esattamente come Bill è schiacciato dagli orrori con cui il suo lavoro lo costringe a confrontarsi.
8) Weird thing, 1×08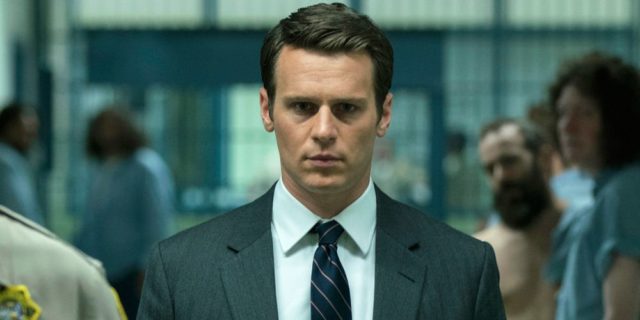 Questa è un'altra traccia di Jason Hill e fa riferimento a una scena in cui Holden esce dall'ascensore sovrappensiero. In realtà, la sinfonia è ambigua perchè ha dei picchi che potrebbero alludere a un colpo di genio, ma non succede nulla, e questo immobilismo la rende di conseguenza inquietante.
9) I wouldn't want to be like you, 1×09
Questa canzone del 1977 del gruppo rock The Alan Parson Project chiude l'episodio che introduce per la prima volta la parola serial killer; inoltre, questa puntata è stata l'ennesima conferma di come il personaggio di Holden sia profondamente cambiato rispetto all'inizio. Sia professionalmente, con la convinzione che giocare sporco con i delinquenti sia il metodo migliore per ottenere notizie, sia privatamente con la definitiva rottura con Debbie.