Il mondo dei cartoni animati è costellato da una miriade di personaggi che fin dall'infanzia ci accompagnano in un processo di intrattenimento ma anche di formazione. Personaggi che facendo leva su principi consolidati risultano avere un'importante valenza educativa. Ognuno con le proprie sfaccettature. Con la propria declinazione. Esprimono concetti semplici e spesso in modo didascalico, esaltando qualità intrinseche che rappresentano dicotomie molto evidenti e chiare: bene/male, buono/cattivo, giusto/sbagliato. Ovviamente più il target verso cui sono rivolti cresce di età più, di conseguenza, crescono le possibilità e potenzialità delle sfumature. Si arriva cosi a realizzare prodotti sempre più complessi e raffinati. Restando però nel panorama dei cartoni animati rivolti alla fascia adolescenziale e preadolescenziale, un'eccezione pressoché unica a questo paradigma è Lupin.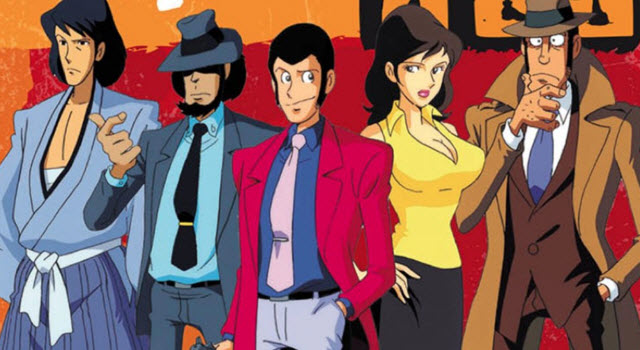 Nipote del famoso ladro Arsenio Lupin, presente in vari romanzi di Maurice Leblanc, è il protagonista del manga e dell'anime Lupin III. Creato da Monkey Punch (pseudonimo di Kazuhiko Katō) nel 1967, in Italia lo vediamo per la prima volta nel 1977. Ladro anch'esso, rappresenta una vera e propria eccezione nel panorama dei protagonisti della televisione per ragazzi.
Lupin riesce a essere contestualmente un personaggio dalle fortissime caratteristiche positive, mantenendo però una finalità d'azione decisamente negativa. Egli infatti nella sua veste di ladro non compie azioni discutibili a fin di bene. A tutti gli effetti ruba per se stesso. Non è mosso dalla sete di vendetta o per rimediare a un torto, come nel caso di "Occhi di gatto" (esempio peraltro del lascito di Lupin).
Come nella narrativa il Lupin di Leblanc fu il precursore di tutti quegli eroi noir quali Fantômas o Diabolik, così in televisione Lupin III aprì la strada per gli antieroi nei cartoni animati.
Antieroe in questo caso come concetto ante litteram, in quanto siamo ancora lontani da figure più mature del panorama dei cartoons. Non è però un aspetto secondario, né così scontato. Portare nella televisione italiana alla fine degli anni '70 un personaggio così eterogeneo e sfaccettato è stata una scommessa. Chiaramente vinta. Il successo, non solo nazionale, di questo ladro geniale e gentiluomo è stato sbalorditivo.
Anche considerando che il primo Lupin, quello del manga di Monkey Punch per intenderci, era particolarmente dark per l'epoca. Le scene di violenza e sesso abbondavano e questo rendeva molto complesso il progetto di renderlo fruibile a livello di anime su palcoscenici internazionali. A intervenire in questo senso fu uno dei più grandi maestri giapponesi, nientemeno che Hayao Miyazaki. Dal 1971 il celebre fumettista e animatore iniziò a collaborare con la A Production per la stesura della prima stagione dell'anime di Lupin III. È a lui che dobbiamo la costruzione del personaggio di Lupin come lo conosciamo oggi. Smussò gli aspetti più violenti e lo fece diventare più bonario e sbruffone. Staccò insomma l'idea di un Lupin alla James Bond, che rimase invece per lungo tempo nel manga di Monkey Punch, per renderlo un prodotto a portata di famiglia.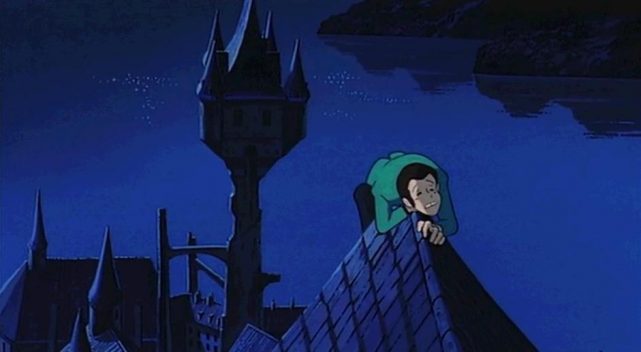 Certo alcuni aspetti rimasero invariati, la nonchalance e l'essere sciupafemmine, ma coronati da un atteggiamento costantemente ironico e scanzonato. In ultimo a Miyazaki dobbiamo anche il merito di aver firmato quella che è considerata una delle opere meglio riuscite e più iconiche legate a Lupin, il film Il castello di Cagliostro.
Pagato il tributo al maestro, torniamo al nostro intrepido ladro. Come dicevamo all'inizio è davvero curioso come un personaggio che dovrebbe rientrare nel novero dei cattivi abbia riscosso un successo così grande e duraturo. L'amore verso Lupin travalica i decenni e le generazioni.
Certo non è il primo ladro a rubare letteralmente i cuori del pubblico. Il suo più illustre antecedente letterario, universalmente noto, è sicuramente Robin Hood. Anch'egli ladro gentiluomo, sagace e intelligente. Eppure le similitudini sembrano finire qui. Il mito di Robin di Locksley infatti è stato tramandato, almeno dalla fine del '500, con un'accezione positiva. Nobiluomo decaduto che si contrappone all'usurpatore per difendere i contadini.
Nulla di più lontano dal nostro Arsenio Lupin. Che ruba invece mosso dal piacere della sfida e dal desiderio di arricchirsi. Indubbiamente il primo aspetto è quello predominante. Eppure anche in questo caso il parallelo con Robin Hood non è così campato in aria. Ci sono infatti alcuni aspetti che si intrecciano reciprocamente tra i due fuorilegge. Il primo è che il nostro buon Robin, nelle ballate tra il 1200 e l'inizio del 1500, è anch'egli un semplice, ma abilissimo, brigante. Che ruba ai ricchi per tenere per sé e la sua banda il maltolto. Il secondo aspetto è che, almeno in Italia, il personaggio di Lupin venne presentato proprio con un parallelo con Robin Hood.
La sigla italiana dei primi anni '80, utilizzata per la seconda stagione de Le avventure di Lupin III, comunemente ricordata come "Fisarmonica", è un piccolo gioiello. L'accompagnamento musicale richiama un valzer parigino. Ma in generale il brano presenta diverse influenze della musica tradizionale francese. In alcune delle immagini scelte per comporre la sigla si vedono infatti scene di una festa all'aperto che ben si sposano sia con l'aria che con le origini francesi dello stesso Lupin. Quello però che più è interessante è il testo.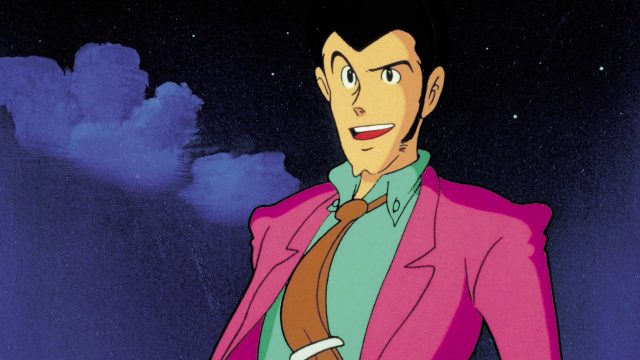 Cantato da Irene Vioni e scritto da Franco Migliacci, il testo racchiude in pieno il discorso che stiamo portando avanti. Da un lato richiama il parallelo con Robin Hood. Dall'altro ci dichiara come, pur non essendo un personaggio ammirevole, Lupin riesca a catalizzare tutta la nostra simpatia e complicità:
Ruba i soldi solo a chi ne ha di più
per darli a chi non ne ha
sembra giusto però non si fa
neanche un po'
a me però però
e' simpatico e non saprei dire di no
a Lupin il mio cuore darò.
Come possiamo vedere l'intreccio con l'arciere inglese è ben chiaro fin dal primo momento. Quello che è più interessante però è l'esaltazione del personaggio. Un cattivo che piace per la sua sagacia e il suo stile.
Questo aspetto viene ripreso e magnificato ancor di più con la sigla del 1987. L'incorreggibile Lupin, scritta da Alessandra Valeri Manera, è la celebrazione del nostro eroe. L'esaltazione massima della sua grandezza. Una cavalcata sulle qualità più ambigue del ladro più desiderato: amante del rischio, sempre pronto all'avventura, impareggiabile, ineguagliabile… incorreggibile. Il ritmo incalzante è di quelli che restano scolpiti nella mente. Questa sigla rientra indubbiamente tra le pietre miliari dei cartoni animati anni '80 e '90.
La più controversa delle sigle di Lupin però è un'altra. La prima. Dobbiamo tornare al 1979. Lupin appena arrivato in Italia veniva trasmesso, come tanti altri anime, da una miriade di tv locali sparse sul territorio nazionale. Il doppiaggio era minimale, con solo 4 doppiatori a fare tutti i personaggi. Prima della famosa "fisarmonica" del 1982, in anni in cui il taglio della censura sulle puntate trasmesse era fortissimo (abbiamo elencato qui per voi i casi più eclatanti), fu scelta "Planet O". Brano del 1979 cantato da Daisy Daze and the Bumble Bees.
Cosa c'è di strano, vi chiederete. Due cose. La prima è che non ha alcuna attinenza con l'anime. Poco male, anche altri cartoni animati ricevettero analogo trattamento. La seconda, ben più interessante, è che il brano è stato scritto ispirandosi al romanzo sadomaso del 1954 "Histoire d'O". Scritto dall'autrice francese Dominique Aury con lo pseudonimo di Pauline Réage.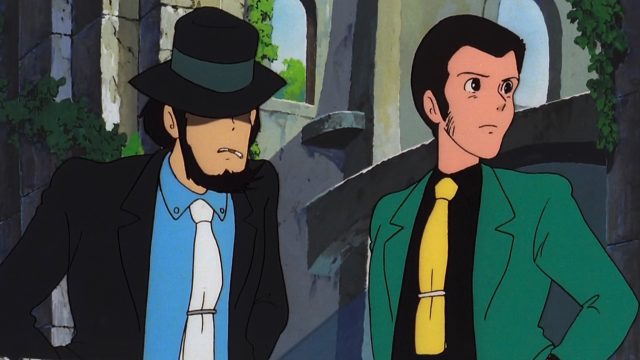 All'epoca quindi la censura nostrana preferì sbizzarrirsi nel tagliare le scene più esplicite di Lupin III, un anime che come detto nella sua prima stagione era costellato di immagini e sequenze abbastanza spinte, senza però rendersi conto che la sigla scelta per mandarlo in onda era forse ancor più "scandalosa" dell'anime stesso.
Planet O infatti ci racconta di pirati spaziali provenienti, appunto, dal Pianeta O e particolarmente dediti e interessati a pratiche sadomaso.
Questi pirati hanno l'intenzione di portare via con loro una giovane ragazza. Ella però è inizialmente riluttante all'idea. Tuttavia si lascia pian piano convincere a soddisfare le "richieste" dei pirati alieni provenienti da "O". La "O" starebbe per orgasmo. Al punto che, verso la fine della canzone, la voce femminile si lascia andare a gemiti e stridi di piacere. Oltre che a un più che soddisfatto hallelujah conclusivo.
Sarebbe davvero interessante capire se si sia trattato di una semplice svista di qualche addetto alla produzione (in quegli anni non era particolarmente richiesta la conoscenza dell'inglese). O se invece ci troviamo dinnanzi a un azzardo (di quelli che sicuramente avrebbe apprezzato il nostro Lupin) di chi ha scelto questa sigla. Magari illuso che nessuno, al tempo, avrebbe preso la briga di indagare su cosa raccontasse la canzone.
Possiamo quindi concludere che sotto una molteplicità di aspetti Lupin III è realmente qualcosa fuori dal comune e dagli schemi. Qualcosa che ha contribuito, volontariamente o meno, a formare e plasmare intere generazioni di giovani amanti dell'avventura, della sagacia o della trasgressività che questo straordinario personaggio ha saputo trasmettere. E noi giovani di allora siamo diventati, anche grazie a lui, gli addicted di oggi ancora desiderosi di vedere le gesta e le imprese di questo straordinario guascone. Sei furbo Lupin!