Come si fa a rimpiazzare l'irrimpiazzabile? È una domanda che tutti i fan di Lost si sono certamente posto e la risposta non è affatto semplice.
Tra mostri di fumo, viaggi nel tempo, un'isola misteriosa e un progetto segreto non sono molte le possibilità di incrociare sul nostro cammino telefilmico una Serie Tv come Lost. Io ho vissuto Lost fin dal primo anno, in quel lontano 2004, appieno e intensamente, ho gioito e sofferto e ammetto senza scrupoli di aver amato alla follia il finale! Divento quindi particolarmente prevenuta quando sento persone fare paragoni con altre Serie Tv. Scommetto di non essere l'unica.
Eppure il vuoto in un modo o nell'altro può essere riempito e i modi sono due: vedere Lost in un loop continuo, ma penso sia un tantino esagerato o esplorare il panorama televisivo vedere cosa ha da offrire.
Ma quali possono essere i criteri necessari perché uno show possa considerarsi l'erede di Lost?
La serializzazione. Anziché affrontare "il mostro o il mistero della settimana", Lost presenta un epico arco narrativo che si protrae per ben sei stagioni. Ogni episodio utilizza così espedienti tecnici come cliffhanger e flashback per creare una tela immensa e legata insieme. Per questo motivo guardando Lost sembra di guardare un film che ci tiene incollati alla sedia in attesa del prossimo colpo di scena.
La coralità. Lost non sarebbe niente senza i propri personaggi, Aldilà dei misteri e della della mitologia sono i legami tra i Sopravvissuti (e non solo) il vero fulcro della storia e il finale rappresenta dunque la degna conclusione di questo ritratto dell'animo umano.
Il mistero. Con i personaggi al centro, il mistero rappresenta la cornice perfetta per raccontare la storia. Domande e teorie sono state la linfa vitale di Lost, nel corso della sua trasmissione.
La mitologia. Lost ha creato un vero e proprio mondo. Con le sue regole, i suoi dogmi e le sue figure mistiche. L'Uomo Nero e Jacob sono diventati delle vere e proprie icone della serialità.
Ecco allora alcune serie Tv, uscite negli ultimi due anni, che magari non per trama ma per tutto ciò che è stato detto potrebbero essere considerate le nuove Lost!
1) WESTWORLD
Grandi tematiche, personaggi di grande profondità affascinanti, misteri ed enigmi sono gli ingredienti fondamentali che danno vita a questo vero e proprio spettacolo teatrale, di cui Shakespeare andrebbe abbastanza fiero.
Westworld riprende quegli elementi di cui sopra parlavo e lo fa con un tono magniloquente e forse più filosofico rispetto a quello utilizzato da Lost, ma la sostanza rimane. Abbiamo anche qui d'altronde un uomo in nero e un burattinaio che muove le fila delle sue creature. Il mondo in cui la storia di Westworld  avviene sembra totalmente separato dal resto, e il racconto in sè è una grande epopea di cui abbiamo solo visto l'inizio.
2) STRANGER THINGS
Nei ritrovati anni Ottanta si svolge la storia di Stranger Things, fenomeno cult di cui non si smette di parlare fin dall'estate scorsa quando fece il suo debutto con una prima stagione inaspettata. La Serie Tv rende omaggio alle storie di Stephen King, film di Spielberg, tra musica, stile e pop culture irrimediabilmente "eightes".
Se c'è una Serie che probabilmente può essere definita l'erede moderno di Lost è proprio Stranger Things ma non per i temi trattati quanto perché riprende degli elementi che fecero la fortuna della serie TV ABC e questi sono la coralità in primis e la mitologia. Con la sua seconda stagione Stranger Things ha infatti dato vita a un mondo di cui ancora abbiamo visto solo i bordi.
3) THE LEFTOVERS
In The Leftovers scompare il 2% della popolazione mondiale nello stesso secondo. Sono ben 140 milioni le persone svanite nel nulla.
Se siete alla ricerca di una Serie Tv che vi immerga in un universo di misteri e di eventi assurdi. Questa è una delle Serie TV simili a Lost da tenere d'occhio! Nessuno sa come ne perché è una fetta così grande di popolazione si sia volatilizzata. Preparatevi quindi ad assistere all'incredibile!
4) DARK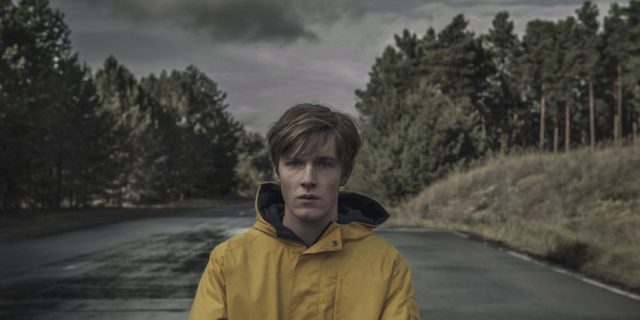 La nuova Serie Tv in arrivo su Netflix il primo dicembre è un vero e proprio enigma da risolvere. Ambientata in una cittadina provinciale circondata dai boschi, la Serie racconta le vite degli abitanti intrecciate tra loro e solo apparentemente normali.
Dark è un racconto corale che affianca adulti e ragazzi, passato e presente, thriller e drama. È facile intuire che senza Lost una Serie Tv del genere non sarebbe mai arrivata.
Gli ingredienti e l'atmosfera ci sono tutte, solo un po' più cupa e meno americana. 
5) SENSE 8
Una delle Serie Tv più corali degli ultimi tempi. In Sense8 otto sconosciuti da diverse parti del mondo scoprono di avere un destino comune, molto di più scoprono di essere indissolubilmente legati l'uno all'altra.
In questa Serie Tv targata Netflix, che avrà la sua conclusione l'anno prossimo con uno speciale (a grande richiesta dei fan), elemento caratteristico di Lost è più vivo che mai. Anche qui delle persone che pensano di non avere niente in comune scoprono invece di essere legati non solo dall'elemento fantascientifico della storia, ma da una cosa ancora più importante: l'essere umani.