Se non hai voglia di vedere serie tv impegnative, se la tua voglia di uscire di casa è pari allo zero e se tutti questi fattori sono riconducibili al fatto che sei a casa malato, la serie che fa per te è appena uscita su Netflix e si chiama Living With Yourself.
Una simpatica produzione Netflix di otto puntate con uno strepitoso Paul Rudd moltiplicato per due, nei panni di due versioni diverse dello stesso personaggio. Miles Elliott, quasi quarantenne con un matrimonio traballante, una carriera lavorativa una volta brillante e ora apatica, decide di dare una svolta alla sua vita.
Ma non tradendo la moglie, prendendosi un cane o facendo un viaggio in Tibet, come farebbero le persone normali: lui va in una spa e si fa clonare.
E non si tratta di una semplice clonazione: in Living With Yourself abbiamo un Miles originale, scarmigliato, dai vestiti spenti e ordinari, e un Miles in forma smagliante, che prende sempre le decisioni giuste, dai capelli perfetti e dal senso dell'umorismo impeccabile. Una versione migliorata, insomma, che nella politica originale della spa avrebbe dovuto sostituire in tutto e per tutto il vecchio Miles, che sarebbe andato incontro alla morte e al successivo smaltimento in un cimitero improvvisato.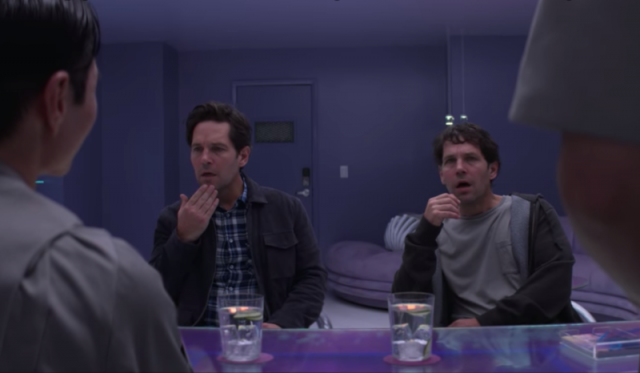 Ma qualcosa va storto e due versioni dello stesso uomo si ritrovano faccia a faccia, dando inizio a una storia esilarante, con venature grottesche e comiche ma anche qualche spunto interessante. Non riveliamo altro della trama per non guastare la sorpresa di vedere Living With Yourself, meglio se con qualche lineetta di febbre. Una storia con queste caratteristiche di deve gustare nel giusto mood allucinogeno, e ora vi spieghiamo meglio perché.
Si tratta di una serie dalla storia estremamente semplice e facile da seguire: niente stravolgimenti nella trama o incursioni filosofiche, giusto qualche salto temporale gestibilissimo. Accadono cose che solo in uno stato mentale di prostrazione da Tachipirina si possono accettare: come che una clinica super all'avanguardia nel campo della clonazione umana (ma sarebbe più giusto dire fotocopiatura) sorga in uno squallido stabile in periferia e sia gestita unicamente da due cinesi.
Come che un uomo, per quanto provato da una vita senza un minimo di soddisfazione, accetti di sottoporsi a una procedura della quale non sa assolutamente nulla e per la quale ha già pagato profumatamente. O che una moglie non si interroghi minimamente sui cambiamenti del marito, o non noti qualcosa di strano (se vedrete la serie, capirete a cosa ci riferiamo).
Ma anche che il principale organo per il contrasto alla clonazione umana abbia il suo ufficio interrogatori in una sala per mamme.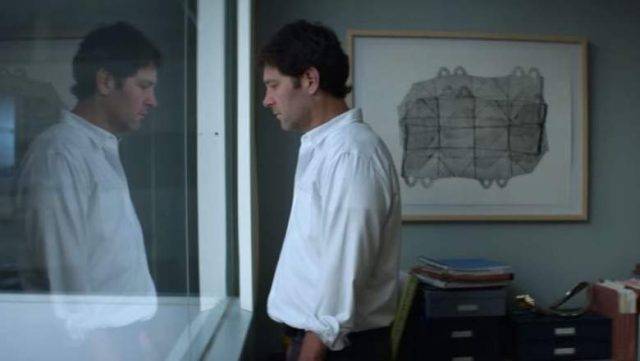 Insomma, se non siete in uno stato mentale tale da poter accettare qualsiasi buco e leggerezza nella trama, Living With Yourself non fa per voi. Se invece volete godervi una storia carina, ironica e senza troppe pretese, questa serie tv può fare al caso vostro. A favore c'è sicuramente l'interpretazione di Paul Rudd: bravissimo nel passare da un personaggio all'altro, si mantiene sempre impeccabilmente in equilibrio tra comico e tragico. Sarà grazie a quella faccia da playboy ma anche da uomo timido, da clown insieme triste e felice, ma è impossibile resistergli, in entrambe le versioni.
Un punto a favore sono anche le musiche: l'ottima intuizione di utilizzare una colonna sonora elettronica che creasse un'atmosfera sospesa, allo stesso tempo comica e grottesca, colpisce nel segno. Questa serie piacerà molto a coloro che hanno amato Maniac: insieme a lei, infatti, Living With Yourself fa parte di una corrente di nuove produzioni Netflix che strizzano l'occhio alla commedia pur affrontando tematiche complesse, tenendosi sempre in bilico tra indie e commerciale.
Le tematiche affrontate in Living With Yourself hanno, com'era da aspettarsi, una connotazione molto naif: non c'è un reale approfondimento, ma solo voglia di divertire e intrattenere. Nonostante ciò, ci lascia comunque molti interrogativi in testa: come sarebbe la versione migliorata di noi stessi? Riusciremmo a conviverci, o vorremmo in tutti i modi sbarazzarci di lei? E se fosse lei a volersi sbarazzare di noi?
La serie ci presenta uno scenario alquanto credibile in cui ambientare le risposte a queste domande, pur tenendosi sempre a un passo da un godibilissimo nonsense. Perché vedere le cose da due punti di vista così diversi può dare davvero una svolta a un'esistenza: e il rischio di vedere la propria vita rapita da un proprio clone può far diventare chiunque la migliore versione di se stesso.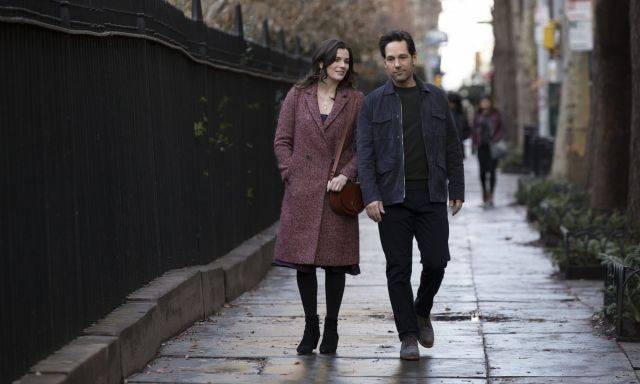 Un altro tema della serie ci lascia con un tarlo nella testa: per essere felici bisogna per forza essere come tutti gli altri ci vorrebbero?
La conclusione (che non sveliamo) lascia furbamente la porta aperta a una seconda stagione, pur tenendosi il margine per poter chiudere senza troppi rimpianti. E speriamo che ce l'abbia un seguito, Living With Yourself: così alla prossima febbre avremo già la serie pronta per il nostro bingewatching (in alternativa provate queste).