È scientificamente provato che ridere fa bene alla salute e allunga la vita, sopratutto quando qualcuno vuole ucciderti con delle forbici dalla punta tonda (vero Arturito?). Denver lo sa sicuramente meglio di chiunque altro, considerando che pur trovandosi nel bel mezzo della più importante rapina di tutti i tempi, è capace di mantenere alto l'umore, abbandonandosi ad una ormai iconica risata.
Ma Denver non è certo l'unico, sono diversi i personaggi che trovano nella peculiarità della loro risata, quasi un marchio di fabbrica. La risata diventa quindi un tratto distintivo e per gli spettatori risulta praticamente impossibile restare seri.
Ma ridere non è una cosa poi chissà quanto innocente. Solo gli esseri umani ridono, ma se pensiamo al comportamento animale, quello che c'è di più vicino ad una risata in realtà, è il ringhiare. In entrambi i casi infatti si è di fronte ad un gesto sociale in cui vengono scoperti tutti i denti. Anche gli intenti a ben vedere non sono poi così distanti. In fondo la satira, il sarcasmo, l'ironia implicano sempre una risata fatta a spese di qualcun'altro, una volontà di distinguersi, mettere una distanza, in altre parole difendersi. Spesso dietro all'umorismo e alle grasse risate c'è la volontà di confondere gli altri, perché non si accorgano di una fragilità di fondo. Allo stesso tempo però la risata attrae, mette di buon umore e contagia chiunque vi assista, sopratutto se spontanea e di cuore. Sono moltissime le teorie che girano intorno a questa risposta emotiva che, apparentemente, sembra solo una disordinata contrazione di muscoli, ma che in realtà nasconde un sentimento davvero molto potente.
Nelle serie tv capita che alcuni personaggi siano caratterizzati da una risata forte e sguaiata, e spesso per questa loro caratteristica vengono poco considerati. Al contrario, spesso, hanno una personalità forte e caratterizzata da grandi contrasti. È vero per Denver, che è matto come un cavallo, ma allo stesso tempo dotato di un forte senso di responsabilità nei confronti di amici e famiglia. Ma è possibile fare un discorso analogo, per esempio, anche per Karen, di Will & Grace, che nasconde con risate sfacciate e feroci prese in giro, una vita che forse non la rende davvero felice.
Ecco quindi un piccolo elenco delle 6 risate più maledettamente contagiose delle serie tv.
1 Denver – La Casa di Carta
Come abbiamo già detto, Denver ha quella risata esagerata tipica del folle, che però va di pari passo con un animo fondamentalmente buono. Non a caso è proprio lui il carceriere dal cuore d'oro, che verrà coinvolto in un emblematico caso di Sindrome di Stoccolma. Una cosa che per altro gli cambierà la vita quasi più dell'aver rapinato la banca di Spagna. Imprevedibile, impulsivo e inesorabilmente spontaneo, dice sempre quello che pensa Denver, senza grossi filtri. Allo stesso tempo però, riesce a stringere legami davvero significativi con molti personaggi della serie, pur non risparmiandosi nelle critiche o nelle risposte caustiche. Un amore quasi fraterno lo lega a Tokyo, un rispetto reverenziale al Professore, una profonda solidarietà maschile a Rio. Senza contare che una ragguardevole parte della sua famiglia è coinvolta nella rapina: suo padre Mosca, sua cugina Manila e sua moglie Stoccolma. Manca solo Cincinnati, ma abbiamo grandi aspettative anche su di lui. Mantiene alto il morale di tutti e allo stesso tempo non si fa mettere i piedi in testa da nessuno. I momenti più memorabili (vogliamo chiamarle trashate?) de La casa di Carta spesso lo vedono protagonista (It a boy! Fra tutti). Bisogna anche ammettere che però, è solo grazie a Denver se Arturo risulta appena appena sopportabile.
2 Karen Walker – Will & Grace
Karen Walker è un'approfittatrice, è viziata, è cinica, pigra e con un problema di alcolismo e dipendenza da farmaci. Sulla carta è senza ombra di dubbio la peggior assistente personale che sia mai esistita, eppure è assolutamente impossibile non adorarla. Tutti amano Karen, e la sua risata sgraziata e quasi sempre fuori luogo è uno dei motivi principali. Cerca di dare sempre e costantemente il peggio di sé eppure le si perdona tutto. Si capisce velocemente che il suo personaggio non ha una vita felice: Karen ha alle spalle diversi matrimoni falliti, dei figliastri che non sopporta e un costante senso di vuoto riempito esclusivamente da olive e Martini. Avendo sposato Stanley, tanto grasso quanto ricco, non avrebbe bisogno di lavorare, ma per non doversi occupare dei figliastri decide di farsi assumere da Grace delegando la cura della famiglia alla povera, vessatissima Rosario. Il suo apporto lavorativamente parlando è nullo, ma nonostante una evidente infelicità di fondo, Karen è fondamentale nell'economia di ciascun episodio, principalmente per la vena comica. Politicamente scorretta e tagliente fino quasi a risultare insensibile, Karen Walker è divertente perché dissacrante e maleducata. Ed è sicuramente grazie a quella sua risata che riesce ad apparire ancora più sfacciata.
3 Francesca Cacace – La Tata
Probabilmente i fan di Sex and the City non saranno d'accordo, tuttavia una delle donne più libere e femministe degli anni novanta è sicuramente tata Francesca. Nella versione italiana della serie alcuni dettagli si perdono un po' nella traduzione, ma è comunque chiaro che questa donna viva in un paese straniero, abbia una famiglia invadente ed ingombrante, ma sia comunque piena di risorse. È forte e indipendente, risoluta, ma sempre ottimista. Francesca Cacace non subisce il patriarcato, non cerca un uomo che la mantenga, non si lascia incasellare in alcuna categoria e si veste pure come le pare (male, possiamo dirlo). Dice quello che pensa e insegna a tre ragazzi come affrontare la vita senza soccombere, ma liberi di essere come desiderano. È un punto di riferimento per la sua famiglia e anche per la famiglia del suo datore di lavoro e non sembra mai sentirsi sopraffatta dalle responsabilità . C'è chi dice che una vera signora dovrebbe avere una risata composta e discreta, ma quella di Fran Drescher è eccentrica ed esagerata quasi quanto la sua cotonatura. È spontanea e contagiosa, una risata davvero di cuore ed è praticamente impossibile resistere a quel richiamo di libertà.
4 Peter Griffin – I Griffin
Se parlando di Denver si intendeva sottolineare la profondità di un personaggio, nonostante un apparente leggerezza, parlando di Peter Griffin si può solo analizzare quanto è profondo l'abisso della superficialità. Peter è paragonabile ad una voragine che inghiotte qualsiasi cosa facendola sparire, praticamente un buco nero. Nonostante tutto però, le bassezze umane fanno sempre ridere e Peter è praticamente un campionario di volgarità e maleducazione. Il forte contrasto di questo personaggio sta nel farci molto ridere, nonostante l'oggettiva difficoltà nel riconoscergli delle doti. Questo padre di famiglia è grasso, pigro, volgare, immaturo e decisamente poco sveglio. Ovviamente la sua risata riflette esattamente tutte queste sue caratteristiche ed è più simile ad un verso animale, monocorde e quasi inespressivo. Nonostante tutto però è impossibile rimanere seri nel sentire ridere Peter. La spiegazione più plausibile è che, probabilmente, quello è il suono che diamo alla stupidità. Se l'idiozia avesse una voce, finirebbe per riecheggiare come la risata di Peter. Ci riscopriamo compiaciuti nel constatare che noi non siamo come lui e forse, se proprio si volesse analizzare il personaggio, l'unica vera nota positiva di Peter Griffin sarebbe quella di aumentarci l'autostima, facendoci sentire costantemente migliori di lui.
5 Dustin Henderson – Stranger Things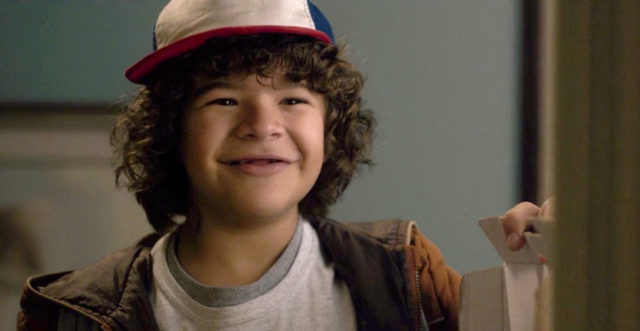 Dustin Handerson è riuscito a trasformare un difetto fisico, in un irresistibile tratto distintivo. È abbastanza noto che Gaten Materazzo, l'attore che impersona Dustin, soffra di una malattia congenita che colpisce l'apparato scheletrico. L'attore quindi ha diversi problemi legati alla struttura ossea e in particolare risulta privo di dentatura. Il sorriso però non gli manca e, a riprova del fatto che ridere è molto di più del semplice scoprire i denti, Dustin ha conquistato tutti con un sincero sorriso e una personalità allegra. Per quanto sia stato protagonista di alcune delle scene più memorabili di Stranger Things (il video del suo duetto con Suzie, sulle note di Never ending story, ha all'incirca 38 milioni di visualizzazioni) non va scambiato per un personaggio frivolo. Anzi sono altrettanto memorabili le scene in cui si ha un moto di sincera tenerezza per lui (una fra tutte il ballo fra lui e Nancy) e sono allo stesso modo degni di nota anche gli sforzi per tenere unito il suo gruppo di amici, che a 12 anni è praticamente una seconda famiglia. Il suo sorriso va citato se non altro per la notevole resilienza, che è una prova più che valida di un estrema forza d'animo. Un vero e proprio regalo che l'attore ha voluto fare al suo personaggio.
6 Steve Urkel – Otto sotto un tetto
È il 1994, sei un bambino, hai finito di cenare e su Italia 1 danno Otto sotto un tetto. Sei talmente felice e spensierato che stai solo aspettando che arrivi in scena Steve per ripetere con lui ad alta voce "Sono stato io a fare questo?" compiacendoti per la perfetta imitazione. Steve Urkel è un personaggio talmente ben riuscito da essere letteralmente esploso fra le mani degli sceneggiatori. Era stata prevista per lui una piccola comparsata, al massimo un ruolo marginale e secondario, ma il destino ci ha mostrato tutt'altra cosa e Steve Urkel è diventato a tutti gli effetti uno dei maggiori protagonisti. Steve è il fastidioso vicino nerd della famiglia Winslow e dietro alla sua goffaggine e ai suoi modi irritanti, nasconde una grande forza d'animo e un cuore d'oro. Innamorato della figlia maggiore Laura, ma non corrisposto, il personaggio di Steve avrà un evoluzione tale durante le nove stagioni di Otto sotto un tetto, che arriverà addirittura a sposarsela. La sua risata, così fastidiosamente acuta e scomposta è assolutamente esilarante e ha segnato l'infanzia di tutti i bambini degli anni novanta. All'epoca non era così scontato l'accesso alle serie in lingua originale e forse non tutti sanno che la risata così iconica di Steve la dobbiamo principalmente all'ottimo lavoro di Monica Ward, sorella dell'altrettanto celebre doppiatore Luca.
Ridere è un arma potentissima che ci attrae e ci lega gli uni agli altri. È alla portata di tutti e porta con sé tantissimi effetti benefici per la salute e lo spirito. Per tutti questi motivi vale davvero la pena usarla il più possibile. Chiedetelo a Jocker.