Il nome della rosa, fiction Rai diretta da Giacomo Battiato e conclusasi da pochi giorni, era partita bene. Al suo debutto aveva registrato oltre il 27% di share, ma lungo le sue otto puntate, distribuite in quattro serate, si è persa per strada oltre 2 milioni di spettatori, chiudendo con un inglorioso 16,9%.
Chi scrive fa parte, e lo ammette con tranquillità, di quei 2 milioni di telespettatori che, nelle settimane in cui Il nome della rosa sviluppava la sua trama, ha deciso di spegnere la tv, o di guardare altro.
Si può dunque parlare, se non di un flop completo, di un mezzo flop per questo esperimento Rai, che vedeva nel cast nomi importanti come John Turturro e Rupert Everett. Le ragioni sono molteplici, e non tutte dovute necessariamente a mancanze della serie.
Proviamo a capire cosa può aver sbagliato la Rai con Il nome della rosa.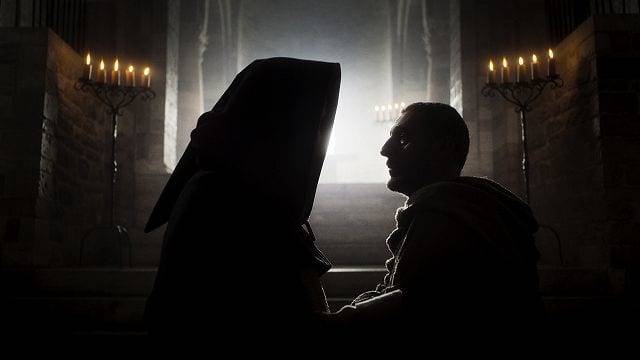 Innanzitutto, la regia non è stata all'altezza della mastodontica produzione, né della levatura del cast. E probabilmente nemmeno dell'opera originale di Umberto Eco, che pure aveva supervisionato la sceneggiatura e aveva ceduto volentieri i diritti alla Rai.
Vi avevamo già parlato delle nostre riserve in materia di regia de Il nome della rosa, ma ve le riassumiamo. Dalla scelta di aprire molte finestre narrative, anche andando fuori tema rispetto alla narrazione principale, alla patinata ambientazione e caratterizzazione di alcuni personaggi, non ci aveva convinti né rapiti. Una regia pulita, niente da dire, che forse in questa pulizia vedeva il suo difetto. Tutto troppo bello, asettico, finto per essere vero.
Niente che facesse respirare un po' d'aria di vita vera, come in altre produzioni Rai, anche recenti. Pensiamo a L'amica geniale, ambientata nella Napoli degli anni Cinquanta. Lì la fotografia neorealista si trasforma in cartolina ischiana di un dopoguerra sofferto ma ricco di possibilità e speranze.
Ne Il nome della rosa c'è solo la cartolina, un Medioevo all'acqua di rose per un pubblico da prima serata, a cui piacciono le fiction di cappa e spada ma a cui non interessa la filosofia. E qui veniamo a un'altra lacuna di questa serie.
Il nome della rosa è un romanzo di Umberto Eco ambientato completamente in un monastero benedettino, dove i monaci seguono la regola ora et labora. Regola a cui Eco aggiunge una terza ammonizione: filosofeggia. Ora, se questo espediente narrativo funziona bene nel libro, perché traccia un ritratto approfondito del periodo storico, oltre che dei personaggi, e dà modo all'autore di fare mostra della sua cultura, in tv questo non regge.
La colpa della scarsa resistenza al filosofeggiare del pubblico italiano non è una colpa della Rai, tantomeno di Eco, eppure è un fattore che andava tenuto in considerazione.
Non diciamo di abolire la componente del dialogo filosofico, su cui si reggeva il romanzo, né di rendere Il nome della rosa una fiction poliziesca tutta azione e pathos. Ma sicuramente una stesura dei dialoghi più credibile e adatta a un pubblico televisivo era d'obbligo. In questo senso Il nome della rosa poteva prendere come esempio il prodotto che più le si avvicina come ambientazione (seppure fantastica), ma meno come genere. Stiamo parlando ovviamente di Game of Thrones.
Anche lì la filosofia e i dialoghi fra i personaggi sono importanti, ma vengono resi più discorsivi, più in "pillole", inseriti all'interno di un contesto dialogico che li rende finalizzati alla realizzazione della trama.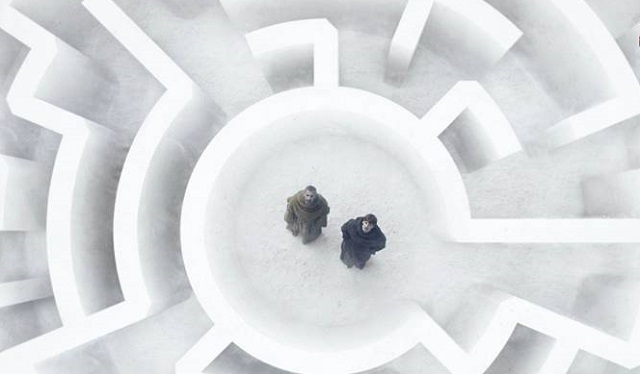 L'ultimo punto che segnaliamo è relativo a un dettaglio che ai più può essere sfuggito, ma che non è passato inosservato ai tanti Medievisti che hanno guardato Il nome della rosa con alte aspettative. Le tante inesattezze storiche di cui la serie è costellata la rendono debole dal punto di vista della veridicità, oltre a far fare una figuraccia al cinema italiano, sempre attento ai dettagli storici e per questo remunerato con numerosi Oscar.
Dalle statue della Madonna prive di basamento alle miniature palesemente ispirate a un disegno moderno. Dalla facciata dell'abbazia agli affreschi della Maddalena decisamente inusuali per una sala capitolare.
Dettagli forse invisibili a uno spettatore generico, ma che non sono sfuggiti al pubblico degli appassionati e degli specialisti. Pubblico che, la Rai avrebbe dovuto prevederlo, avrebbe affollato i palinsesti alla ricerca del minimo dettaglio impreciso.
Insomma, volendo tracciare un bilancio de Il nome della rosa, si può ipotizzare che abbia perso per strada gli spettatori per due ragioni. Chi aveva aspettative alte è stato deluso dalla trama lenta, che non decollava, ma che allo stesso tempo regalava troppo allo spettatore, rovinando la suspense. Chi aveva aspettative basse, da pubblico medio italiano che intervalla Barbara D'Urso al film impegnato, è rimasto rintronato da un prodotto che, per questo target, è fin troppo di qualità.
Il nome della rosa è riuscita a perdere entrambe le tipologie di pubblico, non riuscendo a collocarsi in un genere ben preciso e a causa delle lacune tecniche. In una stagione peraltro positiva fino ad oggi per la Rai, che con L'amica geniale ha doppiato il successo de I Medici – Masters of Florence, e che deve galleggiare in un mare in tempesta dominato da Netflix e dalle grandi case di produzione americane.
Concludiamo con una banalità assoluta, di cui ci perdonerete, ma che non è mai stata tanto azzeccata quanto per Il nome della rosa. Di questo genere di romanzi è sempre meglio non fare l'adattamento cinematografico. Non tutto rende bene sul grande o piccolo schermo come tra le pagine di un libro, che si traduce in immagini libere, non soggette a regia o a costi di produzione nella testa del lettore.