Perché vedere Il Metodo Kominsky? È una bella domanda, e se vi avessi dovuto rispondere più o meno un anno fa, la mia motivazione sarebbe stata semplice: perché c'è Michael Douglas.
Ma al netto di due stagioni (la cui seconda è stata analizzata qui), sedici episodi, e svariate ore di visione suddivise da più o meno undici mesi di attesa, posso finalmente dirvi che la serie è molto di più che il palcoscenico di un grande attore e le motivazioni per vederla sono diventate molteplici.
Innanzitutto, che cosa è? Il Metodo Kominsky è una serie tv che potete trovare su Netflix, creata da Chuck Lorre (produttore di opere come The Big Bang Theory, Two and an Half Men, Young Sheldon e molte altre).
Chi abbiamo davanti?
La serie è principalmente incentrata sulle vite dei due protagonisti: Sandy Kominsky (Michael Douglas) e Norman Newlander (Alan Arkin). Due amici di vecchia data ormai approdati nella terza età che, dopo la dipartita della moglie del secondo, si riavvicinano e si trovano a contare l'uno su l'altro nella vita di tutti i giorni e nelle vicissitudini che devono affrontare ora che si sentono soli.
I due sono stati legati anche dal punto di vista lavorativo: Sandy è un attore che anni prima ha avuto una breve carriera sotto le luci della ribalta, mentre Norman ne era l'agente a tutti gli effetti.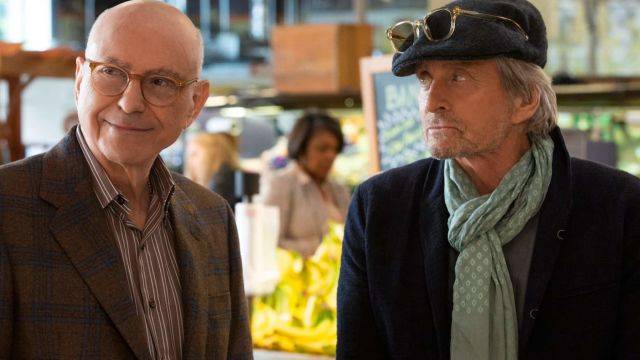 Dopo questa premessa, però, la domanda sorge di nuovo spontanea: perché dovreste guardare Il Metodo Kominsky? Beh, la mia risposta è molto semplice, e voglio che sia il più completa possibile. Netflix ha sfornato un prodotto che possiamo definire una delle cose più vicine possibili a un racconto, e non parlo dei vari racconti di fiabe o favole, quanto più il racconto della vita vera, semplice, talvolta banale, di due anziani amici che si ritrovano a discutere della propria vita, dei propri problemi, pronti a darsi man forte ove sia possibile.
Nulla è esagerato, nulla è forzato, e forse è proprio questo un altro punto di forza di questa serie tv: l'essere verosimile. Non vedrete federali pedinare i due protagonisti perché sospettati di vendere droga, né vedrete mafiosi rapirli per lanciare messaggi su scala nazionale, vedrete delle vite normalissime con le loro particolarità.
Da una parte quella dell'attore, che diventa insegnante di recitazione per trasmettere arte, che lui ritiene elevata al massimo proprio attraverso questa disciplina, in modo da istruire una nuova generazione di potenziali attori.
Dall'altra parte, quella di un agente ancora a capo della propria azienda che seppur l'età avanzi continua a rimanere in azione nel suo campo, seppur da casa, per sentirsi vivo e attivo mentalmente.
Un altro aspetto positivo del Metodo Kominsky è la rottura di molti preconcetti: ci troviamo di fronte a una normale coppia di amici anziani che vivono la loro vita, cosa potrebbe rendere meglio il tutto? La bravura attoriale di Michael Douglas e Alan Arkin dà vita a due personaggi avanti con l'età ma che vogliono ancora vivere. La morte della moglie di Norman metterà a dura prova il morale di entrambi e dello spettatore, ma le battute sferzanti, spinte, irriverenti e saccenti il giusto, dei due protagonisti daranno vita a vere e proprie risate sincere sia per sdrammatizzare la situazione, sia per la situazione imbarazzante che una perdita di memoria o una novità a loro estranea nel mondo potrebbe creare.
È in mezzo a molti momenti divertenti o comunque che vi strapperanno un sorriso, che l'abilità attoriale dei due metterà a dura prova anche i cuori di pietra degli spettatori più impassibili in quanto a lacrime. Perché, come detto prima, le vite dei due sono verosimili, sono piene sia di momenti felici sia di momenti tristi. Non sarà raro vedere occhi lacrimare al funerale della moglie di Norman, durante lo spegnimento di un interruttore, al responso di un esperto, o alla riappacificazione di un rapporto (cose che preferisco preannunciare in modo velato per non rovinarvi tanti momenti veramente speciali).
La bellezza di ammirare un cast stellare.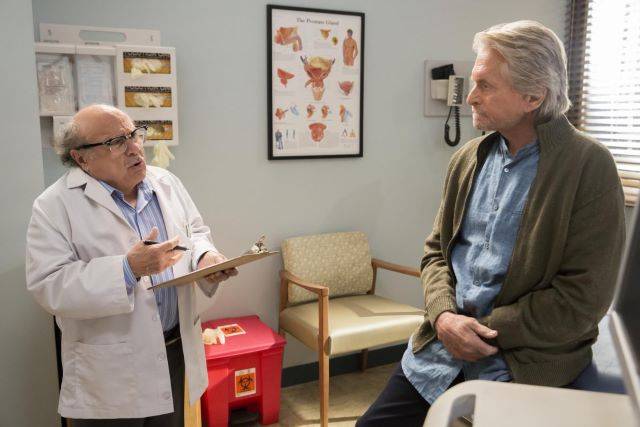 Una piccola nota a margine, per i più fissati col settore (me compreso), la lascio alla scelta del cast. Ad affiancare Douglas e Arkin troverete una serie di personaggi secondari caratterizzati in modo efficace e che quasi mai appariranno piatti o monotematici, e soprattutto varie comparse che in modo totalmente inaspettato vi ritroverete a osservare con un sorriso di stupore o di gioia nel caso vi ci siate legati in passato tramite altre opere. D'altronde la qualità attoriale e del prodotto generale ha permesso alla serie di vincere vari premi e ottenere ulteriori nomination (come possiamo vedere qui). Cosa che non ne definisce la qualità, ma di cui potrete avere conferma se voi stessi vi ritroverete ad apprezzare questo prodotto.
In passato cercando di spiegare ad amici e conoscenti ciò che provavo per Il Metodo Kominsky dissi loro: pensate a un amico lontano che potete vedere una sola volta l'anno, per un giorno soltanto. Voi potreste liberamente avere altri amici, magari più stretti, con cui potete parlare giornalmente, ogni settimana, o anche semplicemente un paio di volte al mese. Però quando arriva quel giorno in cui potete incontrare quell'amico lontano, lo sentirete come un evento veramente atteso e ne sarete felici. Vi fermerete un paio d'ore a sentirlo parlare delle sue vicissitudini e di qualsiasi cosa abbia in mente.
Beviamoci su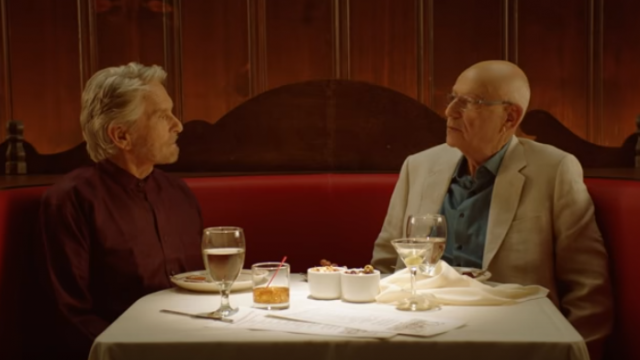 Ecco, Norman e Sandy sono un po' come quell'amico che mi piace incontrare quel giorno all'anno. Uno col suo Martini, l'altro con un Jack Daniels con ghiaccio ed una Dr. Pepper Diet (rigorosamente con cannuccia). E guai a toccare i loro cocktail: due teste calde del genere non ci metteranno molto a mandarvi a quel paese. Però, chi lo sa, forse è anche per questo che li amiamo così tanto.