"Ho guardato una puntata a caso di.." è una nuova rubrica di Hall of Series in cui i redattori e le redattrici guardano qualcosa di una serie che non conoscono o che, anche se sanno qualcosa, non hanno mai avuto occasione, o passione, o tempo per iniziare a seguirla. Di questo genere abbiamo già un articolo riguardante The Walking Dead, uno di Supernatural e un'altro di Jane The Virgin. Oggi vorrei provare con How To Get Away With Murder.
Premetto che io di How To Get Away With Murder non so proprio nulla. Zero. Mai visto, mai sentito gli amici parlare, non ho nemmeno la più vaga idea di cosa tratti, non sapevo neanche che nella versione doppiata il titolo fosse "Le Regole del Delitto Perfetto", anche se dai, ho visto e sentito traduzioni peggiori. Quindi che cos'è questo How To Get Away With Murder? Un manuale per scampare la prigione in caso di assassinio? Non ci ha spiegato già abbastanza Dexter o che ne so, i tribunali italiani?
Dai, diamogli sta possibilità, e visto che la puntata è a caso diciamo che scelgo… la quarta della seconda stagione, quindi per gli amici 2x04: "Skanks Get Shanked" o "Le galline si eliminano" ma nei sottotitoli, sempre gentilmente offerti e ben fatti è "le tr****te vengono fatte a fette".. Cosa?!
Questo titolo è bellissimo! In ogni caso, essendo la prima puntata che vedo di How To Get Away With Murder che vedo, non so proprio capire cosa sia spoiler e cosa no, perciò concedetemi di errare, e proseguite a vostro rischio e pericolo tanto che ce ne saranno di sicuro.
Via alle considerazioni su How To Get Away With Murder!
Già durante il "previously" mi sorgono tre domande: chi mai andrebbe da un tipo a chiamarlo "uova"? Ma quanti diavolo di personaggi ci sono? e terza: penso solo io che la musica di sottofondo sia bruttina? Dovrebbe mettermi tensione ma mi infastidisce e basta; dai, non siamo più negli anni '90
MA! mi sa che mi sono appena persa una puntata avvincente in cui viene ferito un personaggio molto importante e ne muore un altro, la mia solita sfortuna!
Comunque ora ci sono dei ragazzi in macchina con un poliziotto. Perché si comportano come fossero con un conoscente? E cosa hanno a che fare con la donna che ora viene rianimata in ambulanza??
Oh no! La moglie terminale che chiama l'amante! Suspense! Oddio, questa povera moglie è una santa ad amare tanto suo marito! E Annalise (ho scoperto il nome!) deve aiutarla a "farla finita"! Cioè quando pensavamo che la cosa più strana che possa fare la moglie è chiedere un triangolo con l'amante, eravamo ancora creature ingenue. Questa cosa è avvincente ma è un flashback perché sta signora era ferita a morte ad inizio puntata..
Oh momento momento momento momento! C'è un'altro assassinio di mezzo? Zoe ha ucciso la sua migliore amica, ma per scelta o condizionata da quelle che in due secondi si etichettano facilmente come le classiche ragazze popolari della scuola? 52 coltellate non sono un po' troppe per non far pensare ad una cosa personale e magari anche tentennante?? Quindi Annalise è l'avvocato difensore.
E questi K5?! chi diavolo sono? Perché dipingono in questa maniera l'avvocatessa? È così terribile?
A quanto pare sì, a giudicare da quello che dicono abbia fatto a Nate, prima facendolo processare, poi diventando la sua amante (non so in che ordine, spero non uno dopo l'altro, anche se temo che sia così).
Mi piace come intrecciano le scene, senza staccare ma dandogli una continuità, ma non digerisco proprio la colonna sonora.
Ah, quindi il poliziotto è Nate!
Oddio ma allora questi quasi avvocati hanno anche loro un caso interessante: dei fratelli incestuosi che si devono difendere dall'accusa di aver ucciso i genitori miliardari.
E in più hanno anche tra di loro piccoli segreti, ad esempio un ragazzo misterioso che viene minacciato da uno degli studenti-avvocati mentre ha come amante un'altra di questi.. Tanta tanta carne al fuoco in How To Get Away With Murder
Il tizio misterioso è il fratello di Rebecca?? la ragazza accoltellata???
Ah-ha! Zoe è una psicopatica e Annalise è un'avvocatessa senza morale a dir poco!
Ahahahahahaha! voglio proprio vedere come Annalise difenderà la sua cliente dopo che ha minacciato una testimone in tribunale! Bellissimo!
Scusa scusa scusa? Quindi questi studenti avvocati sono persone colpevoli radunati da Annalise? non ci sto capendo più nulla
Ed ora mi rivelano tutto, chi ha ucciso chi (tutti in pratica hanno ucciso qualcuno) ma ancora non è chiaro come Annalise finisce ferita.
Ed è anche chiaro il collegamento che hanno gli pseudo-avvocati con il poliziotto ma non si sa ancora il piano che hanno ideato..
E cosa ci fa Caleb lì?!
Un quintale di domande e poche risposte, seguite poi da altri dubbi e altre domande, questa sembra l'essenza di How To Get Away With Murder per quanto ho potuto vedere da questa singola puntata. E devo dire che mi è piaciuto.
Sì, non ci ho capito quasi nulla, non ho apprezzato certi dettagli ma ho adorato altri, inoltre mi sembra abbastanza particolare e in un certo qual modo diverso dalla solita serie "legal". Un po' come in Breakout Kings, mi par di capire che anche qui prendono dei criminali per fargli sviscerare dei casi di "loro simili" in una filosofia similare al "non puoi rubare in casa dei ladri", che è un metodo che ho sempre trovato interessante come tema ma anche spunto narrativo, anche perché i personaggi assumono anch'essi una parte integrante nella trama, con un passato e presente travagliato, in pratica una tridimensionalità. Per quanto riguarda Annalise invece, non ho ancora deciso se la odio o adoro, sinceramente, ma serve di più di una puntata per deciderlo.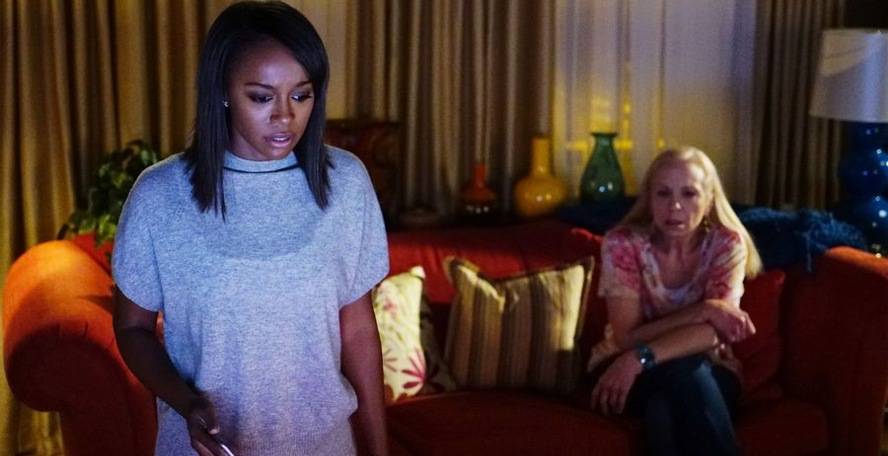 Starete già indovinando il mio giudizio finale già da come ve ne parlo: infatti avete capito bene, l'ho apprezzata e se troverò un momento libero in mezzo a questo fitto calendario seriale allora sì, guarderò How To Get Away With Murder, magari proprio approfittando della pausa invernale di alcuni dei nostri telefilm preferiti!
Voto finale: Medio-alto!