Gli ingredienti per creare una comedy di successo sono parecchi: battute geniali, bizzarre improvvisazioni, personaggi originali. Eppure l'ambiente delle sitcom è competitivo, complesso, e soltanto i migliori show riescono a emergere in questo ambito. Secondo gli utenti del sito IMDb, i più meritevoli sono i dieci elencati in questo articolo, con colossi come The Office e Friends in prima linea.
Caratterizzate da una trama accattivante, personaggi stravaganti e delle sceneggiature brillanti e mai banali, queste serie hanno segnato – ognuna in modo differente – il genere della commedia del piccolo schermo.
In base al loro rating, ecco dunque quali sono le migliori sitcom secondo IMDb.
10) Modern Family (8,4)
Modern Family si è presentata al suo pubblico attraverso la tecnica del falso documentario, diventando in breve tempo una delle serie più popolari in America. Raccontando le storie di più nuclei familiari, lo show si propone di evidenziarne stereotipi e abitudini.
Le battute brillanti e l'interpretazione naturale e carismatica degli attori hanno contribuito a rendere questo show un vero successo. Ha infatti ricevuto tantissimi premi, nonostante spesso sia stato al centro di alcune controversie. In ogni caso, l'arguto humour di Modern Family ha conquistato un ingente pubblico, soprattutto quello di IMDb.
9) The IT Crowd (8.5)
Nella top ten di IMDb mancano alcuni capisaldi della comicità mondiale, ma non manca lei: The IT Crowd. Serie britannica di 4 stagioni (più uno speciale) andata in onda dal 2006 al 2010 (con lo speciale uscito tre anni dopo, nel 2013), The IT Crowd viene considerata in Italia un prodotto di nicchia mentre all'estero spopola da più di un decennio: su IMDb le viene assegnato infatti un punteggio di 8.5. Siamo convinti che prima o poi anche in Italia questa serie avrà il successo che merita, magari a scoppio ritardato: un po' come successo con The Office.
8) Community (8,5)
Trasmessa dalla NBC dal 2009 al 2014, Community fa il suo ingresso nella nostra lista con un modesto 8,5. Creata da Dan Harmon, la serie è formata in tutto da sei stagioni e racconta le vicende del gruppo di studio più eccentrico, divertente e inusuale del panorama televisivo. In un fittizio college del Colorado i personaggi ambiscono alla tanta agognata laurea, mettendo in luce le proprie contraddizioni e i propri difetti.
Con un'ironia pungente e un cinico sarcasmo, Community riesce infatti a smontare il concetto di "politicamente corretto", evidenziando l'ipocrisia e l'incoerenza degli stessi protagonisti. La sitcom si trasforma così in una parodia della cultura pop dei nostri giorni.
7) Parks and Recreation (8,6)
Due anni fa Parks and Recreation ha festeggiato il decimo anniversario dalla sua messa in onda, riunendo il vecchio cast e scaldando il cuore dei fan con una tenera reunion. Trasmessa sulla NBC e formata da sette stagioni, la sitcom racconta le vicende della vicedirettrice del Parks and Recreation Department e dei suoi dipendenti.
Dialoghi divertenti, frasi iconiche e tantissime personalità brillanti e curiose sono alcune delle caratteristiche che hanno contribuito all'affermazione di questo show. Girata con la tecnica del mockumentary, Parks and Recreation rimane ancora oggi una delle serie più apprezzate e il suo punteggio su IMDb lo conferma.
6) Curb Your Enthusiasm (8,6)
In produzione da ben 21 anni (con molte pause in mezzo, però), e arrivata alla sua undicesima stagione, Curb Your Enthusiasm in Italia non ha mai fatto particolare presa e non gode di estrema popolarità, ed è un peccato vero perchè si tratta di una comedy sopraffina. Gli utenti IMDB le assegnano un voto complessivo di 8,6, a testimonianza del fatto che nel nostro paese, su alcuni temi seriali, siamo ancora parecchio indietro e dobbiamo assolutamente aggiornarci: perchè non è possibile che Curb Your Enthusiasm dalle nostre parti sia sconosciuta ai più.
5) Arrested Development (8,7)
La sitcom creata da Mitchell Hurwitz ne ha passate tante, eppure rimane ancora oggi una delle più amate dal pubblico. Arrested Development è andata in onda su Fox per tre stagioni, prima di essere cancellata.
Tuttavia, nel 2011 Netflix ha ordinato dei nuovi episodi che sarebbero stati disponibili unicamente sulla piattaforma di streaming. La bizzarra e disfunzionale famiglia dei Bluth ha così ottenuto una seconda chance, confermandosi ancora un successo, diventato poi fonte di ispirazione per comedy come The Office o Community.
4) Seinfeld (8,8)
Seinfeld rappresenta una delle pietre miliari del mondo seriale, nonché icona degli anni '90. Andata in onda dal 1989 al 1998, Seinfeld segue le tragicomiche vite dei suoi eccentrici personaggi: Jerry, George, Elaine e Cosmo. Nel corso di nove stagioni osserviamo i quotidiani fallimenti, oltre che le divertenti gag di personaggi viziati e privi di etica. Le loro vite sono scandite da una banale, tuttavia esilarante routine.
Seinfeld si avvicina così alla realtà con accortezza, sfruttando l'ironia pungente e sarcastica dei suoi protagonisti per divertire. Non si propone di insegnare nulla, né di migliorare gli stessi personaggi che continuano a condurre uno stile di vita semplicistico e autoironico.
3) It's Always Sunny In Philadelphia (8,8)
La sfrontatezza di It's Always Sunny in Philadelphia è sempre stata uno dei punti forti dello show. Creata da Rob McElhenney e Glenn Howerton, la serie tv va in onda nel 2005 su FX, affiancata nello stesso periodo da show come How I Met Your Mother e The Office. Nonostante ci fosse dunque parecchia competizione, la sitcom è riuscita ad affermarsi e a ottenere un grande seguito.
Dal sarcasmo tagliente e politicamente scorretta, It's Always Sunny in Philadelphia ha portato sullo schermo un gruppo di amici narcisisti, egoisti e amorali, capaci di ironizzare persino sulle questioni più delicate con beffarda ironia. La serie, che su IMDb ha ottenuto il punteggio di 8.8, è formata da ben 14 stagioni e per questo rientra tra le comedy più longeve nella storia della televisione americana.
2) Friends (8,8)
Prima in classifica fino a poco tempo fa, Friends si fa superare da The Office e scende al secondo posto. Gli utenti di IMDb infatti hanno attribuito alla serie tv simbolo degli anni '90 un bel 8,8. Le storie della banda di amici più simpatica della televisione continuano ad attrarre un pubblico intergenerazionale. Friends rimane tutt'oggi una comedy divertente e leggera, un'icona della cultura pop dell'ultimo ventennio.
1) The Office (8,9)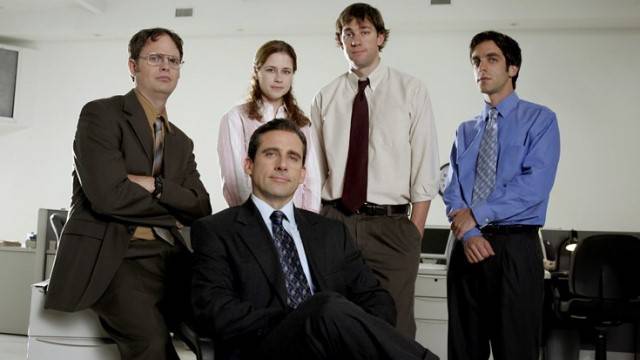 In testa alla classifica aggiornata delle migliori comedy secondo IMDb vi è l'ufficio più matto del mondo, che ha ottenuto il punteggio di 8,9. The Office ci ha tenuto compagnia per nove stagioni, mostrandoci l'evoluzione di ogni personaggio, nonché la rispettiva crescita personale e professionale.
Nata nel 2005, la sitcom inizialmente ha rischiato di essere cancellata. Tuttavia, la seconda chance ottenuta è stata provvidenziale poiché il successo non è tardato ad arrivare. Le storie dei dipendenti della Dunder Mifflin hanno conquistato tutti, persino i più scettici, confermando così una delle comedy migliori del mondo seriale.