Per certe Serie Tv un'unica visione non è sufficiente. Alcuni particolari si assaporano solamente la seconda volta. How I Met Your Mother rientra decisamente in questa categoria per me. Passati tre anni dalla sua conclusione, ho sentito la necessità di rivederlo tutto. Oggi vi spiego perché.
Per iniziare bisogna dire che ho ascoltato il cuore. La spensieratezza di How I Met Your Mother mi mancava tantissimo. Lo scorrere incessante di battute geniali specialmente. In un'epoca seriale fatta di Black Mirror varie dove realtà complesse e difficili vanno per la maggiore, io, divoratrice di puntate, sentivo la necessità di qualcosa di più leggero. Ma non volevo rischiare. Invece di lanciarmi su una nuova comedy, ho preferito andare sul sicuro. Ted, Robin, Barney, Marshall e Lily sono una certezza, decisamente. I cinque protagonisti sono diventati una famiglia per noi fan (lo dicono persino quelli famosi). E un'unica visione non sarebbe stata sufficiente. Proprio no. Non è abbastanza per apprezzare la perfezione di certe gag, di certi sguardi, di certe piccole chicche che gli autori hanno seminato nel corso delle stagioni.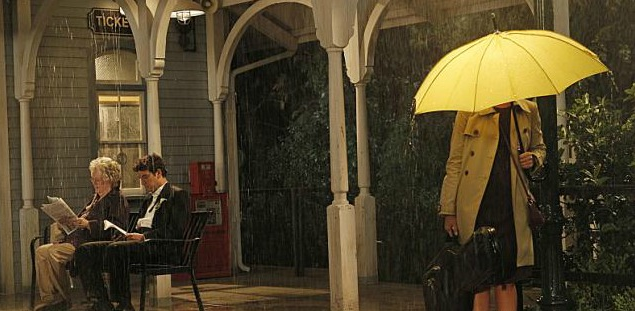 Quindi ho deciso: apro Netflix ed inizio il rewatch!
Una scelta forse poco coerente, passati tre anni da un finale che non mi aveva particolarmente entusiasmato (e l'ho anche scritto qui). Riprendere dall'inizio, però, è stato anche un modo per cercare di capire meglio le scelte fatte in merito alla trama. Perché hanno preferito la coppia Ted-Robin piuttosto che quella Barney-Robin? Perché hanno fatto morire la madre tanto attesa nel corso delle stagioni? Tolta la pesantezza di queste domande irrisolte da fan accanita, ho provato ad auto-contenermi. Ho brutalmente usato How I Met Your Mother come cuscinetto. Per impedire a me stessa di iniziare l'ennesima nuova Serie Tv. Almeno così non avrei avuto ulteriori obblighi per rimanere aggiornata ogni settimana, evitando spoiler vari ed eventuali. Con molta calma, aprivo e guardavo un "nuovo" episodio. Saggia, eh? Oppure semplicemente ingenua.
Perché l'infogno è arrivato, di nuovo. Mi sono ritrovata a passare da una stagione all'altra senza rendermene conto. Per quanto stanca, prima di andare a dormire, almeno qualcosa volevo vederla. Ma ne è valsa la pena, alcune perle le avevo persino scordate. Cioè rendiamoci conto: Bryan Craston che fa il capo di Ted. Cattivo quanto Walter prima di diventarlo realmente, proprio l'anno successivo. Nel 2007 compare in How I Met Your Mother e l'anno dopo inizia Breaking Bad. Per non parlare poi di Robin Sparkles. La sua "Let's go to the mall" dovrebbe circolare su ogni canale radio ancora oggi. Una hit indiscussa tra il pop e il trash.
Insomma, non mi sono per nulla pentita di questa scelta.
Magari un altro fan avrebbe avuto ragioni diverse per avvicinarsi ad un'avventura simile ma queste sono tutti i motivi che hanno spinto me a farlo. Il mondo dei nostri cinque amati protagonisti è speciale, senza precedenti. Per cui se avete tempo e voglia ho un consiglio per voi. Riguardate How I Met Your Mother. La vostra vita da dipendenti seriali non sarà più la stessa!
Passate anche dagli amici della pagina How I Met Your Mother Italia