Incredibile che non ce ne siamo mai resi conto, ma gli autori di How I Met Your Mother ci avevano messo in guardia su come sarebbe andata a finire la serie. Cinque indizi uno più clamoroso dell'altro: il tempo del racconto, due canzoni, un libro, il nome su una lapide e una strana scelta di Ted. A ripensarci siamo stati davvero ciechi!
1) La storia raccontata al passato
Si tratta di un indizio che molti fan non hanno ignorato nel corso di How I Met Your Mother. Quando Ted racconta la storia ai figli parla sempre al passato della "mother", un past tense che risulta ancora più lampante in lingua originale. Inoltre, Tracy non compare mai nei numerosi flashforward nel corso della serie.
Per preservarne l'identità, certo, ma sarebbe bastato qualche stratagemma per inserirla comunque. In altri casi, infatti, giocando anche sull'espediente ironico/emotivo che ne deriva, la madre è apparsa di sfuggita nei flashback: ricordate quando Ted vede la sua caviglia nella 5×12?
2) Il libro preferito di Ted
Gli autori ci avevano messo in guardia, in questo caso, ma siamo stati ciechi. L'amore ai tempi del colera, libro preferito di Ted, sembra infatti clamorosamente ricalcare la storia di Tracy, Robin e Ted appunto. Nel romanzo, i due innamorati protagonisti si separano dopo enormi difficoltà. Lei sposa un altro uomo ma dopo la morte di questi si ricongiungerà col suo primo amore.
Il libro è presente in numerosissime scene nel corso di How I Met Your Mother e soprattutto quando Ted, seduto a Farhampton, incontra per la prima volta Tracy (8×01, uno degli episodi migliori in assoluto: qui trovate gli altri). E in quella scena non è l'unico clamoroso indizio, come vedremo più avanti. Era tutto sotto i nostri occhi!
3) Il nome sulla tomba
Un indizio sfuggito proprio a tutti è quello del nome inciso su una tomba. Siamo nella 7×13 di How I Met Your Mother e Marshall continua la tradizione di famiglia di passare l'anno nuovo con il padre, defunto un anno prima. Si reca quindi alla sua tomba e sarà poi raggiunto da familiari e amici in un momento di grande commozione collettiva.
Se però fate attenzione alle altre lapidi presenti nel cimitero noterete qualcosa. Su una di esse si legge chiaramente un nome: "Mother". Non è inusuale incontrare questa dicitura ma il fatto realmente strano è che non sia accompagnata da un nome o altra intestazione. Indizio enorme a ripensarci.
4) La canzone alla stazione di Farhampton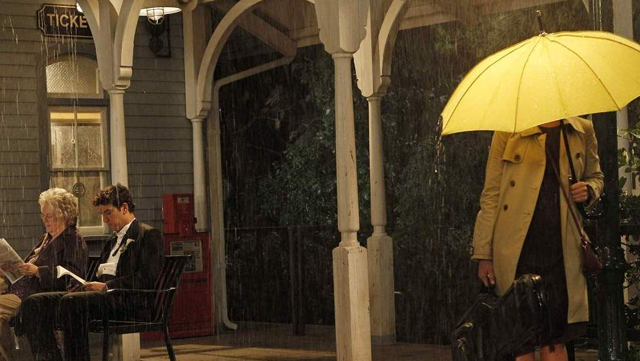 Nel pilot dell'ottava stagione di How I Met Your Mother, Ted siede alla stazione di Farhampton dopo il ricevimento di nozze di Barney e Robin. Ripercorre con la memoria un incontro con Victoria e il suo proposito di trovare il suo lebenslangerschicksalsschatz, la sua vera anima gemella. La storia si proietta quindi al presente con Tracy, non ancora visibile in volto, che scende dal taxi e si ferma a pochi metri da Ted. In sottofondo c'è una canzone.
Si tratta di The Funeral dei Band of Horses. Un titolo che è tutto un programma e che avrebbe dovuto accrescere i nostri dubbi sull'esito della storia tra Ted e Tracy. In quello stesso momento, tra l'altro, come già evidenziato, il protagonista di How I Met Your Mother sta leggendo L'amore ai tempi del colera. Doppio indizio.
5) L'episodio di How I Met Your Mother sui viaggi nel tempo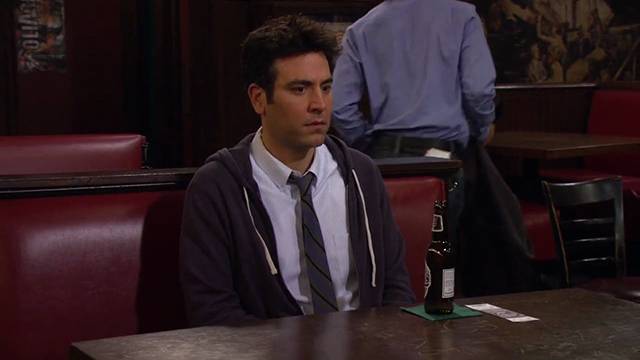 Il ventesimo episodio dell'ottava stagione (Viaggiatori nel tempo) è sicuramente uno dei più tristi di How I Met Your Mother. Tutta giocata sull'immaginazione e sulla solitudine del protagonista, la puntata si conclude con il Ted del futuro che immagina di aver passato diversamente la serata. Di aver corso a piedi da quell'adorata moglie che avrebbe incontrato da lì a quarantacinque giorni. Nel desiderio di non perdere neanche un istante e guadagnare altro tempo con Tracy. Un sentimento che ci appare perfettamente comprensibile per un uomo che ha perso l'amore della sua vita.
Per concludere nel finale della 6×19, incentrato su Ted e Tracy, si sente in sottofondo la canzone di Bob Dylan If You See Her, Say Hello, incentrata sul tema dell'amore perduto e sulla necessità di non sprecare tempo. Una chiara allusione alla morte di Tracy che avrebbe fatto rimpiangere a Ted i momenti non passati con lei.