Ted Mosby viene rimproverato spesso dagli altri protagonisti di How I Met Your Mother per la sua tendenza a riflettere troppo prima di prendere una decisione. Una discussione simile è avvenuta nell'episodio 8×20 – Viaggiatori nel tempo, che sviluppa una trama ricca di significato (anche per questo l'abbiamo inserito nella classifica dei migliori episodi della serie).
Nella puntata in questione Barney cerca di convincere il protagonista ad assistere a Robot contro Wrestler – La Leggenda, descrivendolo come un evento imperdibile. Nel frattempo, sembra che al MacLaren's si svolga una serata come tutte le altre, in cui ci sono anche Robin, Lily e Marshall. Questi ultimi litigano a causa del nome di un cocktail, ma il focus dell'episodio è chiaramente la discussione tra Ted e Barney.
L'architetto di How I Met Your Mother non vuole accettare la proposta dell'amico e allora entrano in azione le proiezioni future dei protagonisti.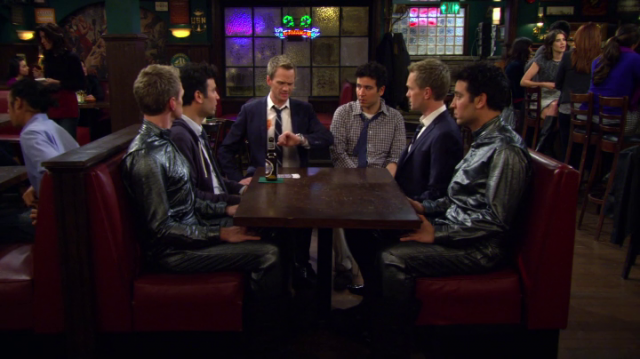 Le versioni alternative che espongono i pro e i contro di Robot contro Wrestler rappresentano i mille dubbi che tormentano il protagonista ogni volta che deve prendere una decisione. Come se non bastasse, pochi minuti dopo arriva al pub anche la guardarobiera.
Ted aveva incontrato questa ragazza sette anni prima, ma non aveva avuto il coraggio di farsi avanti e chiederle di uscire. Adesso che si presenta una nuova occasione, l'architetto pensa di approfittarne, ma arrivano prontamente anche le proiezioni future della donna, pronte a dissuaderlo.
Dopo molte esitazioni, la guardarobiera esce dal MacLaren's (che ci siamo divertiti a far valutare da Alessandro Borghese) e Ted si rende conto che l'intera serata è stata frutto della sua immaginazione e che lui non ha mai avuto delle relazioni con un lieto fine.
Ed è a questo punto che il paragone con la power ballad degli Aerosmith diventa evidente.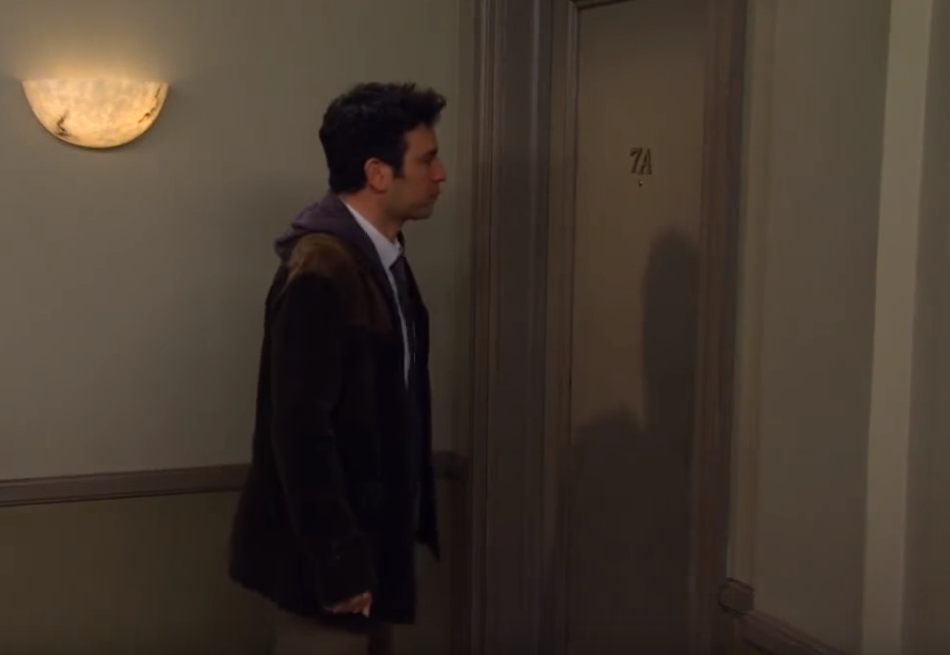 Il giovane architetto, rimasto seduto al tavolo da solo per tutta la sera, non sa ancora cosa gli riserverà la vita, ma la sua versione del 2030 sì. Per questo motivo il protagonista maturo sa che avrebbe potuto scegliere di andare a trovare i suoi amici al termine della serata, ma l'unico posto dove avrebbe voluto andare veramente era l'appartamento di Tracy. Ted avrebbe bussato alla porta della donna e le avrebbe detto:
Ciao, sono Ted Mosby, e tra 45 giorni esatti noi ci incontreremo e ci innamoreremo. Poi ci sposeremo e avremo due bambini. Ci ameremo molto, per tutta la vita. Però fra 45 giorni. Se ora sono qui è solo perché voglio questi 45 giorni. Io voglio viverli tutti con te. O mi prenderò questi 45 secondi prima che arrivi il tuo fidanzato a darmi un cazzotto. Perché io ti amo e lo farò per sempre. Fino alla fine dei giorni e oltre. Vedrai!
Lo spettatore è totalmente ignaro del motivo che spinge Ted a volere così tanto anche soltanto 45 secondi in più con Tracy. Il bisogno del protagonista è forte perché sa perfettamente che la malattia l'ha privato del grande amore troppo presto. Il Ted del 2030 sa che da ragazzo era troppo insicuro e non ha approfittato abbastanza delle occasioni che gli sono capitate. Sembra proprio che le parole di I Don't Want to Miss a Thing degli Aerosmith risuonino nella testa dell'architetto come un grido disperato, quello di chi ha paura di perdere la persona più importante della sua vita e non vuole sprecare neanche un solo attimo lontano da lei.
E, se il protagonista di How I Met Your Mother non è in grado di urlare a pieni polmoni quello che prova, ci pensa Steven Tyler a fargli da portavoce.
I could stay awake just to hear you breathing

Watch you smile while you are sleeping

While you're far away and dreaming

I could spend my life in this sweet surrender

I could stay lost in this moment forever

Every moment spent with you is a moment I treasure.
Il brano degli Aerosmith cresce lentamente, fino a esplodere nella richiesta di chi ha estremamente bisogno di trascorrere ogni istante possibile con la sua amata. Ted ha bisogno di quei 45 secondi con Tracy perché, come canta Steven Tyler, ogni momento trascorso con lei è prezioso.
I don't wanna miss one smile

I don't wanna miss one kiss

Well, I just wanna be with you

Right here with you, just like this.
Il problema è che le cose sono andate diversamente.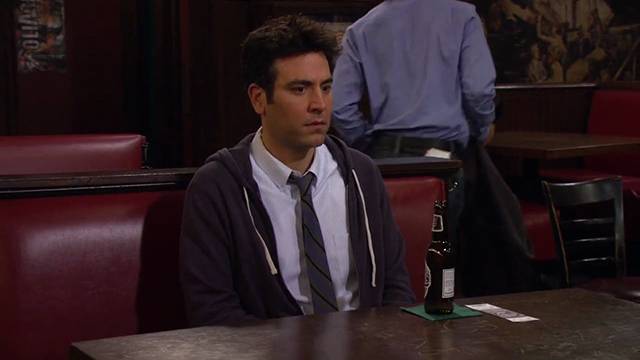 In Viaggiatori nel tempo emerge tutta la solitudine di Ted. In quel particolare periodo della vita del protagonista, la proiezione di Barney gli ricorda che è rimasto completamente solo. I suoi amici stanno trascorrendo dei momenti felici. Lily e Marshall gioiscono per l'arrivo del figlio Marvin nelle loro vite, mentre Robin e Barney organizzano il ricevimento del loro matrimonio.
Il viaggio di Ted alla ricerca del grande amore è stato lungo e difficile, ma ogni scelta che ha fatto l'ha condotto da Tracy. Quei 45 giorni in più che l'uomo desidera ardentemente forse avrebbero cambiato il corso degli eventi. E non importa quanto egli "non voglia perdersi nulla" (don't want to miss a thing, appunto), perché ormai non può cambiare il corso degli eventi. L'unica cosa che può fare il protagonista di How I Met Your Mother è insegnare ai suoi figli che Steven Tyler ha ragione. È giusto assaporare ogni attimo e vivere l'amore con la giusta dose di avidità.