Quando Matthew Caws nell'estate del 2000 iniziò a comporre Inside of Love sentiva che sarebbe stata una canzone diversa dalle altre. Qualcosa lo ispirava profondamente. Le parole scorrevano come un fiume e note si aggiungevano a note. Eppure, mancava un riff, mancava quel ricorrente, costante sostrato che avrebbe reso grande la canzone. Così Caws uscì e si diresse al McCarren Park. Si sedette su una panchina e finalmente trovò la profondità che cercava. Nasceva lì, in quel parco newyorkese, Inside of Love.
In How I Met Your Mother, Ted come Caws cerca disperatamente il suo riff. Dentro di sé ha quasi tutte le note e anche le parole per amare. Ma non ha un dirimpettaio, qualcuno in cui specchiarsi. Non ha quell'amore che insegue disperatamente. Conosce l'ultima pagina ma non riesce a leggere la prima e si aggrappa con ostinazione e crescente disperazione all'idea che ci debba essere un disegno segreto dietro a tutte le sue delusioni. Soltanto alla fine del suo percorso potrà vedere il quadro generale, potrà comprendere il piano segreto della sua esistenza.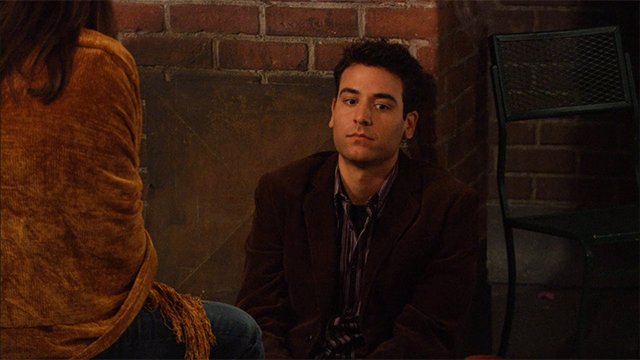 How I Met Your Mother ci mette fin dalla prima stagione di fronte a un protagonista combattuto e incerto. Ted come noi vive nel dubbio. Vorrebbe con tutte le sue forze vivere all'Interno dell'Amore ma è drammaticamente escluso dal sentimento. Percepisce dentro di sé la maturità per poter amare, la voglia di aprirsi al sentimento ma è come se quell'amore tanto desiderato non volesse spalancargli le porte, escludendolo irrimediabilmente dalla felicità. Questa condizione del protagonista emerge in maniera straordinaria in un episodio in particolare. Siamo ancora a inizio Serie quando nel sesto episodio Ted si aggrappa al ricordo -idealizzato- di una ragazza conosciuta anni prima a una festa di Halloween: la sua "zucca supersexy".
Solo quando riusciremo a vedere dall'alto, il disegno potrà svelarsi e noi sapremo cosa fare. Conosco molto bene l'ultima pagina ma non riesco a leggere la prima, così non inizio proprio e va peggiorando
Ne "La zucca supersexy" i due grandi protagonisti del racconto sono Ted e Robin. Entrambi, in modi diversi, vivono alla ricerca dell'amore. Tanto l'uno quanto l'altra non hanno trovato qualcuno con cui condividere la propria vita. Ted insegue disperatamente il ricordo di un istante, l'idea di una ragazza che nel tempo non ha fatto altro che mettere su di un piedistallo. È talmente desideroso di iniziare ad amare che si ostina in una ricerca senza senso. Il manifesto programmatico di How I Met Your Mother emerge già da questo episodio. Capiamo già a questo punto quanto Ted nel corso dell'intera Serie proverà con tutte le sue forze a "entrare nell'amore", spesso e volentieri forzando la situazione e sublimando il suo bisogno d'affetto in un succedersi di relazioni destinate al fallimento.
Robin, dal canto suo, è convinta che non riuscirà mai ad amare. Nella sua estrema indipendenza e nel suo star bene con se stessa non riesce ad aprirsi all'emozione. Non riesce a "essere un noi. Io voglio essere un 'io'". Guardando attorno a sé, guardando in particolare all'amore semplice, a volte melenso ma sempre spontaneo di Marshall e Lily, Robin si sente esclusa da tutto ciò. Sente di non poter riuscire a essere la Gretel del suo Hänsel. Non riesce a travestirsi per Halloween. Non riesce a condividere il suo cibo. E non ha la forza né la volontà di togliere qualcosa a sé per trasformarla in 'nostra'.
Voglio sapere com'è stare all'interno dell'amore. Sono seduto alle porte. Vedo la bellezza sopra di me. Non trovo il modo di entrare e provo e riprovo.
Se Ted non teme di apparire ridicolo per amore, Robin antiteticamente ha paura che non riuscirà mai a essere disposta a lasciarsi andare a 'smancerie'. Entrambi non riescono a vedere il quadro generale. Non riescono a capire quanto distante e contestualmente vicini siano al vero amore. Cercano disperatamente nel posto sbagliato quello che hanno accanto a loro: la bellezza di un sentimento che non è ancora pronto a sbocciare. Un amore che dovrà fare un giro immenso e troverà corrispondenza soltanto a distanza di molti anni, quando entrambi saranno pronti per riceverlo.
Noi come Ted e Robin viviamo l'angosciante situazione di non poter avere l'immagine chiara dell'amore. Inseguiamo intimamente una felicità che non sappiamo dove trovare. A volte ci lanciamo in relazioni destinate al fallimento solo per paura della solitudine. Altre volte invece anteponiamo la nostra indipendenza e il nostro bisogno di 'spazio' a qualunque relazione. Ma in entrambi i casi compiamo, come i due protagonisti più incerti di How I Met Your Mother, un grosso errore.
"Tutti a un certo punto si innamorano e cominciano a parlare e a comportarsi come dei bambini scemi. Tutti tranne me. Perché non posso farlo anch'io? Io vorrei tanto riuscirci ma forse sarò fatta male". Quante volte ci siamo riconosciuti in queste parole? Quante volte nel dubbio di fronte a un amore che tarda ad arrivare abbiamo pensato che fosse colpa nostra? Che dipendesse da noi? "Forse sono solo una persona troppo razionale". L'amore non è in una ricerca disperata né nella forzatura di un comportamento antitetico a quello che siamo. Sta nella spontaneità e nell'immediatezza con cui riusciamo a trasformare il 'me' in un 'noi'. Non possiamo anticipare i tempi, "entrare nell'amore" prima di essere pronti. Prima di aver trovato la persona con cui poter e voler condividere la nostra quotidianità.
Sono escluso dall'amore, sempre al di sotto o al di sopra. Non trovo il modo di entrare. Deve avere una prospettiva diversa essere un 'me' con un 'te'
Così ci fermiamo a guardare agli altri. A quelle vite già avviate e a quegli amori che sembrano così autentici e profondi. Siamo soli davanti alle porte dell'Amore e possiamo guardare all'interno. Possiamo vedere una felicità dalla quale ci sentiamo irrimediabilmente esclusi. Ci fermiamo, siamo costretti ad aspettare e convivere con i nostri dubbi, con quell'angoscioso interrogativo che ci assale. "Dimmi, Ted: tu come fai? Come puoi startene seduto tutta la sera su una terrazza al freddo e avere ancora fiducia che la tua zucca arriverà?".
Lentamente la speranza sembra non poter più trovare spazio. Ted nel corso di How I Met Your Mother si confronterà sempre più spesso con l'idea terribile che l'amore non arriverà mai. Non può vedere il quadro generale. E se a posteriori noi sappiamo che troverà quella "Mother", lui vive nella disperazione di chi in un succedersi rocambolesco di relazioni sente sempre meno la forza di credere nell'amore.
Con difficoltà riesco e amo baciare le persone, non riesco a credere a cosa faccio a tarda notte
Non possiamo anticipare l'amore. Non possiamo scassinare le porte dell'Amore perché rischieremmo di rendere prematuro il sentimento. "So che è improbabile che la donna della mia vita come per magia varchi quella soglia con un costume da zucca alle due e quaranta del mattino ma questo mi era sembrato un posto come un altro per aspettare". Possiamo solo aspettare. Arrenderci all'idea che un giorno potremo sentirci felici. Che pur in tutte le difficoltà che sempre investiranno la nostra vita troveremo una costante nell'altro. Nell'autenticità di un sentimento che ci farà apparire sdolcinati e perfino ridicoli e per il quale saremo disposti a mettere in gioco tutto noi stessi.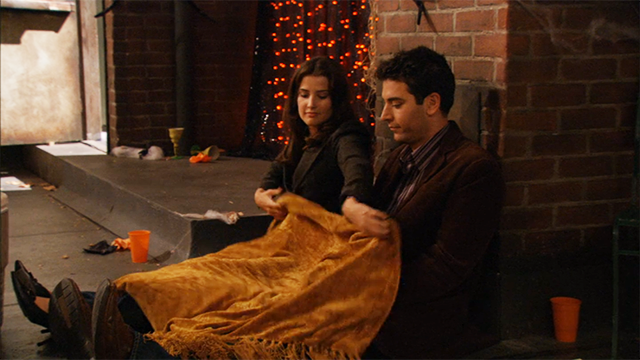 Robin e Ted si scoprono così l'una accanto all'altro ad aspettare. Ad attendere quel futuro ancora lontano e incerto. Entrambi soli eppure insieme. Anche noi possiamo forse riuscire ad aspettare l'amore senza sentirci soli, avendo al nostro fianco un amico sincero e fedele in attesa di trovare la nostra Gretel o il nostro Hänsel. Dubbiosi ma sempre mossi dalla speranza che le porte dell'amore, alla fine, si apriranno.