# #
Mercoledì scorso Sky Atlantic ha mandato in onda le ultime tre puntate della quinta stagione di House of Cards. I coniugi Underwood hanno completato il loro viaggio, lasciando tuttavia aperte varie finestre per futuri sviluppi; il punto è: abbiamo effettivamente bisogno di nuovi sviluppi? La Serie Tv di produzione Netflix ha infatti nei suoi protagonisti, Kevin Spacey e Robin Wright, le punte di diamante che sembrano sempre più soli in una trama che tende più alla mistificazione della realtà che a una sua verosimile rappresentazione. Cerchiamo di vedere dunque quali sono i problemi emersi in questa stagione. Spoiler alert!
# #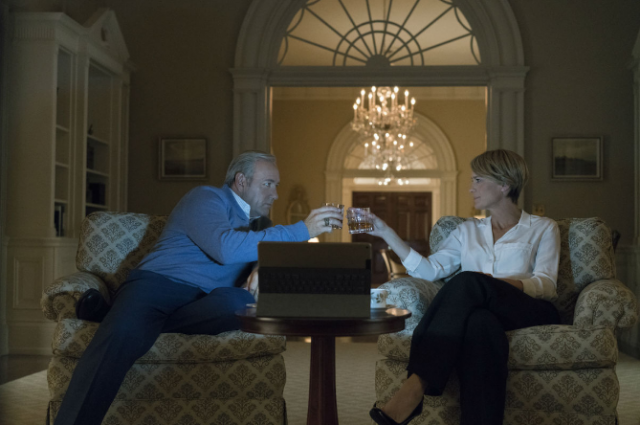 Partiamo innanzitutto da quelli che generalmente erano considerabili colpi di scena che davano una svolta importante alla trama e alla psicologia dei personaggi: si pensi, a cavallo tra la prima e la seconda stagione, al fatto che Frank uccida Peter Russo e Zoe Barnes.
# #
Già queste azioni, in realtà, erano state considerate dai più poco credibili, ma la storia ci aveva convinto della loro veridicità anche grazie a come erano state insabbiate. Adesso, con le vicende della quinta stagione, House of Cards è diventata grottesca: mi riferisco in particolare alla manipolazione delle elezioni.
Capisco e condivido il messaggio: gli Underwood sono disposti a tutto pur di rimanere al potere. Tuttavia, truccare delle elezioni, vincerle e addirittura farla franca mi sembra descriva alla perfezione l'espressione "spingersi un po' oltre".
Ovviamente, tutti i complottisti della vita reale potrebbero trovare in questa stagione di House of Cards una specie di punto di riferimento assoluto: i Governi truccano le elezioni, gli attentati sono falsi e auto indotti, il vero potere è delle lobbies e non del popolo.
A proposito di quest'ultima questione, ecco un altro aspetto che mi è sembrato più un colpo di coda che una vera e propria scelta coerente con la storia: gli incontri di Frank nel "bosco dei potenti" e la motivazione della sua decisione finale di dimettersi.
Non è totalmente falso che nel mondo moderno alcuni dei poteri principali risiedono nelle mani di soggetti dietro le quinte, persone non immischiate con la politica.
Frank se ne rende conto in quel weekend ai Campi Elisi, ma progettare tutto ciò che sarebbe seguito (comprese le false informazioni ad Hammershmidt), concludendo con le sue dimissioni e la presidenza di Claire? Perchè un uomo così attaccato all'idea della Presidenza dovrebbe cambiare così velocemente la sua posizione?
Le spiegazioni date dalla storia sono accettabili, ma non convincenti. Le tempistiche, soprattutto, non sembrano adeguate a un "cambiamento" di tale portata.
Infine, veniamo alla questione dell'effetto sorpresa. Frank che commette due omicidi è un effetto sorpresa notevole, inaspettato (e, come detto, al limite della veridicità). Un Presidente assassino è qualcosa che possiamo anche lasciar passare.
Ma il suo successore, nonché moglie Claire Underwood, un altro Presidente assassino? L'aver ucciso Tom oltre ad essere un'azione rischiosa e che la rende ricattabile da parte di Usher, risulta ridondante rispetto alle azioni del marito. Entrambi spregevoli, entrambi egoisti, entrambi, aggiungerei, folli.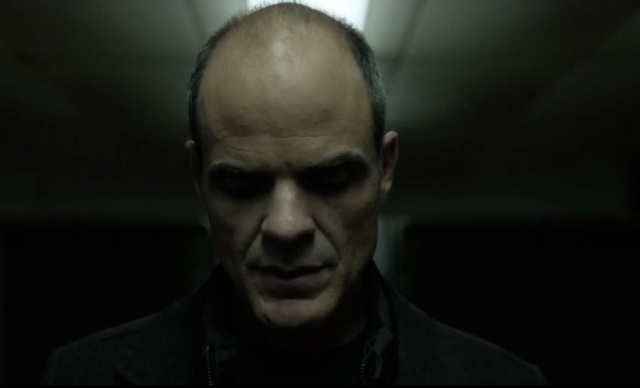 La quinta stagione di House of Cards non è stata malvagia, sia chiaro: si tratta sempre di un prodotto di qualità per il modo in cui è diretta, per la fotografia e per le grandi interpretazioni degli attori protagonisti. Tuttavia, credo che al momento si tratti della stagione meno buona, e non solo per i motivi indicati in questo articolo. Le idee, in pratica, sembrano essere sempre più scarne o poco credibili, segno che forse è il momento di fermarsi.