Dopo le accuse di molestie, per Kevin Spacey non vi è stata vita facile. Tra licenziamenti e ruoli annullati, la sua carriera è stata letteralmente ribaltata. Ma a un anno di distanza egli è tornato sui social e l'ha fatto rivestendo i panni di Frank Underwood di House of Cards in un video.
No, non è uno scherzo. Spacey è ritornato sui social ed ha fatto sentire la sua voce. Già dal titolo "Let me be Frank", cioè "fatemi essere franco", ma anche, naturalmente, "fatemi essere Frank", l'attore ha giocato metaforicamente su due livelli, con quello che è successo alla sua vita e quello che è successo al suo personaggio.
Nella sesta e ultima stagione di House of Cards, Frank Underwood è stato dato per morto proprio per evitare di coinvolgere nuovamente l'attore all'interno dello show. Ma, come sappiamo, anche se lo scandalo che l'ha portato lontano dalle scene è ancora tanto fresco e forte da digerire, c'è ancora una buona parte di fan che crede nella sua innocenza e continua a identificare House of Cards con lui. La serie, per qualcuno, dopo il suo clamoroso addio, ha perso decisamente colpi e anche noi abbiamo sottolineato come il finale (e in generale l'ultima stagione) sia stato pessimo.
Con questo video però, in qualche modo, Spacey cerca di far sognare ancora i più speranzosi.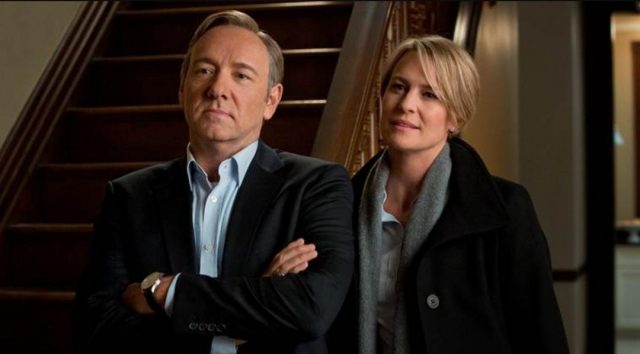 All'interno del video l'attore riveste letteralmente i panni di Frank, indossando persino l'anello di Underwood e, diciamocela tutta, si cala perfettamente nella parte che ha interpretato magistralmente. In questo video commenta i fatti accaduti nell'ultima stagione, ma senza aggiungere altro.
Ecco a voi il video, con relativa traduzione:
Oh certo, possono aver tentato di separarci, ma quello che c'è tra noi è troppo forte, troppo potente. E dopotutto io e voi abbiamo condiviso tutto. Vi ho raccontato i miei segreti più profondi e oscuri, vi ho mostrato esattamente ciò di cui le persone sono capaci. Vi ho sconvolti con la mia onestà, ma soprattutto vi ho sfidati, vi ho fatto riflettere, e voi vi siete fidati anche se sapevate che non avreste dovuto. Quindi non è finita, non importa ciò che dicono tutti. E comunque, so cosa volete. Volete che torni. Ovviamente alcuni credono a qualsiasi cosa, e io ho semplicemente atteso, trattenendo il fiato, che lui confessasse tutto. Non vedono l'ora che dichiari che tutto ciò che è stato detto è vero, e che ho ottenuto ciò che mi meritavo. Non sarebbe più facile se fosse tutto così semplice? Ma voi e io sappiamo che non è mai così semplice nella politica o nella vita. Non credereste alle cose peggiori senza una prova, non giudichereste senza conoscere i fatti, no? Non lo avete fatto? No, voi no, voi siete più intelligenti di così. Comunque, tutte queste presunzioni hanno condotto a un finale decisamente insoddisfacente, e pensare che sarebbe potuta essere una conclusione memorabile. Voglio dire, è come se io e voi non avessimo imparato altro in questi ultimi anni, è che nella vita e nell'arte nulla dovrebbe essere escluso. Non abbiamo avuto paura di ciò che abbiamo detto, di ciò che abbiamo fatto e continuiamo a non esserlo, perché posso promettervi questo: anche se ho pagato il prezzo per le cose che sia io che voi sappiamo che ho fatto, certamente non pagherò per ciò che non ho fatto. Senza dubbio diranno che manco di rispetto nel non seguire le regole, come se io avessi sempre seguito le regole. Non l'ho mai fatto, e voi adoravate questa cosa. Comunque. Nonostante tutto il trambusto, i titoli di giornale, l'impeachment senza un processo, nonostante tutto, nonostante la mia stessa morte, mi sento sorprendentemente bene. E mi sento ogni giorno più sicuro, tanto che molto presto conoscerete tutta la verità!

…Aspetta un attimo. Ora che ci penso, non mi avete mai visto realmente morire, vero? Trarre conclusioni può essere ingannevole…

Vi sono mancato?
E con quel finale che sembra quasi una citazione di Moriarty possiamo essere sicuri solamente di una cosa: Kevin Spacey sta per tornare.