Kevin Spacey crede che Netflix non abbia alcun diritto di sospenderlo dalla produzione di House of Cards. A sostenere quanto appena detto è il contratto dell'attore. In esso non c'è alcuna clausola che dichiari il licenziamento dell'attore in caso di azioni immorali. Per questo motivo, la sospensione di Kevin Spacey da House of Cards risulterebbe scorretta.
Il contratto di Kevin Spacey prevede un licenziamento o una sospensione solo se l'attore risulta essere non disponibile o incapace di svolgere il proprio lavoro. Al momento l'attore può in effetti sembrare non disponibile a tornare sul set. Si trova infatti alla clinica The Meadows in Arizona, dove sta seguendo un programma di riabilitazione per dipendenza sessuale. Però, avendo deciso di partecipare al programma di sua spontanea volontà, la situazione è diversa.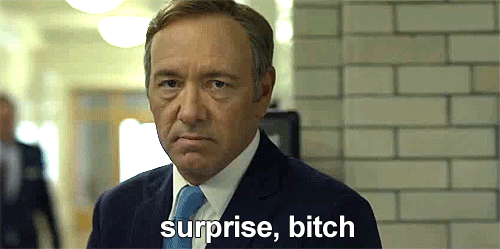 La decisione di sospendere Spacey da House of Cards è stata presa da Netflix e dalla Media Rights Capital, la compagnia di produzione della Serie Tv, a seguito delle accuse di molestie sessuali che hanno portato l'attore a fare coming-out. Dopo questa vicenda la produzione ha inviato una lettera al cast di House of Cards, chiedendo ad ognuno di farsi avanti qualora fosse stato molestato dall'attore. Alcuni dipendenti hanno poi ammesso di non sentirsi pienamente a proprio agio quando Spacey era nei paraggi. La difesa dell'attore crede che lo scopo della produzione fosse quello di trovare nuove accuse per poterlo sospendere.
Alcune indiscrezioni provenienti dalla Media Rights Capital sostengono che l'attore sia stato sospeso a causa della policiy aziendale contro le molestie sessuali. Tuttavia, Spacey non è un dipendete della MRC e non ha un contratto con l'agenzia. Quindi la policy aziendale non dovrebbe essere valida. A tal proposito, ecco quanto dichiarato dai piani alti della MRC:
Mentre continuano le indagini sulle serie accuse che hanno preso di mira Kevin Spacey e il suo comportamento sul set di House of Cards, l'attore è stato sospeso. In qualità di produttori della Serie Tv, abbiamo il compito di creare e mantenere un luogo di lavoro sicuro per il cast.