A distanza di più di 15 anni dall'uscita del videogioco, Halo è approdato in tv. Ideata da Paramount+ con Steven Spielberg come produttore esecutivo, è disponibile in Italia su Sky Atlantic dal 24 marzo e in streaming su NOW dal 28. Il percorso che ha portato il brand dalle console alla serie non è stato per nulla facile. Costellato da incidenti di percorso e ritardi, il prodotto incentrato sul gioco sparatutto per Xbox, arriva allo spettatore dopo quasi due decenni di spin-off, libri, merchandise e ovviamente videogame. Sono anni, infatti, che Microsoft ha il desiderio di espandere Halo, visto l'enorme successo del videogioco. Nel 2005, infatti, Columbia Pictures e 20th Century Fox si accordano con Microsoft per fare di Halo un film diretto dal regista sudafricano Neill Blomkamp, una vera e proprio icona vivente per i fan della fantascienza, e prodotto da Peter Jackson conosciuto perlopiù grazie a Il Signore degli anelli. Tuttavia il progetto fallisce. Così, la casa madre, 8 anni dopo, decide di ritentare giocando la carta Steven Spielberg. Quest'ultimo ha il compito, con la sua Amblin Television, di realizzare una serie Tv che ha visto la luce solo oggi, dopo anni di rimandi e ritardi. Il peso di questo prodotto è più che evidente se guardiamo, numeri alla mano, quanto Paramount ci abbia investito: si parla di dieci milioni di dollari per ogni episodio. È chiaro che chi non risica non rosica, e sembrerebbe che la casa di produzione abbia fatto centro. A testimonianza, il tweet del 3 maggio dell'analista Benji-Sales nel quale definisce Halo una hit mondiale, capace di far aumentare a dismisura il numero di abbonati alla Piattaforma (ora 40 milioni) e i ricavi (si parlerebbe di un 148% in più solo negli ultimi 90 giorni).
Le ragioni del successo della serie Halo
In primis, il prodotto scritto da Kyle Willen e Steven Kane, rispetta il contesto generale del gioco: siamo sulla Terra del 26esimo secolo, scenario in cui lo United Nations Space Command (Unsc) deve affrontare da una parte i coloni indipendentisti di territori come Madrigal e dall'altra la minaccia di un'alleanza di razze aliene chiamata Covenant. L'azione si sussegue grazie a una serie di intrighi intergalattici, profezie misteriose e protagonisti che devono sfuggire a un destino già deciso. Un esempio di questo cambio di rotta è rappresentato dal protagonista, Master Chief interpretato da Pablo Schreiber, che vediamo a capo di una squadra di Spartan. Gli Spartan sono super soldati geneticamente modificati, guerrieri letali e senza emozioni. Sarà l'incontro con Kwan Ha (Yerin Ha), la figlia del capo della resistenza Madrigal, a costringere il nostro uomo di ghiaccio a fare i conti con i propri sentimenti. A questo proposito, a detta di Pablo Schreiber, la storia di un super soldato alla scoperta della sua umanità è un tema che può toccare anche gli spettatori, avvicinandoli all'esplorazione di un universo che, a differenza dei gamer, non conoscevano già.
Anche le tematiche fondanti del gioco sono state rispettate e riproposte nella serie. Vengono mostrate questioni profonde legate agli effetti della guerra sulla società, al senso di unità e alla speranza nel genere umano. Per quanto sia tutto giusto, non è semplice trasporle da un videogioco a una serie. Halo, a detta sempre di Schreiber, ha fatto centro preferendo il meccanismo della serialità a quello della produzione unica:
"Credo che il problema di molti adattamenti filmici di videogiochi è che hanno solo 90 minuti per introdurre tutti i personaggi e i contesti, è uno storytelling molto limitato. Invece, con tutta la mitologia che è stata creata in Halo negli ultimi anni, la serie riesce a riprodurre la ricchezza immaginativa e narrativa di questo mondo".
Non solo ambientazioni e tematiche tipiche del videogioco: Halo è una serie che riesce a espandere il proprio universo narrativo permettendo a tutti di capire e apprezzare il prodotto. In questo senso, la serie non segue la timeline canonica: attingendo da quella che i produttori chiamano Halo Silver Timeline, sono in grado di mischiare avvenimenti passati e presenti senza modificare significativamente la trama principale.
L'esperimento con la timeline di un universo conosciuto, dà modo ai produttori di poter investire su dettagli e personaggi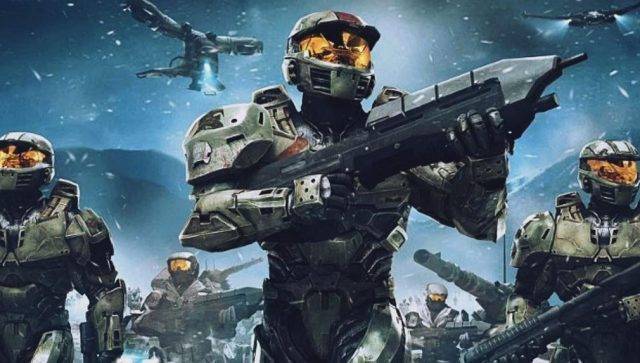 Sin dai primi episodi lo spettatore sa bene cosa vedrà: scontri umani-alieni, complotti politici e inseguimenti nello spazio. Ma l'impianto, apparentemente un po' tradizionale, viene esaltato grazie alla cura per i dettagli. A questo proposito, la produttrice esecutiva, Kiki Wolfkill, ha dichiarato di essere consapevole dell'impossibilità di accontentare tutti i fan storici del videogioco perché, per rendere reale qualcosa che è sempre stato virtuale, ha dovuto prendersi alcune libertà. E aggiunge: "Volevamo fornire un'esperienza diversa e al tempo stesso familiare, che facesse sentire di essere entrati nel mondo di Halo da una porta differente. Non abbiamo mai avuto intenzione di cambiare le fondamenta di Halo, abbiamo soddisfatto le necessità di storia e personaggi".
A proposito di personaggi, prima di tutto ne vengono introdotti di inediti: Makee (Charlie Murphy) un'umana schierata con i Covenant, e la giovane ribelle Kwan Ha (Yerin Ha), a cui abbiamo già accennato, concepita per aiutare lo spettatore neofita a muoversi nell'universo di Halo. Curiosità relativa a Kwan Ha: sembrerebbe che sia stata scelta un'attrice di origini coreane anche per allinearsi al nuovo trend televisivo incentrato sulle produzioni k-drama (pensiamo al successo di Squid Game). Non parliamo di novità in senso stretto, ma menzioniamo un terzo personaggio non presente nel gioco, quello di Sorren, appartenente a Evolutions, il romanzo spin-off di Halo. Ciò a dimostrazione dell'idea di espandere l'universo di Master Chief. Ovviamente, la maggior parte dei personaggi è quella presente anche nei videogiochi ma, avendo tempo e risorse, la produzione ha deciso di approfondirli. Un esempio è dato dalla dottoressa Catherine Halsey, interpretata da Natascha McElhone, ovvero il medico che ha dato vita agli Spartan e che porta avanti gli esperimenti sull'intelligenza artificiale Cortana. Anche quest'ultima, è leggermente differente rispetto a quella conosciuta, è più inquietante.
Il fatto che la sceneggiatura approfondisca i personaggi è sintomo di un progetto a lungo termine, tant'è che Halo è già stato rinnovato per una seconda stagione.
E, sempre a proposito di narrazione approfondita e ambiziosa, è utile notare come i personaggi siano caratterizzati da una forte ambiguità che li rende indecifrabili: non sono, infatti, né classificabili come totalmente positivi né come totalmente negativi.
Quindi Halo è sci-fi contemporanea
Costruita seguendo tutti i punti fondamentali: cast internazionale, ampio budget in modo da creare effetti speciali degni di nota, universo narrativo diversificato e approfondito in modo da generare nuovi spunti. Tutto ciò anche attirando la curiosità dei fan con dei piccoli escamotage che hanno fatto discutere: uno per tutti, gli Spartan non tolgono mai il casco nel gioco, a differenza della serie. Master Chief, infatti, mostra il suo volto già dalla prima puntata. Questo aspetto non è stato particolarmente apprezzato e ha spinto i produttori a giustificarsi. Questi ultimi hanno sostenuto che a differenza di Din Djarin di The Mandalorian, qui non è scritto da nessuna parte che l'eroe non possa mostrare il suo volto. Si tratta piuttosto di un'esigenza sottintesa, se vogliamo. Il gioco è in prima persona, quindi lo spettatore fa meno fatica a immedesimarsi in un personaggio "senza volto" e un'armatura apparentemente vuota si presta di più allo scopo. Il problema, sempre a detta dei produttori, si porrebbe nel momento in cui il personaggio ha bisogno di essere guardato: per vederlo in terza persona è necessario dargli un volto.
Le discrepanze che i gamer più esperti trovano nella serie sono il frutto di un compromesso: inizialmente, infatti, gli autori hanno pensato che conoscere a fondo il gioco sarebbe stato controproducente, avrebbe voluto dire farsi influenzare troppo dalle sue dinamiche. Poi, per evitare di incorrere in scivoloni, hanno chiesto aiuto a dei giocatori esperti in Halo per inserire Easter egg nella serie o piccole chicche che potessero accontentare i fan storici senza pesare troppo sui nuovi. Due esempi potrebbero essere: il brano musicale del gioco utilizzato già nel primo episodio e i doppiatori. Jen Taylor è la voce della IA Cortana nei videogiochi ed è stata ingaggiata nella serie per interpretarla anche con il proprio corpo, grazie alla motion capture. La Taylor ha dichiarato di essere stata spesso interpellata sul set da registi e autori in dubbio se una scena o un dialogo fossero poco coerenti rispetto ai videogiochi.
La trasposizione dei videogiochi in serie Tv sembra la scelta giusta

Ma non è sempre stato così. Non dobbiamo dimenticare che l'esperienza, soprattutto per coloro che erano affezionati ai videogiochi, non è sempre stata delle migliori. Ricordiamo la delusione dei fan per il film di Assassin's Creed, per la piega presa dalla serie di film ispirata a Resident Evil o per Mortal Kombat (anche se usciti in annate diverse). Probabilmente è solo nell'ultimo periodo che le piattaforme hanno imparato a produrre serie di successo da brand famosi. Complice di una fandom più ampia a livello videoludico ma anche di un'evoluzione delle produzioni televisive, sono sempre di più le opere che da giochi sono diventate (o potrebbero diventare) serie Tv di successo. Abbiamo nominato Halo, ma non dobbiamo dimenticare The Witcher o Arcane che avranno sicuramente scontentato in parte lo zoccolo duro dei fan, ma sono la dimostrazione di come la tendenza stia cambiando e si trovi il coraggio di spalmare su più episodi un universo narrativo vasto e già noto. Anche Netflix ha deciso di puntare sui videogiochi, presentando prodotti ad essi ispirati. Basti pensare a Cuphead e Tekken in uscita esclusiva durante il 2022. 
Non ci resta che attendere i prossimi mesi per le uscite di The Last of Us, Assasin's Creed, Fallout e Far Cry.