Disney Channel è il canale che ha segnato la nostra infanzia, sicuramente. A partire dagli anni 2000 ha sfornato una sfilza di serie tv che ci hanno accompagnato nei vari pomeriggi, diventando una parte fondamentale della nostra infanzia, a cui ripensiamo con una certa malinconia anche oggi. Si possono citare: Raven, Zack e Cody al Grand Hotel, Lizzie McGuire… tutti nomi che ormai sono diventati parte della cultura generale. Il problema che molto spesso si pone con questo genere di prodotti è che si rischia di guardare i vari episodi senza seguire un filo logico. Certo, qualche anno fa non era ancora così diffusa la moda del binge watching e vedere tutte le puntate senza saltarne una era difficilissimo. Quindi molto spesso, ci ricordiamo tutto per filo e per segno, tranne il finale. Quello può capitare che lo saltiamo. E per questa volta, abbiamo deciso di raccontarvi quello di Girl Meets World.
Di cosa stiamo parlando?
Per chi ha bisogno di rinfrescarsi la memoria Girl Meets World è una serie tv prodotta da Disney Channel andata in onda a partire dal 2014, come sequel di Crescere, che fatica! (Boy Meets World). La storia narra le vicende di due giovani ragazze, Maya e Riley, alle prese con la vita quotidiana tipica di tutti gli adolescenti. Girl Meets World ha lanciato i talenti di Rowan Blanchard e soprattutto di Sabrina Carpenter.
La serie ha ottenuto un buonissimo successo, arrivando perfino a registrare la terza stagione. Ma la domanda vera è: vi ricordate come è finita? Se la risposta è negativa, continuate a leggere!
Come finisce Girl Meets World?
L'ultima puntata è la numero 21 della terza stagione, intitolata Goodbye. La storia ruota attorno alla decisione di Topanga: accettare la nuova proposta di lavoro? Ciò significherebbe però trasferirsi a Londra, abbandonando definitivamente la vita a New York.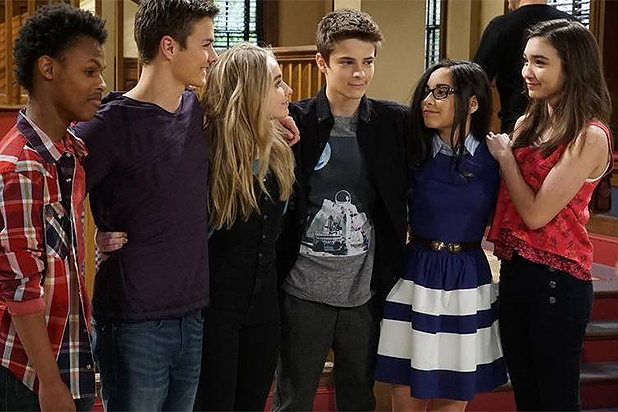 Durante la lezione di storia, Cory decide di trattare come argomento "I Paesi Bassi e la scissione del Belgio nel 1831″. I ragazzi sanno perfettamente che il tema trattato nelle sue lezioni in qualche strana maniera finisce sempre per intrecciarsi ai problemi che affrontano quotidianamente. Con il tema proposto è inevitabile pensare al possibile trasferimento di Riley oppure al fatto che dopo il diploma tutti loro prenderanno strade diverse. I ragazzi allora cercano di sviare la lezione, facendo domande completamente fuori tema al professore.
Cory allora chiede alla classe se sia più difficile abbandonare ciò che si ama, oppure rimanere con il rischio di aver perso un'opportunità.
Successivamente Maya, Riley e Cory tornano a casa. Pronti a trovare insieme a Topanga una soluzione per l'intera situazione. E cosa succede?
Tutti i personaggi, tra cui quelli della serie madre Boy Meets World, si trovano riuniti nella loro casa. Pronti a consigliarli sulla scelta da fare.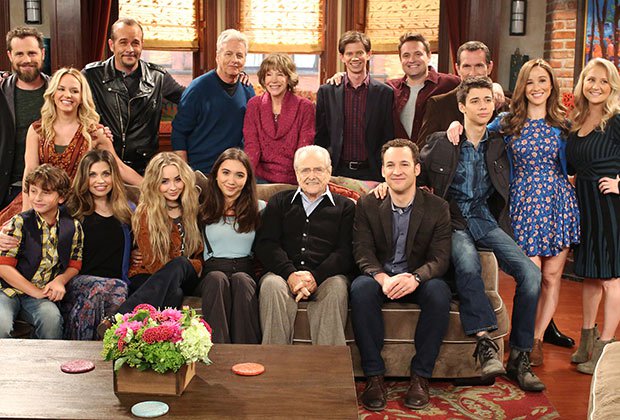 Tra tutti ci sono Eric, Jonathan Turner, Minkus e anche le due Morgan (il ruolo della sorella maggiore di Cory fu interpretato nella serie originale da due attrici diverse). Topanga decide di parlare con ciascuno di loro in privato per sapere cosa ne pensano.
Il tempo passa e manca poco alla decisione finale.
Per la prima volta, la possibilità che Riley se ne vada comincia ad apparire reale ai suoi amici. Come Smackle, che nello studiare le varie strutture molecolari si rende conto che nell'aggiungere o nel togliere un elemento sempre cambierà qualcosa nella struttura generale. E questo è quello che accadrà al loro gruppo di amici se la protagonista di Girl Meets World si trasferirà a Londra. Triste per questa consapevolezza, la ragazza piange e abbraccia Riley, ringraziandola per i sentimenti che le sta facendo provare (la ragazza ha sempre avuto problemi nel confrontarsi con le sue emozioni).
Successivamente è il turno di Lucas, il suo ragazzo. Il quale le assicura che qualsiasi cosa accada, lei sarà per sempre la sua prima ragazza.
I will tell everyone that my first girlfriend was Riley Matthews
Nonostante Maya (Sabrina Carpenter) ancora non abbia accettato che Riley se ne vada, le due si salutano. Promettendosi che rimarranno amiche per la vita, nonostante la distanza.
La puntata ormai si appresta a giungere al termine. Topanga cosa ha scelto?
Nel vedere le ragazze e tutte le persone raccolte nella sua casa, Topanga decide che rimarranno a New York. Forse un giorno dirigerà un importante studio, ma la sua casa è lì, nella Grande Mela, con la sua pasticceria. Un luogo che ha sempre sognato per lei e per i suoi figli, un posto per crescere e per vivere.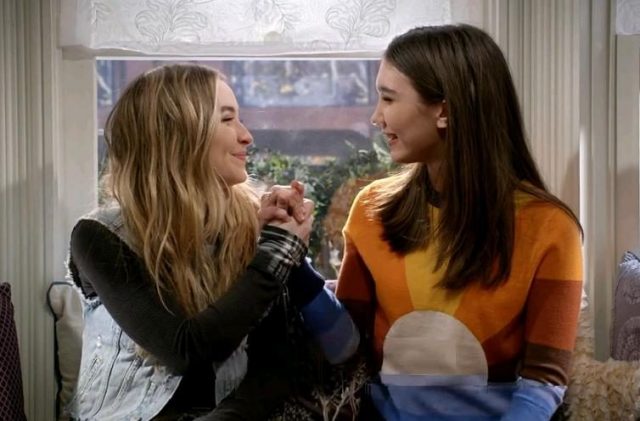 In classe Cory chiede cosa hanno appreso dalla lezione precedente. Frackle risponde che è giusto lasciare i propri amici per affrontare nuove esperienze e conoscere nuovi mondi, ma non è questo il momento.
Nell'ultima parte Maya, Riley e tutti i loro amici si ritrovano insieme a Joshua, Shawn e Katy. Gli adulti si fanno portavoce di una lezione per i ragazzi. Il loro discorso si intreccia con una scena presa direttamente da Boy Meets World: Cory saluta il piccolo Joshua prima che lui, Topanga ed Eric partano per New York. Le sue parole sono esattamente quelle di allora: il mondo è il più severo insegnante di vita. Impareranno, sbaglieranno, faranno nuove amicizie: è questo vivere.
So after you've met the world for a while, the best thing that happens is to find out just where it is you belong. We did it. Now it's your turn.
Dopo un po' di tempo che avete incontrato il mondo, la cosa migliore che possa accadere è di trovare esattamente il luogo a cui appartenete. Noi lo abbiamo fatto. Ora tocca a voi.