#DeliridiSpade è la rubrica del martedì sera di Hall of Series che vi racconta ironicamente l'episodio di Game of Thrones andato in onda il giorno prima. Siamo impazziti, ormai l'avete capito. 
L'ultima speranza di Jorah 
È più carismatica di Frank Underwood. È più lungimirante di Cersei Lannister. È più saggia dell'Alto Passero. In cinque minuti si è avvicinata al Trono di Spade più di quanto abbia fatto Daenerys in sei stagioni. Ha conquistato tutti, e ora non possiamo più farne a meno. Lyanna Mormont è il personaggio del momento. E non si fermerà ai 62 uomini destinati alla causa Stark. Farà di più. Molto di più. Aiuterà un parente. Un parente innamorato. Innamorato perdutamente.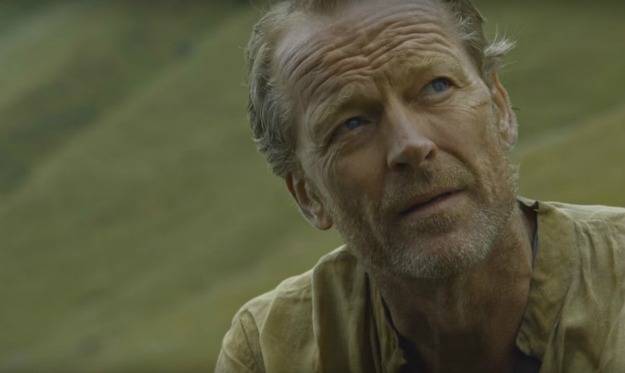 Lui.
No, non sarà lei a guarirlo dalla dermatite, ma le nostre fonti sostengono che ci sia stato un incontro in quel di Meereen per convincere la bella Daenerys a pigliarsi quello sfigato dell'Andalo. Lei è l'ultima speranza di Jorah, l'unica in grado di riuscire nell'impresa. La redazione di Hall of Series vi propone in esclusiva il dialogo tra le due.
L. Ciao, stronza.
D. Ma chi credi di essere, bambina impertinente?
L. Una che se avesse avuto a disposizione tre draghi e un esercito di Immortali avrebbe conquistato i Sette Regni da tre stagioni. Game of Thrones sarebbe finito nel 2013 e ci sarebbe stato spazio per lo spin off comico Jaime&Bronn. Tu invece stai ancora in questo cesso di posto.
D. Ma chi credi di essere? Io sono Daenerys, figlia di… (dieci minuti dopo)… e sono la più figa di tutte.
L. Eh?
D. Ti sei addormentata. L'ho notato.
L. Prenditi mio zio.
D. È solo un amico.
L. Sposalo.
D. Ha la dermatite, è vecchio e puzza parecchio. Ha gli stessi vestiti da sei stagioni.
L. Vacci a letto, almeno. Non lo sopporta più nessuno.
D. Avrebbe un infarto dopo tre minuti. Quello stallone di Daario regge anche per sei ore.
L. Ho 62 uomini.
D. Ho un esercito di Immortali, un'orda di Dothraki e tre draghi.
L. Ho 62 uomini. Guardami negli occhi, stronza.
D. Un bacio senza lingua va bene lo stesso?
L. Va bene. Affare fatto.
Jorah ha vinto. Lyanna è un genio. Non potevano chiedere di meglio. E comunque uno dei consiglieri di lady Mormont è palesemente Malammore. Quello di Gomorra. L'ombra dei Savastano incombe su Winterfell?
10 persone che hanno più voglia di vivere di Jon Snow 
Winterfell, già. Non vi capita mai di morire e poi resuscitare senza aver voglia di vivere? Succede spesso, vero? Jon Snow è in quella fase in cui ogni momento della settimana è un lunedì mattina con la sveglia alle 6 e un treno alle 6,20. Maledice Melisandre. Mostra riconoscenza nei confronti di Olly. Non ha voglia di fare niente. Ultimamente sta andando in giro con una strana capigliatura da resuscitato. L'unica che prova a dargli una gioia è Sansa. Sansa. Insomma, Jon è uno straccio. È depresso. Ha meno voglia di vivere di uno studente che deve preparare 3000 pagine di programma per il 29 luglio. E di questi dieci.
Ted Mosby al matrimonio di Barney e Robin.
Dawson Leery. In qualunque momento.
Jorah mentre è in compagnia di Daario.
Barney Gumble.
https://www.youtube.com/watch?v=-cOx2PMnxTY
Chiunque sia in hangover dopo aver bevuto una ventina di cocktail.
Una ragazza che ascolta in loop "La solitudine" di Laura Pausini dopo esser stata mollata dal fidanzato.
Kevan Lannister. Non c'è altro da aggiungere.
Ugo Fantozzi. In questo momento.
Un qualunque fan di Game of Thrones che lotta con il wifi. Al ventesimo minuto di un nono episodio a caso di Game of Thrones.
Un Erasmus spagnolo in serata. Senza altri Erasmus spagnoli.
Questi sorridono più di Jon Snow. E in alcuni casi recitano meglio.
#MaratonaRiverrun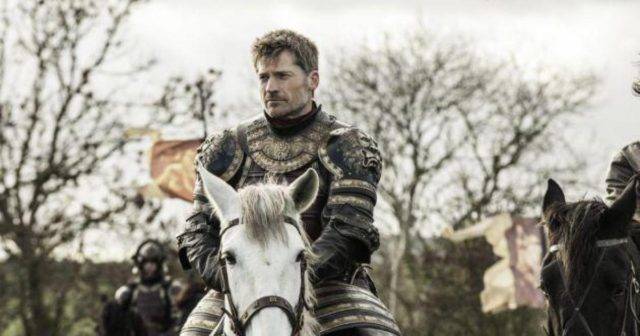 A Delta delle Acque c'è sicuramente gente più determinata. Quel #braccinocorto di Jaime, per esempio. Quello spettacolo d'uomo di Bronn, oppure. Il Pesce Nero, sennò. E non pensate al salsero brasiliano che vi ha fregato la ragazza. Ah, ci sono anche i Frey. No, anzi no. E Marco Cesaroni  Edmure Tully. Lasciamo perdere. Insomma, la situazione è movimentata e si profila un guerra che sposterà gli equilibri di potere in quel di Westeros. Una storia da raccontare minuto dopo minuto. Una storia che merita un cronista all'altezza. C'è bisogno di uno stacanovista sempre sul pezzo. Uno in astinenza da maratone televisive dalla bellezza di due giorni. C'è bisogno di lui.
Enrico Mentana.
Il giornalista andrà in diretta tra pochi minuti e vi racconterà la guerra di Delta delle Acque con una maratona fiume di 76 ore. Preparate i caffè. Sono già pronti i sondaggi. E le proiezioni.
Un piccolo assaggio:
L'indice di gradimento nei confronti dei Frey è al -58%.
Secondo il 76% degli intervistati, I Frey moriranno male. Si preannuncia una festa nazionale di una settimana.
Secondo il 98% degli intervistati, Lyanna Mormont riuscirebbe ad sfondare le barricate dei Tully con 62 uomini. Per il restante 2% ne basterebbero 20.
Secondo il 100% degli intervistati, a nessuno interessa la vita di Edmure Tully.
Gli ultimi exit pool riportano la vittoria di Virginia Raggi a Delta delle Acque con il 45% dei voti. Eh?
Persino Mentana sente la stanchezza. Ogni tanto. E dopo qualunque mortale.
Il Passero Mascetti ha colpito ancora 
Ad Approdo del Re, intanto, l'Alto Conte Septon Mascetti continua a fare piazza pulita. In realtà non si sta rendendo conto che Margaery stia facendo un doppio gioco, ma questa è un'altra storia. Intanto il re è lui. Ah, è Tommen, ma l'avete visto. Ah, è Lyanna Mormont. Ah, no. Per ora. Comunque l'Alto Passero ne ha fatta un'altra delle sue. Come al solito parla chiaro, lui. Come al solito minaccia e ottiene quel che vuole con un sorrisino da stronzo che manco Ramsay Bolton. Stavolta il problema è Margaery. Non le fa vedere da troppo tempo. Il Passero è un dipendente della HBO, mica dei Sette Dei. Comunque l'ha convinta ad uscirle, forse. E a farlo con il re micino.
Con queste parole:
"Margaery, gli Dei ti chiedono di far vedere le tette. Permettimi… scusa… noi siamo in quattro, come se fosse antani anche per te soltanto in due oppure in quattro anche scribai con cofandina, come antifurto, per esempio. E poi tu alzi l'audience più di Melisandre, Cersei e Daenerys messe insieme. Senza contare che la supercazzola prematurata ha perso i contatti col tarapia tapioco, Tommen durerà due minuti. Abbi pazienza. Preghierina?". 
Attendiamo impazientemente gli sviluppi della vicenda.
Il dramma di Theon
Chiudiamo in un bordello. Con Theon Greyjoy. Alla faccia di Jorah. Chi ha il pane non ha i denti e viceversa. Per non parlare della carne.
Theon, un tempo, se ne intendeva…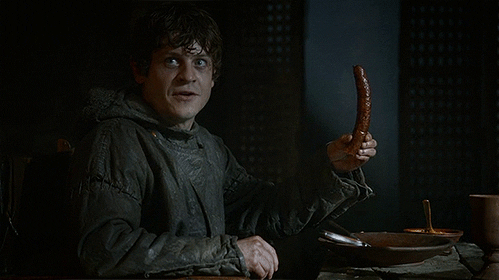 … e Ramsay inizia a mancarci. Dopo due puntate di assenza il tasso di mortalità in Game of Thrones è calato del 60%. Non è un caso.
Però stavamo parlando di Theon. Yara l'ha portato in un bordello. Un po' come portare un vegano in un mattatoio. Lui voleva mettersi in un angolo a piangere con Jon Snow. Ormai è chiaro chi porta i pantaloni in casa Greyjoy, non ci sono più dubbi. La prossima volta farà spogliare Margaery, Daenerys e Melisandre di fronte a lui? Che ha fatto di male nella vita questo povero cristo? Troppe cose, ma non tante da meritare ciò. Forse inizia a rimpiangere i bei tempi in casa Bolton.
Un paio di considerazioni a caso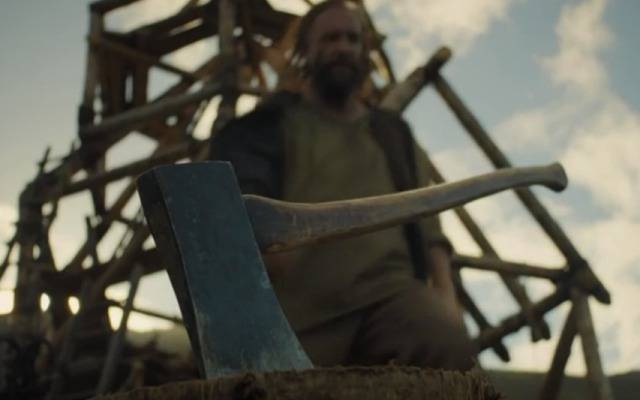 L'uscita di scena del Mastino con l'ascia è la stessa che sogniamo quando il nostro coinquilino lascia una pila di pentole sporche in cucina.
Arya si era stancata di prendere mazzate. Ora le rimpiange.
Bronn è tornato. Finalmente.
Ciao, nonna Olenna (<3). Ci mancherai. Ti ricorderemo così.
Si è capito che ci siamo innamorati di Lyanna Mormont?
Davos sarebbe capace di vendere una confezione di sofficini scaduti a Carlo Cracco.
Un saluto dall'artista preferita di Jon e Theon!
 Antonio Casu